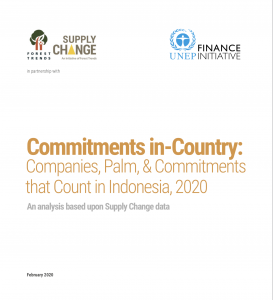 By Philip Rothrock and Laura Weatherer
View Publication
Palm oil production is a significant driver of deforestation in Indonesia, propelled by growing domestic and international demand for palm oil-containing consumer goods, chemicals, and biofuel. For companies that produce or source palm oil in Indonesia, exposure to deforestation presents a serious risk to a company's business and can have adverse impacts on a company's long-term financial performance. This may make the company less attractive to investors. Financial institutions increasingly require recipients of investment in the palm oil sector to incorporate sustainable sourcing and production provisions into their business practices.
Supply Change teamed up with UNEP-FI to 1) learn more about company responses to forest-risks within Indonesian palm oil supply chains and 2) develop additional metrics to measure how companies assess and respond to these risks. Supply Change researched and analyzed data from over one hundred companies believed to source or produce palm oil in Indonesia. Overall, analysis showed that many in-demand metrics were seldom reported by companies and that many companies did not provide a complete picture of key aspects of their palm oil-driven deforestation risk, including forest monitoring and non-compliance. One key implication of these findings is that companies will likely need to increase transparency to attract investment from the growing number of financial institutions concerned about sustainability performance.
Webinar
April 14, 2020 | 9-10 AM EST
Aligning Deforestation-free Commitments and Capital Flows for Progress in Producer Countries: A Study On Indonesia's Palm Oil Industry. Register here.