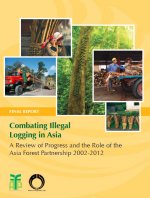 A Review of Progress and the Role of the Asia Forest Partnership 2002-2012
By Robert B. Oberndorf - Forest Trends
View Publication
Forests in Asia play a critical role in providing a variety of services that millions of people depend upon for their livelihoods and social stability.
They also contain most of the Asia-Pacific region's terrestrial biodiversity. By the turn of the Millennium, the forests of the region, particularly
in the tropics, were acknowledged to be in crisis.Deforestation and forest degradation were rising to unprecedented rates, often as a direct
result of illegal activities. There was also a dawning recognition that illegal logging was not only an environment threat, but was also contributing to conflict, corruption, and disrespect for the rule of law. It was against this backdrop that the Asia Forest Partnership (AFP) was established in 2002 at the Johannesburg World Summit on Sustainable Development (WSSD). AFP was established as a multi-stakeholder alliance to promote sustainable management of forests in the Asia-Pacific region. As AFP draws to a close, this report has been prepared in order to highlight important AFP accomplishments and to capture key lessons learned from the Partnership's practices and experiences. The report also analyzes changes in the nature of forest issues and institutions over the past decade, and the relevance of the AFP approach and experience going forward.