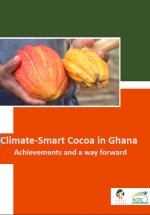 Achievements and a way forward
View Publication
Cocoa is a $1.5 billion industry in Ghana.Ghana's cocoa authority and regulatory body, Cocobod, aims to make Ghana, the number one best quality producer of cocoa in the world . This strategy, according to the government, necessitates cocoa becoming, a sustainable product in a way that takes good care of
the environment and also gives the farmer the best of income for what he produces, and also satisfy the requirement of the international market. This is the first time that Cocobod
has formally linked the sustainability of the cocoa sector with the health of the environment upon which it relies. As a result of consistent engagement and information sharing by
Nature Conservation Research Centre / Forest Trends (NCRC/FT) and others, a shift in thinking about climate change and global warming is also starting to emerge as Cocobod senior officials have begun acknowledging that climate change does present a threat to sustainability, whereas only two years ago the likely impacts were ignored or denied.