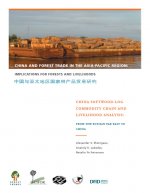 From the Russian Far East to China
By Alexander Sheingauz, Anatoly Lebedev , Natalia Ye Antonova - Economic Research Institutental Campaigns, Bureau for Regional Oriental Campaigns, Forest Trends, CIFOR, DFID
View Publication
China has rapidly become one of the world's largest importers of wood. The volumes of logs, sawn wood, wood panels, and pulp and paper products shipped to China by producer countries in Southeast Asia, the Russian Far East (RFE), Siberia and other regions have grown especially sharply since China implemented a partial ban on logging in 1998. China's growing demand for wood products is driving deforestation and illegal logging throughout East Asia and the world. It is also influencing the livelihoods of forest-dependent people in these regions.
Forest Trends and the Center for International Forestry Research (CIFOR), with support from the United Kingdom's Department for International Development (DFID), are implementing a collaborative project entitled "Transforming China's Impacts on Forests in the East Asian Region: Strategic Market Intelligence for Sustainable Forests and Livelihoods". The overall goal of this project is to advance the transformation of China's growing demand into markets that improve livelihoods and enhance forest conservation in the East Asian Region.
From the middle of 2003 to the middle of 2004, three reports were prepared as a part of Phase One to cover the Russian part of the project:
– "Overall Structure of Forest Industry in the Russian Far East" by Alexander S. Sheingauz, Economic Research Institute (ERI), Khabarovsk;
– "Siberian and RFE Timber Market for China: Criminal and Official Technologies, Players and Trends" by Anatoliy V. Lebedev, Bureau for Regional Outreach Campaigns (BROC), Vladivostok;
– "Status and Trends in Forest Products Exports from the Russian Far East and Eastern Siberia to China" by Alexey S. Lankin, Pacific Geographic Institute, Vladivostok.
This working paper presents a subsequent study that outlines the Russian part of the timber market structure and its impacts on people's livelihoods in the RFE. As such, this report builds on the aforementioned reports, which focus on regional trade.