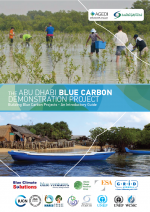 An Introductory Guide
By Abu Dhabi Global Environmental Data Initiative (AGEDI)
View Publication
Blue carbon projects can work, by using the value of carbon stored and sequestered in coastal and marine ecosystems to support conservation and sustainable management, a new report shows.
The report, published by Abu Dhabi Global Environmental Data Initiative (AGEDI), aims to stimulate discussion regarding projects that support the conservation and restoration of coastal ecosystems based on a Blue Carbon approach. It serves as a snapshot of potential common Blue Carbon project elements based on existing projects and an introduction of key issues for consideration. The guide is intended to complement existing blue carbon reports and initiatives and potentially stimulate support for further project development.
The report is titled 'Building Blue Carbon Projects: An Introductory Guide', is produced by GRID-Arendal, a collaborating center with UNEP, and includes contributions and input from many partners including Blue Climate Solutions, Blue Ventures, Carbon Manna Africa, Climate Change Research Group, Earthwatch Institute, Environmental Science Associates (ESA), Duke University, Forest Trends, International Union for Conservation of Nature (IUCN), Kenya Marine and Fisheries Research Institute (KMFRI), Republic of Indonesia's Ministry of Marine Affairs and Fisheries (BALITBANG KP), The Government of Seychelles, The Ocean Foundation, United Nations Environment Programme (UNEP), and UNEP World Conservation Monitoring Centre (UNEP-WCMC).