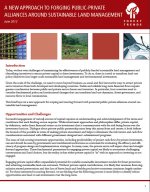 View Publication
Today, we face twin challenges of maximizing the effectiveness of publicly funded sustainable land management and identifying incentives to attract private capital to these investments. To do so, there is a need to transform land-use policy objectives into larger-scale sustainable land management and environmental investments.
Given the scale of the challenge, we need to move beyond business-as-usual and find innovative ways to attract private sector investors from both developed and developing countries. Stable and reliable long-term financial flows require greater coordination between public and private sector donors and investors. In particular, host countries need to consider fundamental policy and institutional changes that can transform land-use dynamics, forest governance, and resource flows to local communities.
This brief lays out a new approach for scoping and moving forward with potential public-private alliances around sustainable land management.