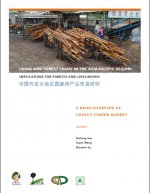 By Xiufang Sun, Liqun Wang, Zhenbin Gu - Forest Trends, School of Economics and Management at Beijing Forestry University, School of Economics and Management at Beijing Forestry University, Chinese Center for Agricultural Policy, CIFOR, CEM, Beijing Forestry University, DFID
View Publication
China's timber market has undergone dramatic changes in recent decades and continues to change rapidly. Currently, timber producers are allowed to market their timber directly to different buyers, although timber
harvest and transport remain heavily regulated by the government. China's primary wood-processing industry and wood-consuming sectors have experienced rapid growth in recent years. Sectors like sawnwood or plywood manufacturing are changing very quickly with strong trends
towards an expansion of small-scale enterprises. Private investment has been encouraged by the government and experienced a high growth in recent years. A lack of data on production, distribution, processing and end-use undermines the understanding of market dynamics and therefore precludes effective policy
interventions. The limited amount of domestic resources and strong domestic demand for timber products in industries such as construction, furniture and wood panels have caused China's imports of forest products to
increase. While the government has attempted to reduce imports by establishing commercial timber resources through fast growing plantations, the gap between domestic supply and demand is huge and will
continue to be filled by imports in the near future. The functions of wood-processing industry associations should be strengthened so they can be a bridge between the government and wood processing mills. Also, due to their close connection with enterprises,
industry association should help the government to provide better data on production, distribution, consumption, etc.