RELEASE
Climate
Investments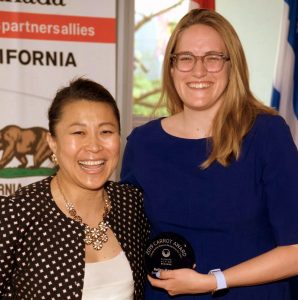 The Climate Action Reserve (CAR) has presented Kelley Hamrick of Forest Trends' Ecosystem Marketplace initiative with its "Climate Action Reserve Recognizing Our Team" (CARROT) award. CAR each year presents CARROT awards to individuals who have made very notable contributions to its work and mission.
"It's an honor to receive the Climate Action Reserve's CARROT award," says Hamrick.
"The Climate Action Reserve has been a great proponent of our work, and has personally been a key stepping stone in my professional career. CAR's North American Carbon World conference was the first conference that I spoke and moderated at, and it's been a great resource for keeping up with the latest events happening in the U.S. and Canada."
Kelley Hamrick is the Program Manager of the Ecosystem Marketplace and Supply Change initiatives. She has authored or co-authored over 15 reports, including flagship annual reports on the State of Private Investment in Conservation and the State of Voluntary Carbon Markets. She regularly speaks and moderates on the topics of conservation finance, carbon markets, REDD+ and clean cookstoves. Hamrick was nominated by the Climate Action Reserve's Communications and Business Outreach Team. She accepted the award at the 2019 North American Carbon World conference, held in Los Angeles in April.
Forest Trends' Ecosystem Marketplace is a leading source of knowledge on market-based approaches to sustainable environmental financing around the world. Ecosystem Marketplace believes that transparency is a hallmark of robust markets and that providing freely-accessible information can facilitate transactions (thereby lowering transaction costs), catalyze new thinking, and spur the development of new markets and the infrastructure that supports them.
The Climate Action Reserve is a pioneer in carbon accounting and the most experienced, trusted, and efficient offset registry to serve the carbon markets. With deep roots in California and a reach across North America, the Reserve encourages actions to reduce greenhouse gas emissions and works to ensure environmental benefit, integrity, and transparency in market-based solutions to address global climate change. It serves the California compliance market as an Offset Project Registry and has played an integral role in the development and administration of the state's cap-and-trade program. For the voluntary market, the Reserve establishes high quality standards for carbon offset projects, oversees independent third-party verification bodies and issues and tracks the transaction of carbon credits (Climate Reserve Tonnes) generated from such projects in a transparent, publicly-accessible system.