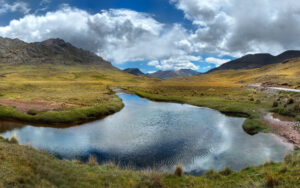 Virtual / Norra Latin, Drottninggatan 71B, 111 23 Stockholm, Sweeden, Room 357
August 31, 2022, 11:00am-12:30pm CEST
Live online / Norra Latin, Drottninggatan 71B, 111 23 Stockholm, Sweeden, Room 357
This session will convene policymakers and practitioners to rethink our models of economic and post-disaster recovery. Based on the experiences of innovative models from Latin America, North America, and Southeast Asia, participants will reflect on how to leverage recoveries for water security, deep resilience, and social equity.
Gena Gammie, Director of Forest Trends' Water Initiative, will moderate the session alongside John Matthews, the Executive Director of Alliance for Global Water Adaptation.
Speakers include:
Julian Katchinoff, Water Team Lead, US State Department

Allison Woodruff, Principal Water Security Specialist,

 Asian Development Bank
Robert López, Executive Director of Peru's Reconstrucción Con Cambios Authority

Josefina Maestu, Water Advisor, Ministry for Ecological Transition of the Government of Spain

Kate Brauman, Associate Director, Global Water Security Center
There will be simultaneous interpretation (English-Spanish) for on-site participants and for those streaming live. Participants and speakers will need to download the Interaccio app for interpretation. A recording will also be available 30 days after the event if requested or 60 days on the Stockholm World Water Week YouTube channel. The recording will not include interpretation.
More information on this session can be found on the World Water Week webpage and the link for both in-person and online registration can be found here.