São Paulo & Belém, Brazil
The practice of payments for ecosystem services (PES) can be a strategy to ensure environmental preservation. PES has a social and environmental role, but there needs to be safeguards in place to ensure the protection of traditional and local communities' rights, and the environment.
In 2015, Forest Trends established the Brazil Matrix, which mapped existing payments for ecosystem services (PES) initiatives in Brazil. The initial emphasis was to recognize the role of ecosystem services and encourage the development of economic incentives to promote the conservation and recovery of ecosystem services in Brazil, while making this crucial information accessible to the general public.
A year later, Forest Trends is launching a new trend analysis, with the premise that public policies, markets, and projects based on environmental services must have social and environmental integrity.
This new study is being presented in two roundtable discussions – one in São Paulo and the other in Belém, Brazil. The aim is to discuss the role of communities in providing ecosystem services. These events will analyze the potential of the Brazil Matrix to act as a tool to strengthen local and traditional communities, and gather experiences, recommendations, and proposals to create instruments that will act as social and environmental safeguards when applying economic incentives for the environment. Both events are free and open to the public.
São Paulo, Brazil
Sala de Eventos do IEA
Rua da Biblioteca, s/n°, 5º andar, Cidade Universitária
03 August, 2016 | 9:00 AM – 12:30 PM BRT
This conference is being organized in partnership with Instituto de Democracia e Sustentabilidade and the Instituto de Estudos Avançados da Universidade de São Paulo. The conference will be live streamed at www.iea.usp.br/aovivo.
Belém, Brazil
Auditório da CNBB
Travessa Barão do Triunfo, 3151, Marco
04 August, 2016 | 2:00 – 5:00 PM BRT, Brazil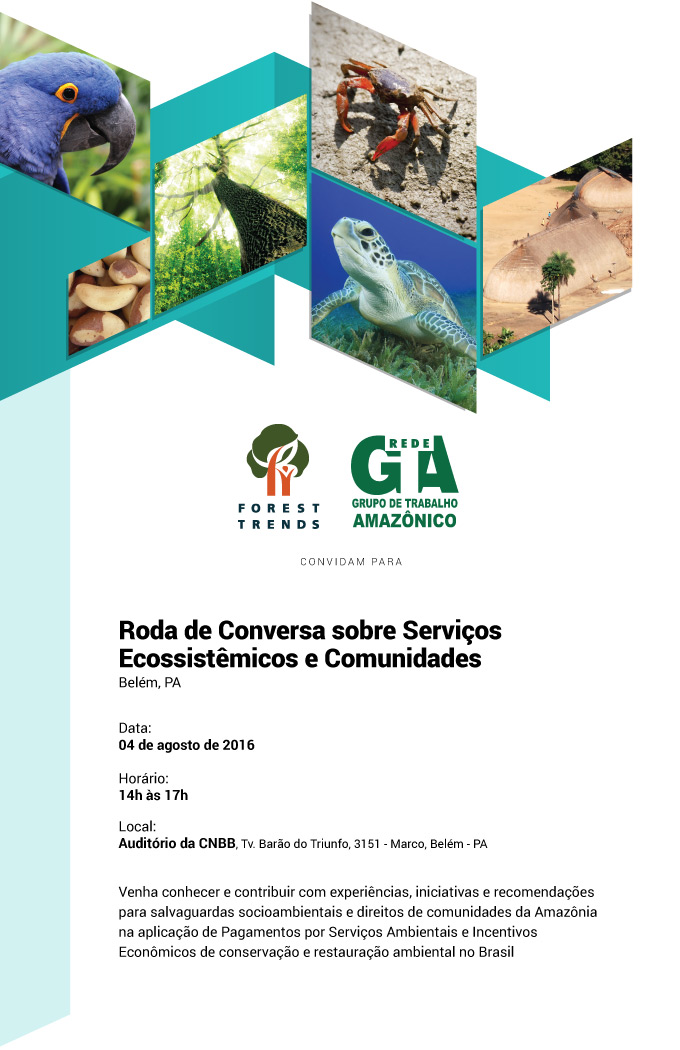 This event is organized in partnership with GTA (Grupo de Trabalho Amazí´nico) at CNBB. Panelists include Imaflora, Origins Brazil, and community leaders who are building their community protocols.