Stockholmsmässan, Stockholm, Sweden

"Nature-Based Solutions for Water and Energy"
Attend the preview of findings from the State of Watershed Investments 2014 global survey and a panel discussion on the potential for natural infrastructure in the water-energy nexus.
World Water Week
Monday, September 1st, 2014
17:45 – 18:45 Room K16/K17
Drinks and snacks will be served during a short reception following the panel discussion.

Nature-based approaches to addressing water quality impairment, ensuring water supplies, and mitigating water-related hazards have the potential to address trade-offs in the water-energy-food nexus and provide the foundation for sustainable water and energy in the 21st century. However, under current practice, investments in watershed services are dwarfed by investments in hard or engineered infrastructure. Can nature-based solutions be scaled up through these innovative financial mechanisms to significantly impact both water and energy challenges?
Please join us and a diverse group of experts for a presentation on Forest Trends' Ecosystem Marketplace State of Watershed Investments 2014 report, hear about cases that are solving both water and energy, and discuss the potential for nature-based solutions in the water-energy nexus.
PROGRAM
17:45-17:50

Welcome and Setting the Stage
Natural infrastructure for water and energy-an overview of emerging innovations
Dr. Jan Cassin, Forest Trends

17:50-18:10

Where are we in 2014? Results of Forest Trends' Ecosystem Marketplace 2014 State of Watershed Investment-global survey on investments in watershed services
Ms. Genevieve Bennett, Forest Trends

18:10-18:40

Panel and Audience Discussion (Moderator-Nathaniel Carroll, Forest Trends)
Mr. Brendan Smith, Gold Standard Foundation
Mr. Gary Lawrence, AECOM
Mr. Johan Gely, Swiss Agency for Development and Cooperation (tbc)
Mr. Ed Pinero, Veolia
Mr. Todd Gartner, World Resources Institute

18:40-18:45

Concluding Remarks

18:45-19:15

Reception with drinks and snacks
* See below – please also consider these related events at World Water Week
Launch of the Water Benefit Standard –
Wednesday, September 3, 12:45 – 13:45, Room T4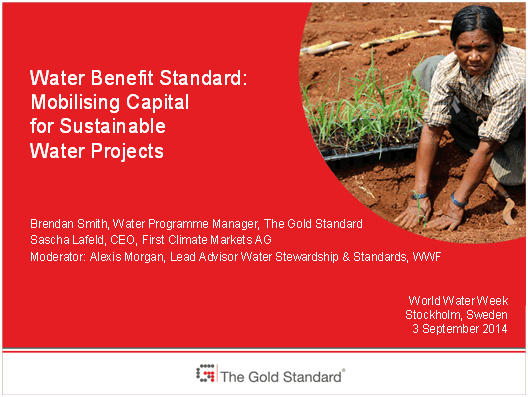 Does Water Footprint Assessment Enhance Sustainable Management of River Basins?
Sunday, August 31,09:00-12:30, Room K22/23. Sponsored by the Water Footprint Network, Aqualimpia-Suizagua, and World Wide Fund for Nature. Details can be found here.
Energy Investments and Infrastructure Providing Benefits Across the Nexus
Sunday, August 31, 2:00 p.m. – 5:30 p.m. (Central European Time), Room K11; Seminar hosted by WRI; further details available here.
Water and Shale Energy Development: Risks and Future Implications for Society
Tuesday, September 2, 9:00 a.m. – 12:30 p.m. (Central European Time), Room K22/23. WRI will launch a first-of-its-kind report finding that freshwater availability could limit shale oil and gas development on every continent.. Agenda here.
Private sector innovation in Water Stewardship: The case of Coca-Cola in Latin America
Tuesday, September 2, 12:45 p.m.-1:45 p.m. (Central European Time), Room T3. Moderated by WRI, this panel discussion will highlight the use of Water Funds as an effective option for green development. Agenda and event information here.
Water Linkages to Coal-Fired Energy Production: Shaping the Water and Energy Future
Wednesday, September 3, 2:00 PM – 5:30 PM (Central European Time), Room T4. Led by WRI, case studies from China and South Africa; agenda and more event information here.