World Bank, Washington, United States
A peaceful election this November 8th in Myanmar is pivotal, but a successful transition from military rule hangs on the Nationwide Ceasefire Agreement (NCA) between the government and the ethnic armed groups.  Given that a third of ceasefires fail within five years, peace and security will depend on getting the NCA and the subsequent 'political dialogue' right.  And because peace agreements often fail because the warring factions finance the resumption of fighting through the exploitation of oil, minerals, gems and timber, it is critical that Myanmar's political dialogue include the reform of the way natural resources are exploited. If not in the peace agreements themselves, the reform of the governance of  natural resources needs to be made a priority during transition / peace building efforts, or risk that their exploitation will undermine long-term peace and security, and thus development overall.
Providing a global context for the above developments, Art Blundell shared the results from a scoping exercise that shows how, at the moment, 'natural resources', or at least the reform of their governance, is virtually absent from the 15 individual ceasefire agreements signed so far.  Only five address natural resources at all, and in all five cases it is only to allow the warring parties to continue their exploitation and revenue collection.  This money, not to mention the grievances among local populations that the exploitation generates, could very well undermine the peace process. Therefore, if there is no change in approach, getting the issue into the common framework of the NCA and its political dialogue is unlikely. Sadly, this lack of attention is common. In a review of the 805 agreements in the United Nations Peacemaker database, only 120 (15%) agreements address "Natural Resources" broadly, and very few of these 120 actually address reform of the way the resources are exploited.
Kevin Woods then described the current landscape in Myanmar, focusing on who is benefitting from illegal logging in the conflict border areas. To date, much of the dialogue on the sourcing of Myanmar timber – particularly the world-famous Burmese teak – has focused on government-managed forests located in the central plains. However, our recent Forest Trends report highlights four additional sources – each with their own issues related to legality, sustainability, and ethics. The complicated trade dynamics need to be made more transparent by the Myanmar government and the domestic forest sector in order to provide more clear guidelines for overseas buyers demanding legal, sustainable, and ethical sourcing.
Resources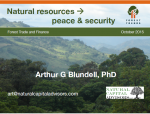 Natural Resource -> Peace & Security
Arthur Blundell, Natural Capital Advisors