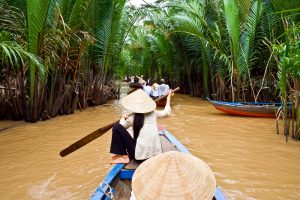 Vietnam, Cambodia and Laos
This is a once-in-a-lifetime opportunity to experience the majesty and mystery of the Mekong River and Region in Vietnam, Cambodia, and Laos with a unique group of experts who are working here to combat the impacts of deforestation and climate change, protect biodiversity, and partner with indigenous communities to protect their homeland.
Our itinerary includes two days and three nights in Ho Chi Minh City, touring cultural and historical sites, as well as visiting Forest Trends' partners working on sustainable forestry. Participants will participate in high-level briefings with government officials and business leaders to discuss the challenges of climate change and opportunities to support local livelihoods and conservation.
Then we'll board the Aqua Mekong for a four-night, five-day tour of the Mekong River on a luxury "Aqua Expedition" liner. According to Conde' Nast Traveler, the Aqua Mekong has "raised [boat travel] to the level of a five-star hotel, designed for those who love expeditions and avoid tourist masses."
We'll visit artisans practicing ancient techniques of silversmithing, weaving and pottery – all skills that bring needed income to families and alternative income sources to illegal deforestation. Award-winning chef David Thompson will travel with us on the Aqua Mekong and offer cooking classes in regional cuisine. Chef Thompson's awards include the James Beard Award and the Diners Club Lifetime Achievement Award.
As we journey along the Mekong, we'll participate in discussions with international experts that explore the rich intersections of ecological diversity, cultural diversity and political struggle in the region, and get hands-on exposure to the work Forest Trends does in its mission to protect ecosystems and combat climate change.
Please contact us for additional details and a full itinerary if you are interested in joining Forest Trends for this incredible opportunity. A portion of costs helps support the continued award-winning work of Forest Trends and their partners in forest conservation.
HOSTS