<< Back
Alex Zambrano Ramirez
GIS Specialist for Investments in Natural Infrastructure
Natural Infrastructure for Water Security (NIWS) Project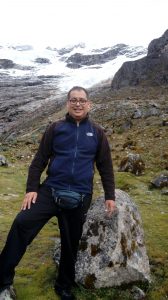 Alex is an Environmental Engineer from the Universidad Nacional Federico Villarreal with a specialization in Business Intelligence from ESAN University, with more than 15 years of experience in the use of Geographic Information Systems (GIS) and Remote Sensing applied in processes of Ecological and Economic Zoning, investment projects related to ecosystems, ecosystem services, disaster risk management, and environmental diagnostics and assessments. He is also knowledgeable with Integrated Management Systems (ISO 9001, 14001 and OSHAS 18001) and Environmental Legislation, and is experienced in public management for the design and implementation of public and sectoral policies with a territorial approach, elaboration of sectoral planning instruments (environment sector), management of budget by results, management of public projects, sustainable economic development, environmental and forestry financing mechanism.
Sorry, there are no matching publications.
Sorry, there are no matching blog posts.