Anuncio en español abajo
Washington, DC | December 11, 2017 | On December 6th, 2017, the U.S. Agency for International Development (USAID) committed $15 million to support scaling up green infrastructure as a measure to manage water risks in Peru. The commitment comes in the form of a cooperative agreement signed with Forest Trends, an international non-governmental organization that works to innovate and scale-up finance for conservation, to implement the Green Infrastructure for Water Security project.
"We are honored to be a partner of this important commitment by USAID which is the right complement to the vision and leadership of the Peruvian government and communities that have decided to use nature to manage their critical water risks," said Michael Jenkins, President of Forest Trends.
Under this new agreement, Forest Trends will lead the Invierte Verde ("Invest Green") consortium, composed of the Consortium for Sustainable Development of the Andean Ecoregion (CONDESAN), the Peruvian Society of Environmental Law (SPDA), EcoDecisión, and Imperial College London.
USAID administers the U.S. foreign assistance program providing economic and humanitarian assistance in more than 80 countries worldwide.
Peru's water crisis and the green infrastructure opportunity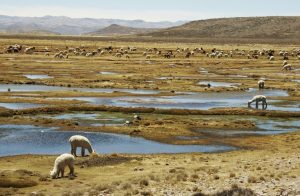 Peru is one of the most vulnerable countries in the world to impacts of climate change on water security. Just in the last year, successive states of emergencies caused first by drought and forest fires in Northern Peru, then by floods and landslides induced by 'El Niño Costero' along the Pacific coast, sharply demonstrated the country's vulnerability to hydrological and climatic extremes. Peruvian glaciers – vulnerable to rising temperatures – are melting at an accelerated clip, resulting in a loss of natural water storage and increased risk of natural hazards that will only exacerbate these extremes.
While governments have traditionally turned primarily to "gray infrastructure" such as reservoirs, desalination plants, and floodwalls to meet water challenges, it is increasingly recognized that "green infrastructure"  – the natural ecosystems that provide key services like regulating water flows and preventing erosion – are an indispensable complement to address today's water crises. In Peru, green infrastructure interventions that are critical to water security range from wetland and forest conservation, to improving grazing and farming practices, to even restoring pre-Incan infiltration canals.
Recognizing the important role that green infrastructure will play in achieving water security, Peruvian leaders have been working for years to initiate a fast-moving paradigm shift to incorporate it as a central pillar of sustainable water resources management. For example, under the leadership of SUNASS, Peru's water utility regulator, over $130 million in water tariffs have been allocated to payments for ecosystem services projects (in Peru called Mecanismos de Retribución por Servicios Ecosistemicos – MRSE), climate change adaptation, and disaster risk management. Also, under the leadership of the Peruvian Ministry of Environment, acting with the Peruvian Congress and with the water and sanitation sector, a comprehensive legal and technical framework has been developed that allows these tariff funds to finance viable projects on the ground.
These advances are now benchmarks of a paradigm shift toward integrated, sustainable water resources management in Latin America. It is now critical to ensure that the committed funds demonstrate how green infrastructure is really enhancing the resilience of Peruvian cities, communities, and businesses under conditions of increasing water scarcity, hazards, and uncertainty.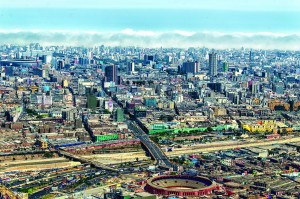 Project led by experienced consortium of green infrastructure design, policy, and finance experts
The Green Infrastructure for Water Security project will address institutional, technical, and capacity constraints to effective green infrastructure implementation. The Invierte Verde Consortium members will work with Peruvian stakeholders, and leading experts from Peru and around the world to lay the groundwork for bringing green infrastructure to scale.  It will ensure that those investments result in social, environmental, and hydrological benefits, and it will engage new sectors, like agriculture, industry, and hydropower, to use green infrastructure to address their water risks.
The work of the Consortium builds on longstanding efforts by its members of collaborating with each other and with the Peruvian government.
"USAID is committed to working with the Government of Peru on improving Peru's water security and increasing its resilience to droughts and floods, and we're pleased to be working with the Invierte Verde consortium on the implementation of the Green Infrastructure for Water Security project" said Lawrence Rubey, Mission Director of USAID Peru.
Forest Trends draws on long-term experience working with partners in Peru and elsewhere in Latin America and around the world to design and implement innovative financing and market mechanisms for watershed, forest, and biodiversity conservation, and to convene a global network of national and international experts. In 2012, Forest Trends established the Incubator for Mecanismos de Retribución por Servicios Ecosistemicos (MRSE) with the Peruvian Ministry of Environment, which has since coordinated efforts with Invierte Verde Consortium partners, international funders, and national, regional, and local leaders to systematically address the barriers to effective green infrastructure investment in Peru. CONDESAN is a founding partner and coordinator of the Regional Initiative for Hydrological Monitoring of Andean Ecosystems (iMHEA) and brings strong water resource management and community sustainable livelihoods expertise. CONDESAN coordinates activities of the MRSE Incubator with MINAM and SUNASS, including implementation of the MRSE Law and water tariffs. SPDA is one of the most influential environmental law and policy think tanks in Peru and has contributed significantly to the regulatory framework and public sector capacity for a number of conservation finance instruments, including the MRSE, as well as forest carbon and environmental compensation laws and regulations. EcoDecisión is a leading resource on conservation finance in Latin America; the organization's experts designed the first water fund in Latin America and have provided strategic leadership to the development of the MRSE Incubator in Peru. Imperial College London draws on two decades of applied research on Andean hydrology and water resources with specific expertise on monitoring and modeling hydro-meteorological processes, water supply, and related risks in the Peruvian Andes.
The combined expertise of the Consortium will be complemented by contributions from a suite of world-class Resource Partners, including the Research Triangle Institute (RTI), the Center for International Forestry Research (CIFOR), Deltares, NASA, Encourage Capital, and Arup. The Project will work closely with local leaders and organizations, watershed councils, Peruvian government agencies, universities and technical institutes, businesses, and civil society to build the broad and diverse coalition of actors that will be needed to scale-up effective, sustainable green infrastructure.
For more information on green infrastructure in Peru and this project, please contact Genevieve Bennett, Communications Manager at Forest Trends (GBennett@nullforest-trends.org).
——————————————————————–
USAID y Forest Trends suscriben acuerdo de $15 millones que promoverá infraestructura verde para la seguridad hídrica en el Perú
Washington, DC | 11 de diciembre de 2017 | El 6 de diciembre, la Agencia de los Estados Unidos para el Desarrollo Internacional (USAID) comprometió $15 millones en apoyo para la promoción de infraestructura verde como medida de gestionar riesgos hídricos agua en el Perú. Este compromiso se consolidó a través de un acuerdo de cooperación suscrito con Forest Trends, organización no gubernamental internacional que trabaja en la innovación y promoción de financiamiento para la conservación.
"Nos sentimos honrados de ser socios de este importante acuerdo de USAID, que será el complemento correcto frente a la visión y liderazgo del gobierno peruano y las comunidades que han decidido utilizar la naturaleza para gestionar sus riesgos hídricos," dijo Michael Jenkins, presidente de Forest Trends.
En el marco de este nuevo acuerdo, Forest Trends liderará Invierte Verde (Invest Green), un consorcio integrado por Forest Trends, CONDESAN, SPDA, EcoDecisión e Imperial College London. Este consorcio asumirá la implementación del Proyecto de Infraestructura Verde para la Seguridad Hídrica.
USAID administra el programa de asistencia extranjera de los Estados Unidos que brinda asistencia económica y humanitaria en más de 80 países alrededor del mundo.
La crisis hídrica en Perú y la oportunidad que representa la infraestructura verde
Perú es uno de los países más vulnerables a los impactos de cambio climático  en la seguridad hídrica en el mundo. En el último año, los sucesivos estados de emergencia (causados, ​​primero, por la sequía y los incendios forestales en el norte del Perú, y luego por inundaciones y deslizamientos de tierra inducidos por 'El Niño Costero' a lo largo de la costa del Pacífico) demostraron claramente la fragilidad del país ante los extremos hidrológicos y climáticos. Los glaciares peruanos, que se encuentran entre los más vulnerables del mundo al cambio climático, se están derritiendo a un ritmo acelerado, lo que da como resultado una pérdida de almacenamiento de agua natural y un mayor riesgo de peligros naturales que solo exacerbarán estos extremos.
Si bien, tradicionalmente para enfrentar los desafíos del agua, los gobiernos recurrieron sobre todo a "infraestructura gris", tales como reservorios, plantas de desalinización y muros de contención, hoy la "infraestructura verde" está obteniendo, cada vez más, mayor reconocimiento. Esto debido a que los ecosistemas naturales, que brindan servicios y beneficios clave como la regulación de los caudales y la prevención de la erosión, son complemento indispensable para abordar la crisis y estrés hídrico. En Perú, las intervenciones de infraestructura verde que son cruciales para la seguridad hídrica, van desde la conservación de humedales y bosques,  la mejora de las prácticas de pastoreo y agricultura, hasta la restauración de los canales de infiltración preincaicos.
Reconociendo el importante papel que jugará la infraestructura verde para alcanzar la seguridad hídrica, los líderes peruanos han trabajado durante años para iniciar un rápido cambio de paradigma con la meta de incorporar este tema como un pilar de la gestión sostenible de los recursos hídricos.
Por ejemplo, bajo el liderazgo de SUNASS, organización que regula los servicios de agua y saneamiento del país, más de $130 millones derivados de las tarifas de agua han sido asignados a proyectos de servicios ecosistémicos (llamados Mecanismos de Retribución por Servicios Ecosistémicos – MRSE en Perú), a proyectos de adaptación al cambio climático y gestión de riesgos de desastres. Además, bajo el liderazgo del Ministerio del Ambiente del Perú, en coordinación con el Congreso peruano y el sector de agua y saneamiento, se ha desarrollado un marco legal y técnico integral que permite que estos fondos tarifarios financien proyectos que resulten viables.
Estos avances son, ahora, puntos de referencia para un cambio de paradigma hacia la gestión integrada y sostenible de los recursos hídricos en América Latina. Por ello, es fundamental garantizar que los fondos comprometidos demuestren cómo la infraestructura verde realmente está mejorando la resiliencia de las ciudades, comunidades y negocios locales en el Perú, la cuales se encuentran cada en mayores condiciones de escasez de agua, peligros e incertidumbre.
Proyecto liderado por un consorcio de expertos en el diseño, financiamiento y políticas públicas para la infraestructura verde
El Proyecto de Infraestructura Verde para la Seguridad Hídrica abordará las limitaciones institucionales, técnicas y de capacidad para la implementación efectiva de la infraestructura ecológica. Los miembros del Consorcio Invierte Verde trabajarán con expertos líderes de Perú y el mundo para sentar las bases para llevar infraestructura verde a escala. Garantizará que esas inversiones den como resultado beneficios sociales, ambientales e hidrológicos, y atraerá a nuevos sectores, como la agricultura, la industria e hidroeléctricas, para utilizar la infraestructura verde para abordar sus riesgos hídricos.
El trabajo del Consorcio se basa en los esfuerzos de larga data de sus miembros, por colaborar entre sí con el gobierno peruano.
"USAID está comprometido a trabajar con el gobierno peruano para mejorar la seguridad hídrica de Perú e encrementar su resiliencia a las sequias y las inundaciones, y estamos complacidos de trabajar con el consorcio Invierte Verde en la implementación del Proyecto Infraestructura Verde para Seguridad Hídrica" dijo Lawrence Rubey, Director de Misión de USAID Perú.
Forest Trends tiene una larga experiencia trabajando con socios en Perú, y otros países de América Latina y el mundo, en el diseño e implementación de mecanismos de financiamiento innovadores, así como mecanismos de mercado para cuencas, bosques y conservación de la biodiversidad. Además, es reconocido por pertenecer a una red mundial de expertos, nacionales e internacionales, en estos temas. El 2012, Forest Trends estableció la incubadora para Mecanismos de Retribución por Servicios Ecosistémicos (MRSE) con el Ministerio de Ambiente de Perú, con quien ya se han coordinado esfuerzos junto a socios del Consorcio Invierte Verde, donantes internacionales, líderes nacionales, regionales y locales, con la meta de abordar, de forma sistemática, las barreras a la inversión efectiva en infraestructura verde en Perú. CONDESAN es socio fundador y coordinador de la Iniciativa Regional para el Monitoreo Hidrológico de los Ecosistemas Andinos (iMHEA) y aporta una sólida experiencia en gestión de recursos hídricos y medios de vida sostenibles a nivel comunitario. CONDESAN, además, coordina actividades de la Incubadora MRSE con el MINAM y SUNASS. Esto incluye la implementación de la Ley MRSE y las tarifas de agua. La SPDA es uno de los think tanks de políticas públicas y legislación ambiental más influyentes en Perú, y ha contribuido significativamente a fortalecer el marco regulatorio, así como la capacidad técnica del sector público para una serie de instrumentos financieros de conservación, incluidos los MRSE, así como leyes y regulaciones sobre carbono forestal y compensación de biodiversidad. EcoDecisión es fuente primordial en información sobre finanzas para la conservación en América Latina. Sus expertos diseñaron el primer fondo de agua en América Latina, y han proporcionado un liderazgo estratégico para el desarrollo de la Incubadora MRSE en Perú. Imperial College London tiene dos décadas de investigación aplicada en hidrología andina y recursos hídricos, con experiencia específica en monitoreo y modelado de procesos hidrometeorológicos, suministro de agua y riesgos relacionados en los Andes peruanos.
La experiencia combinada del Consorcio se complementará con los aportes de organizaciones internacionales, como el Research Triangle Institute (RTI), el Centro para la Investigación Forestal Internacional (CIFOR), Deltares, la NASA, Encourage Capital y Arup. El Proyecto trabajará en estrecha colaboración con líderes y organizaciones locales, Consejos de Cuencas hidrográficas, agencias gubernamentales peruanas, universidades e institutos técnicos, empresas y sociedad civil, con la meta de construir una amplia y diversa coalición de actores. Este enfoque será necesario para alcanzar proyectos efectivos y sostenibles en torno a infraestructura verde.
Para obtener más información sobre la infraestructura verde en Perú y este proyecto, contáctese con Genevieve Bennett, Gerente de Comunicaciones de Forest Trends (GBennett@nullforest-trends.org).
---
Viewpoints showcases expert analysis and commentary from the Forest Trends team.
Connect with us on Facebook and Twitter to follow our latest work.