Everyone who has a little one close to their heart knows the meaning of truly wishing well for someone's future. If you have children in your life, a safe planet to live on is most likely among your wishes for them. However, our love for young ones is often fueling the environmental crisis – from the up to 6000[1] disposable diapers used in a child's first years of life to the single use plastics and plastic toys consumed over years of care and play. It's no coincidence that the toy industry is growing five times faster than the children's population globally[2], while connection to nature is decreasing[3].
The paradox between our vision for children's futures and our material investments in their upbringing hides a powerful opportunity. Imagine if our choices on behalf of little ones could help protect the environment? What if caregivers, teachers, friends, and family made choices for their children that were in alignment with the future they envision for them? If investments in the coming generation helped restore the planet, they could inherit a very different future. We are launching Kurumi in August 2020 to meet this challenge.

Kurumi promotes children's products handcrafted by indigenous communities from safe, sustainable, environmentally friendly materials. A Kurumi recommended product supports both a lower carbon childhood and the livelihoods of the communities who protect the forests we need to combat climate change. Kurumi's first endeavor is with Wichí communities in the Chaco region of Northern Argentina – South America's second largest forest after the Amazon.
Studies suggest that to limit global warming to 1.5C by 2100, a child born today should emit eight times less greenhouse gas emissions than their grandparents throughout their lifetime[4]. Our vision at Kurumi is to turn the market demand for toys and other children's goods into a tool for climate friendly actions. It was born as an idea in 2019, a year when youth and children were taking the streets to demand a safer future[5], reports of eco-anxiety among kids were rising[6], and Youtube channels with kids opening presents were making millions[7]. Kurumi's goal is to create ways for people to "give children the future as a present." We are doing so to raise awareness about the potential for the toy industry to help drive sustainable markets and lifestyle choices and provide concrete, low carbon alternatives for consumers.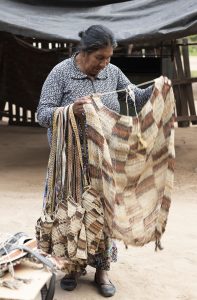 The amount of money we invest in products that increase children's ecological footprint contrasts sharply with how little worldwide attention is directed towards fighting climate change and conserving ecosystems. The value of the toy market – 90.7 billion USD[8] – almost matches the size of the climate finance target set in the Paris Agreement for climate finance to flow from developed to developing countries by 2020. To put it another way, the toy market is five times what was mobilized in 2018 for climate mitigation and adaptation in the land use, forestry, and agriculture sectors[9]. What's more, about 90% of toys produced are plastic[10], which is made from fossil fuels.
The task ahead is huge. Take the state of the world's forests. For many cultures[11] and in several fairytales, forests are a powerful symbol of divinity, magic, endurance, and immortality. Forests are home to most of the world's terrestrial biodiversity, provide water and plants for medicinal use, and mitigate climate change[12]. Despite providing these essential services, forests are being cut down and degraded; since 1990, 420 million hectares of forest have been lost[13]. They are also not a global investment priority – in 2018, only USD 16 billion of international climate finance were directed towards agriculture, forestry, land-use, and natural resource management[14], while investments in renewable energy accounted for USD 322 billion[15].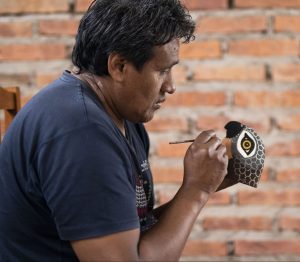 Indigenous and traditional communities are the first line of defense against forest loss and fighting climate change. Despite managing a quarter of the world's forest-based carbon[16], they face severe socioeconomic challenges and make up 15% of the world's extreme poor, while representing only 5% of the global population[17]. Indigenous people are some of the most important leaders in the mission of reverting the environmental crisis, but they are often excluded from political and economic decisions and face constant threats to their rights and homelands.
Forest Trends' Communities and Territorial Governance Initiative and local partners have been working to reverse this trend by supporting indigenous efforts to advocate for their rights, preserve their cultural heritage, and support their livelihoods and well-being. Supporting programs like TUCUM, an online platform connecting indigenous artisans and consumers, or sustainable production of forest products, like Brazil nuts via agroforestry, supported by USAID Brazil, help communities carry out their own visions of economic development and security. These are the principles, partners, and projects that Kurumi are aligning themselves with.
Kurumi will participate in these efforts to support and strengthen the role of indigenous people in reversing climate change by providing an alternative to those who want to give a meaningful gift to a child. The project will help shift consumer resources away from toys and other children's products that harm our planet and use them to empower traditional communities instead. Kurumi's first project was to make an activities book about Wichí communities in Northern Argentina. We are working with artists and artisans from these communities to launch a collection of children's products by Christmas 2020. In the meantime, we have reviewed some of their other products and commercialized them online as fun gift suggestions for children.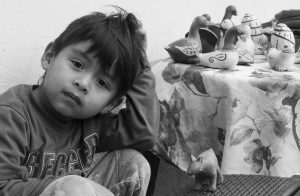 At Kurumi, we see the disconnect between the large carbon footprint of the toy industry and the negative impact it has on the world we want to leave our kids as an opportunity to make more forward-looking choices. An opportunity to contribute to forest conservation by supporting indigenous communities, and to reflect our concern for our children's future in small, everyday choices. By combining the power of the childhood market and indigenous knowledge, we hope to make raising a child and restoring the planet part of the same life project.
About Kurumi
Kurumi is an initiative that works to connect people who look for social and environmentally friendly presents for children with traditional communities that look for ways to access markets in more equal terms. Together with indigenous artists and artisans, designers and educators, Kurumi creates and recommends products made by local communities with sustainable materials, sowing care for the planet and respect for traditional cultures. Kurumi also fosters the discussion and analysis about how the toy industry could become a driving force for a more sustainable future.
About Forest Trends
Forest Trends works to conserve forests and other ecosystems through the creation and wide adoption of a broad range of environmental finance, markets, and other payment and incentive mechanisms. Our Communities and Territorial Governance Initiative partners with indigenous and other forest communities on innovations to secure their rights, livelihoods, and cultures through a strategy built on advocacy, economic self-determination, and cultural integrity.
[1] Wrap. "Real Nappies: Overview." Accessed on 26 July 2020. www.wrap.org.uk/content/real-nappies-overview?platform=hootsuite.
[2] Children's population (0-14 years) was 1.912 billion in  2014 and grew 2.4%, reaching 1.958 billion in 2018; World Bank. "Population between 0 and 14 years of age, total." 2019. datos.bancomundial.org/indicador/SP.POP.0014.TO?end=2018&start=2013&view=chart; toy sales grew 14%, going from USD 79.2 billion in 2014 to USD90.2 billion in 2018; The Toy Association. "Global Sales Data." With permission of NDP Group. www.toyassociation.org/ta/research/data/population/toys/research-and-data/data/global-sales-data.aspx
[3] Giusti, M. "Where and how children connect to nature." Stockholm Resilience Center. www.stockholmresilience.org/research/research-news/2018-04-03-where-and-how-children-connect-to-nature.html.
[4] Hausfather, Z. 10 April 2019. Analysis: Why children must emit eight times less CO2 than their grandparents. Carbon Brief. www.carbonbrief.org/analysis-why-children-must-emit-eight-times-less-co2-than-their-grandparents.
[5] In 2018/2019, the Fridays for Future movement mobilized people in 7,500 cities, according to their records. Accessed on 26 July 2020. fridaysforfuture.org.
[6] Legg, T. J. 19 December 2019. "What to know about climate anxiety." Medical News Today. www.medicalnewstoday.com/articles/327354;
APA. 2017. "Mental Health and our changing climate: Impacts, implications and guidance." www.apa.org/news/press/releases/2017/03/mental-health-climate.pdf.
[7] Berg. M. 3 December 2018. "How This 7-Year-Old Made $22 Million Playing With Toys." Forbes. www.forbes.com/sites/maddieberg/2018/12/03/how-this-seven-year-old-made-22-million-playing-with-toys-2/#65dcb4384459.
[8] The Toy Association. "Global Sales Data." www.toyassociation.org/ta/research/data/population/toys/research-and-data/data/global-sales-data.aspx
[9] According to the Climate Policy Initiative, in 2018 USD 7 billion were mobilized for adaptation and USD 9 billion for mitigation. Global Landscape of Climate Finance 2019. www.climatepolicyinitiative.org/wp-content/uploads/2019/11/2019-Global-Landscape-of-Climate-Finance.pdf. Global Climate Finance: An Updated View 2018
[10] "Infância plastificada O impacto da publicidade infantil de brinquedos plásticos na saúde de crianças e no ambiente." 2020. criancaeconsumo.org.br/wp-content/uploads/2020/06/cc_infancia-plastificada.pdf.
[11] Crews, J. "Forest and tree symbolism in folklore." FAO. www.fao.org/3/y9882e/y9882e08.htm.
[12] FAO. 2020. The state of the world's forests 2020. Available at www.fao.org/state-of-forests/en/.
[13] ibid
[14]USD 7 billion for adaptation and USD 9 billion for mitigation. Climate Policy Initiative. Global Landscape of Climate Finance 2019. Available at https://www.climatepolicyinitiative.org/wp-content/uploads/2019/11/2019-Global-Landscape-of-Climate-Finance.pdf.
[15] ibid. Table A.2.
[16] Rights and Resources Initiative. 2016. Towards a global baseline of carbon storage in collective lands. rightsandresources.org/wp-content/uploads/2016/11/Summary-Toward-a-global-baseline-of-carbon-storage-in-collective-lands_november-2016_RRI-WHRC-WRI.pdf.
[17] World Bank. "Indigenous Peoples." www.worldbank.org/en/topic/indigenouspeoples.
---
Viewpoints showcases expert analysis and commentary from the Forest Trends team.
Connect with us on Facebook and Twitter to follow our latest work.