English | 中文
---
This month, Forest Trends released the results of the first survey of government agencies responsible for the implementation of the EU Timber Regulation (EUTR), US Lacey Act, and Australian Illegal Logging Prohibition Act (ILPA). The survey quantifies the extent and nature of enforcement activity of these regulations, which aim to combat the global trade in illegal wood. The results of this survey demonstrate in quantitative terms that there is concerted effort on the part of the US, EU, and Australia to tackle trade in wood illegally sourced from the world's remaining forest estate, using due diligence strategies.
Responses were collected from government agencies in 14 European countries, three US agencies and the Department of Agriculture and Water Resources in Australia. EU Member States who responded to the survey were: Bulgaria, Czech Republic, Denmark, Finland, France, Germany, Ireland, Latvia, Luxemburg, Malta, the Netherlands, Sweden, the UK, and one Member State that prefers not to be identified. Several countries have strict privacy laws that limit the publication of information about their enforcement activities, so the total figures are, in fact, considerably higher than those reported.
Box 1: Importance of US, EU, and Australian Markets for Chinese Wood Product Exports

Half (50%) of China's wood product exports are bound for markets in the US, EU, or Australia by value (40% by volume), and the trend has been an upward trajectory for the past 15 years. In some categories of wood products, the percentage is even higher: nearly two thirds of China's furniture exports and three quarters of flooring exports were destined for the US, EU, or Australia last year.
These enforcement agencies reported that between September 2015 and March 2016:
495 inspections of company sites were undertaken.
955 Due Diligence Systems were reviewed.
Where non-compliance was found, these agencies reported that the following were issued: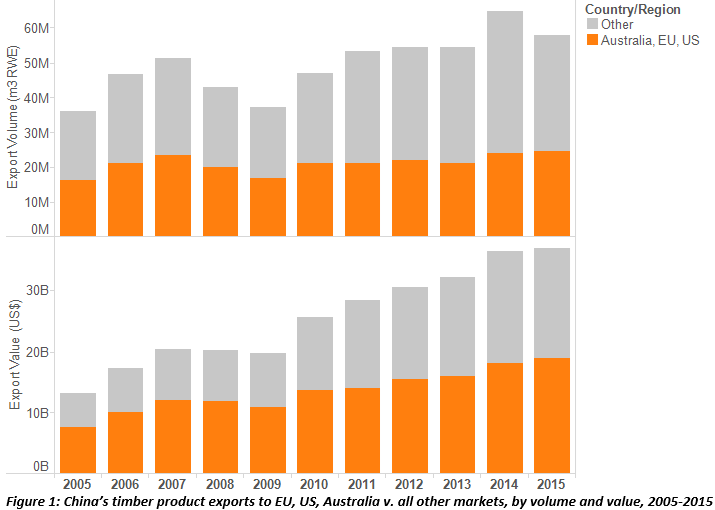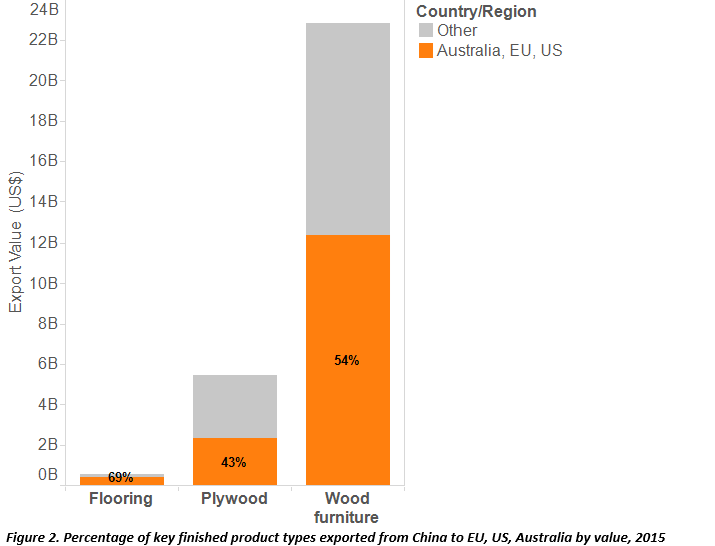 Survey Data Finds Chinese Wood Products Imports High on List of Infractions
Notably, the survey showed that wood product imports from China were associated with more non-compliance actions than any other country. If high volumes of Chinese wood products continue to be found unable to provide the evidence necessary for customers to demonstrate compliance with these timber regulatory legislations, US, EU, and Australian buyers may begin to search for alternative suppliers — and in fact the survey shows that this may already be happening.
Out of the 18 agencies reporting, six cited China in association with CARs, injunctions, or sanctions issued to companies between September 2015 and March 2016. Six agencies also reported that companies in their jurisdictions had decided to stop buying from individual Chinese suppliers who were unable to provide full documentation and independently verified chain-of-custody in favor of others who could. China was cited three times as frequently as Russia and Brazil in this regard. Other countries highly associated with CARs, injunctions, sanctions, or changes in suppliers included Gabon, Cameroon, Myanmar, Russia, and Vietnam — all of which are major source countries for raw material to China and are considered at high risk for extensive illegal logging, established illicit trade networks, and other factors.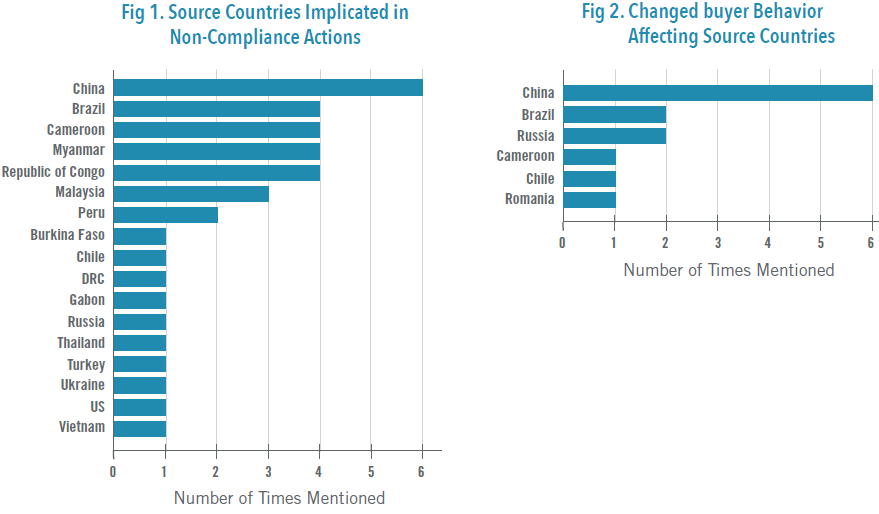 This data comes shortly after the conclusions of the Lumber Liquidators case with the largest Lacey Act penalty in history and the groundbreaking prosecution of a case of domestic broadleaf maple theft from a national park in Washington State.
Officials were also asked to identify the numbers of enforcement activities that were focused on domestic forest producers, timber importers, furniture importers, or pulp/paper importers. Not all agencies were able to disaggregate their data in this way, but those that were able to could provide an indication of where enforcement resources have been focused in the last 6 months, and where non-compliances have most frequently been found.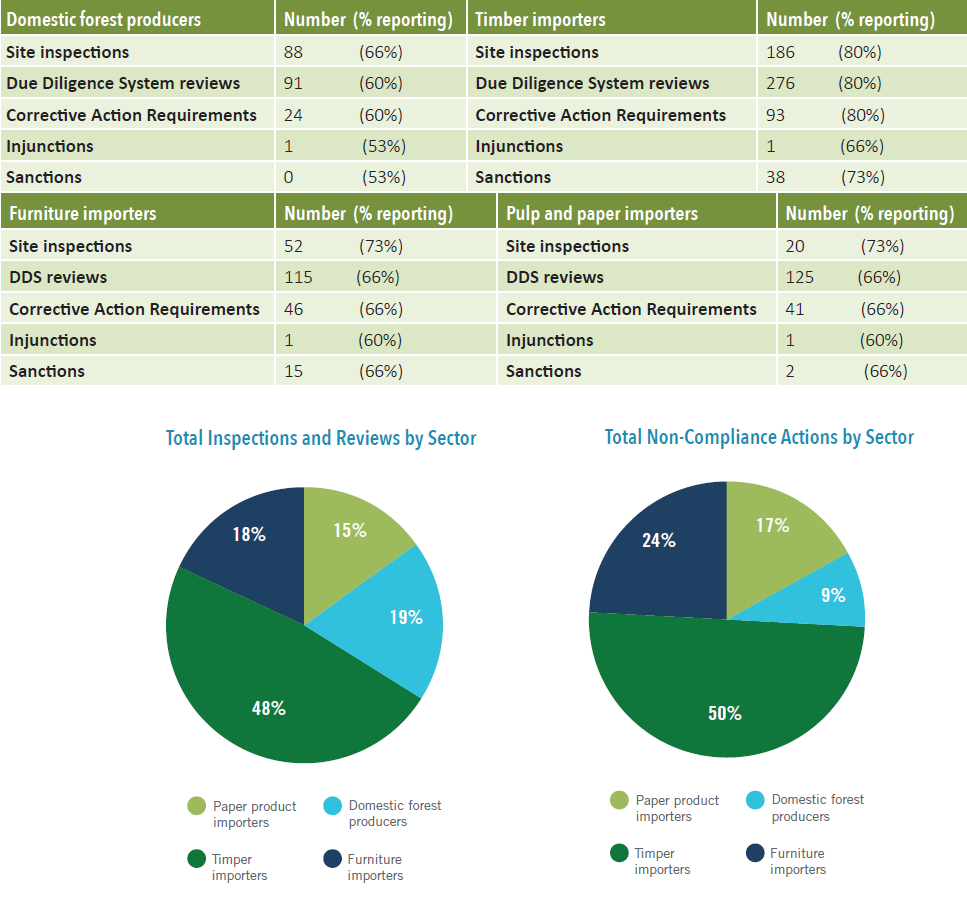 Responsible Enterprises in China Need Support
Responsible enterprises in China are increasingly vocal about the need for support to ensure their production systems can meet the needs of buyers regulated by the EUTR, Lacey, and ILPA; a survey of 53 Chinese enterprises conducted by the Chinese Academy of Forestry found that these companies consider the new requirements to be challenging, but are willing to invest in supply-chain transparency to maintain market access.
The Government of China can play a crucial role in arming enterprises with the necessary information to meet consumer country standards, including information and training on developing Due Diligence Systems and conducting supplier evaluations. Ultimately, mandatory legislation requiring these steps of all companies importing wood to China, and particularly those in sectors that export to consumer countries, would go far to level the playing field among Chinese enterprises (particularly small and medium-sized companies), assure US, EU, and Australian buyers that finished products processed in China meet the new global norm for legality, and solidify China's reputation abroad as a country that acts decisively to combat environmental harm both within and outside of its borders.
The Spring 2016 TREE Newsletter is available here.
[1] A corrective Action Requirement is a legal notice to a company that they should improve their Due Diligence System in particular ways. The terms of these letters differ depending on the national regulatory agency, but many include timescales, and failing to meet the terms set out often incurs a financial penalty that is separate from the penalty regime of the timber trade legislation.
[2] A "Cease and desist" notice, or injunction, is a legal order to a company that it must stop harvesting, importing, or selling in a product for which the company cannot demonstrate robust due diligence.
[3] A sanction is a financial penalty or other negative consequence for a company for failing to comply with the legislative requirements.
---
调查显示美国、欧盟和澳大利亚执法行动在打击非法采伐方面取得了进展—中国能扮演何种角色?
本月,森林趋势发布了对《欧盟木材法案》(EUTR)、美国《雷斯法案》以及《澳大利亚非法采伐禁止法》(ILPA)政府执法机构的第一次调查结果。该调查量化了这些旨在打击非法木材全球贸易的法规执法活动的范围和性质。此项调查的结果展示了美国、欧盟和澳大利亚应对非法木材贸易的共同努力,利用尽职调查的策略应对那些从世界上仅存的森林资产非法采购的交易。
调查收到了14个欧盟成员国、3家美国执法机构以及澳大利亚农业和水资源部的答复。回应调查的欧盟成员国包括:保加利亚、捷克共和国、丹麦、芬兰、法国、德国、爱尔兰、拉脱维亚、卢森堡、马耳他、荷兰、瑞典、英国以及一个不愿透露名称的成员国。一些国家有严格的隐私法,限制发布他们的执法活动信息,所以事实上总的数字要大大高于所报道的部分。
框表 1:美国、欧盟和澳大利亚市场对中国木材产品出口的重要性

在过去15年中中国木材产品出口一直呈上升趋势。中国木材产品出口额的50%(出口量的40%)是运往美国、欧盟和澳大利亚市场的,在木制品的某些类别中,这一比例甚至更高:去年,中国近三分之二的家具和四分之三的地板出口至美国、欧盟和澳大利亚。
这些执法机构报告称,2015年9月至2016年3月之间: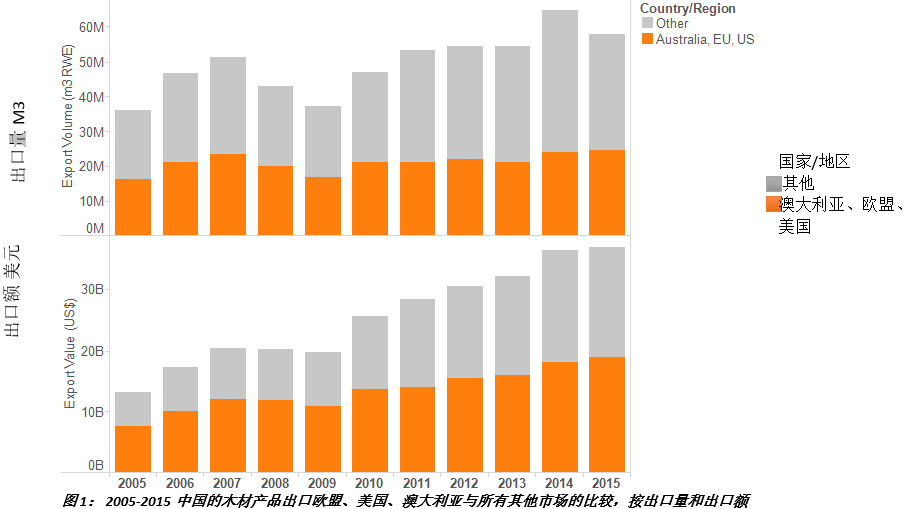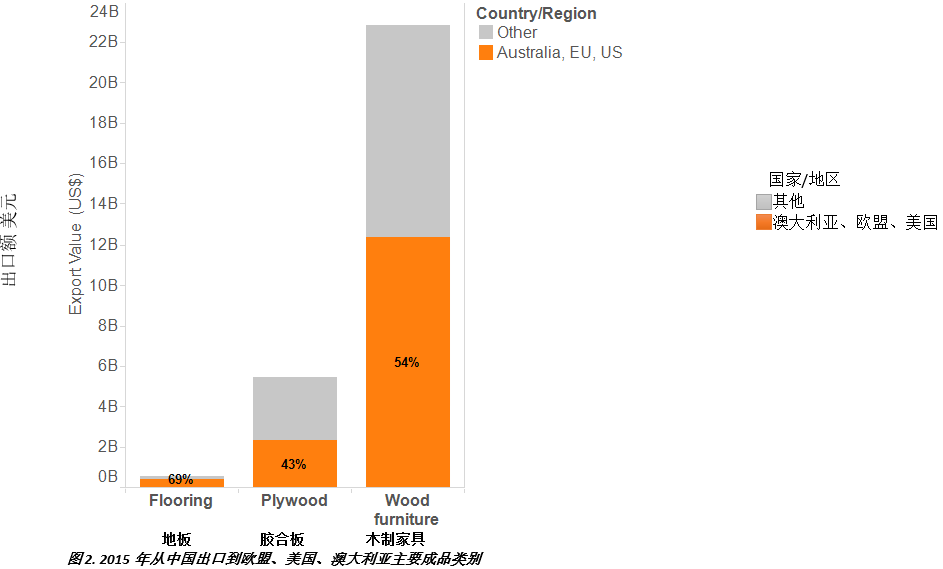 调查数据显示从中国进口的木材产品在违规名单上排名靠前
值得注意的是,调查结果显示,从中国进口的木材产品相关违规行为比任何其他国家都多。如果大量来自中国的木材产品继续被认为是无法为客户提供必要的证据证明符合这些国家木材监管法规,美国、欧盟和澳大利亚的买家可能会开始寻找其他替代供应商–事实上,调查显示,这种情况可能已经发生了。
18家执法机构的报告中有6家指出,在2015年9月至2016年3月间对中国公司实施了纠正措施要求、禁令或处罚。6家机构报告中还指出,在其辖区内的公司已经决定停止从个别无法提供完整文件和经独立验证的产销监管链的中国供应商处购买产品,并转向从其他能够提供相关文件的卖家购买。在这方面,中国被提及的频率是俄罗斯和巴西的3倍。其他被实施了纠正措施要求、禁令、处罚或更换了供应商的国家包括加蓬、喀麦隆、缅甸、俄罗斯和越南–所有这些国家都被认为是中国原材料的主要来源国,并被视为存在大量非法采伐,或建立了非法贸易网络,以及其他因素的高风险国家。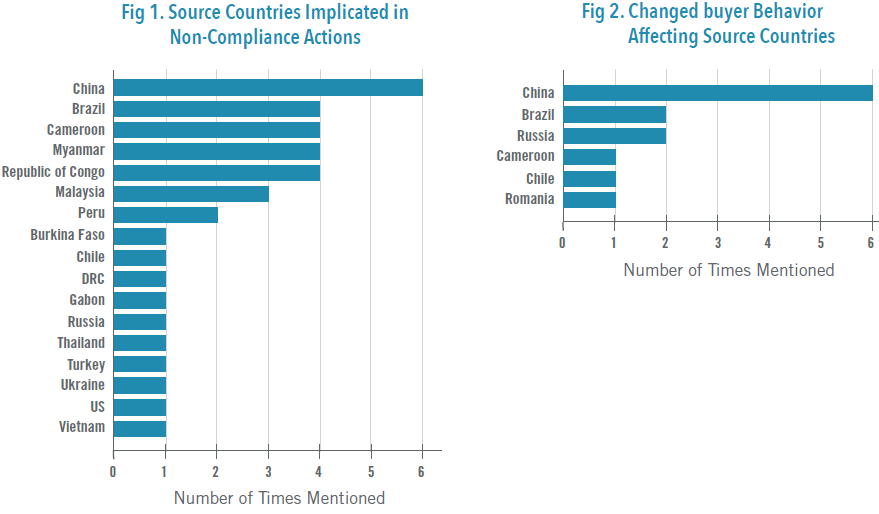 我们要求执法官员重点确定对国内木材生产商、木材进口商、家具进口商、纸浆及纸进口商的执法活动数量。然而,并非所有机构都能够以这种方式分解数据,但是那些能够做到的,可以给我们指出其执法资源在最近6个月的重点以及常见的不合规项。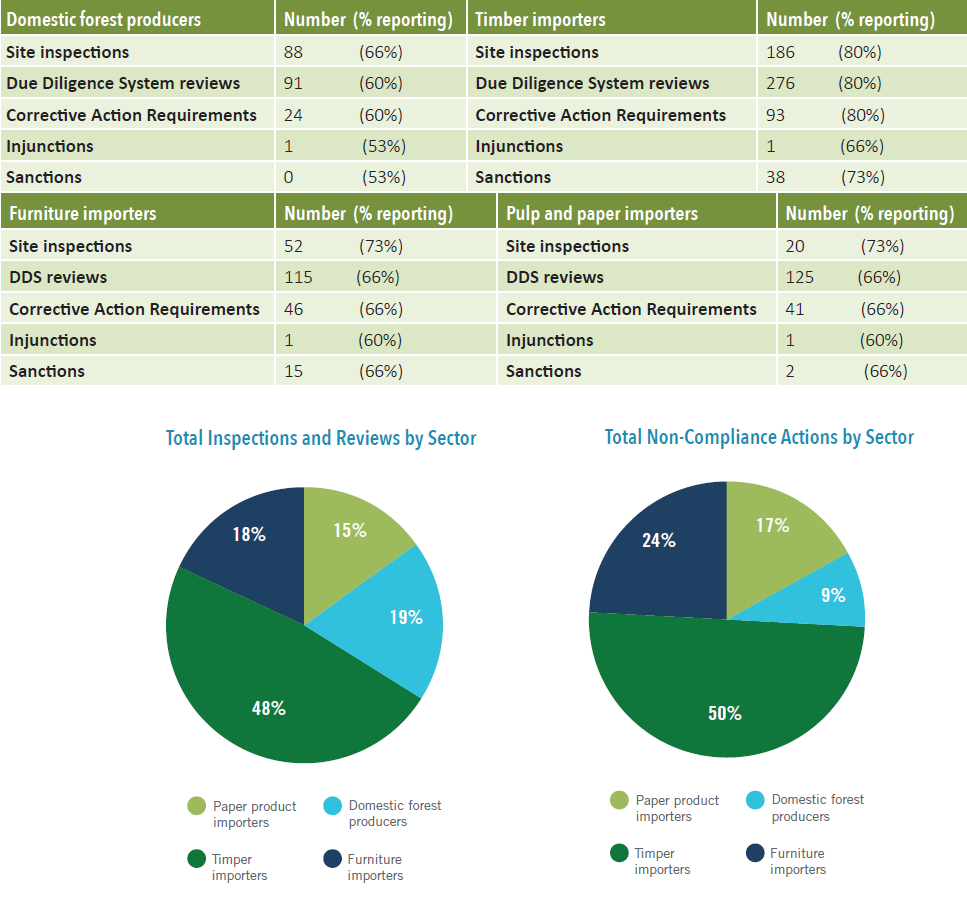 中国的负责任企业亟待支持
在中国负责任的企业越来越直言不讳地指出他们需要支持,以确保其生产系统能够满足那些受到《欧盟木材法规》、《雷斯法案》以及《澳大利亚非法采伐禁止法》监管的买家的要求。中国林业科学研究院对53家中国企业开展的调查发现,这些公司认为新要求是具有挑战性的,但他们愿意投资于提高供应链的透明度来维持市场准入。
中国政府在向企业提供必要的信息以满足消费国的标准方面发挥着至关重要的作用,包括开展尽职调查体系的培训和对供应商进行评估。最终,中国需要出台强制性的立法,要求所有中国进口木材的公司都采取行动,以创造中国企业(特别是中小企业)的公平竞争环境,向美国、欧盟和澳大利亚买家保证,在中国加工的成品满足了全球合法性新规范,并巩固中国在海外的声誉,证明其是一个为应对国内外的环境损害而果断采取行动的国家。
2016年TREE春季简报,请访问:https://www.forest-trends.org/program.php?id=401
这组数据是美国林木宝公司案件–《雷斯法案》实施以来史上最大的一笔处罚,以及另一起开创性的、对从华盛顿州国家公园偷盗阔叶枫案件的起诉刚刚有了结论后提交的。
[1]纠正措施要求是给一家公司的法律通知,要求他们以特定的方式改善其尽职调查体系。这些信函的条款因不同国家的监管机构而有所不同,但大多都包括时间表,如果未能按照规定时间改正不合规条款,则通常会招致经济罚款,但这是独立于木材贸易立法的处罚制度。
[2] "禁止函" 或禁令是对一家公司的法律命令,要求公司必须停止采伐、进口或销售其不能证明已开展了严格的尽职调查的产品。
[3]处罚是对一家公司未能遵守立法要求的经济罚款或其他不良后果。
---
Viewpoints showcases expert analysis and commentary from the Forest Trends team.
Connect with us on Facebook and Twitter to follow our latest work.