In the last week we have seen the announcement of several important steps forward for the people of Peru and the critical ecosystems that sustain their livelihoods and cultures. The Peruvian government has formally released: 1) the regulation of its groundbreaking national payments for ecosystem services law; 2) a separate regulation of the Sanitation Sector Reform Law that creates a process for water utilities to utilize payments for ecosystem services to secure their water supply through watershed conservation; 3) a national strategy for forest conservation in the context of climate change; and 4) guidance for biodiversity offsets under Peru's innovative no-net-loss rules. These important steps forward were complemented by Peru's formal ratification of the Paris Agreement this week.
Each of these achievements reflect years of hard work by our partners in the Peruvian government, civil society, and indigenous peoples, and major efforts from our different programs to tackle the day-to-day challenge of turning a vision into a reality.
Peru deposits Instrument of Ratification of #ParisAgreement with @UN https://t.co/KbXgYTwCfL 20th country to do so pic.twitter.com/mdg64GaC4v

— UN Climate Action (@UNFCCC) July 27, 2016
1) Regulation of the Ecosystem Services Compensation Mechanisms Law
Last Thursday, the government of Peru approved the regulation of its groundbreaking Ley de Mecanismos de Retribuciones por Servicios Ecosistémicos, a 2015 law passed under the leadership of Peru's visionary Environment Minister, Manuel Pulgar-Vidal.
This regulation represents a critical piece of the legal puzzle to ensure that Mecanismos de Retribución por Servicios Ecosistémicos (MRSEs), essentially the Peruvian version of payments for ecosystem services, are sanctioned under Peruvian law. In particular, it provides the necessary legal signal to permit public investment to flow to MRSEs. As an example, in the water & sanitation sector, over US$30 million has already been set aside for MRSE mechanisms to help secure water supply for Peruvian cities by investing in watershed conservation. The new regulation provides the legal clarity that will allow these funds to reach effective projects on the ground.
This moment represents a hard-fought victory for the diverse coalition of allies who have worked for years to make these creative conservation finance tools a reality. A key player in this process has been the Peru Ecosystem Services Project Incubator, a partnership between the Ministry of Environment of Peru and Forest Trends that was established in 2012 with sustained support from the Swiss Agency for Development and Cooperation and in partnership with CONDESAN and EcoDecisión. The Incubator has been at the center of creating the enabling conditions for advancing the protection of ecosystem services in Peru by providing support for the public consultation process for the regulation, cross-sectoral coordination, and technical tools for the new law – all fundamental factors in securing yesterday's achievement.
2) Regulation of the Sanitation Sector Reform Law
Last Sunday, the regulation of the Sanitation Sector Reform Law was also approved, adding another important element of a policy toolbox that has the power to underpin innovative and sustainable conservation finance in Peru. The Sanitation Law includes a clause that requires water utilities to consider watershed conservation and climate change adaptation within their budgeting and planning process; this has already resulted in the tens of millions of dollars reserved for conservation mentioned above. The regulation now defines how that consideration should be made and, critically, clarifies that utilities have the power to formulate, approve, and execute MRSE projects to accomplish these goals.
In close partnership with SUNASS, the national water utility regulator in Peru; local and regional governments; water utilities; land users; and local civil society groups; we have worked through the Peru Incubator to develop effective green infrastructure projects to secure water supply for these utilities in one of the most climate-vulnerable countries in the world. With these critical pieces of the legal foundation in place, green infrastructure is poised to "scale up" dramatically in Peru.
Ivan Lucich, Manager of Policies and Rules at SUNASS, told us this week that the new regulation is the result of a broad collective effort. "This is a milestone for the implementation of MRSE by water utilities in Peru," he said, while emphasizing the important remaining challenge of following through on the implementation of these new policies.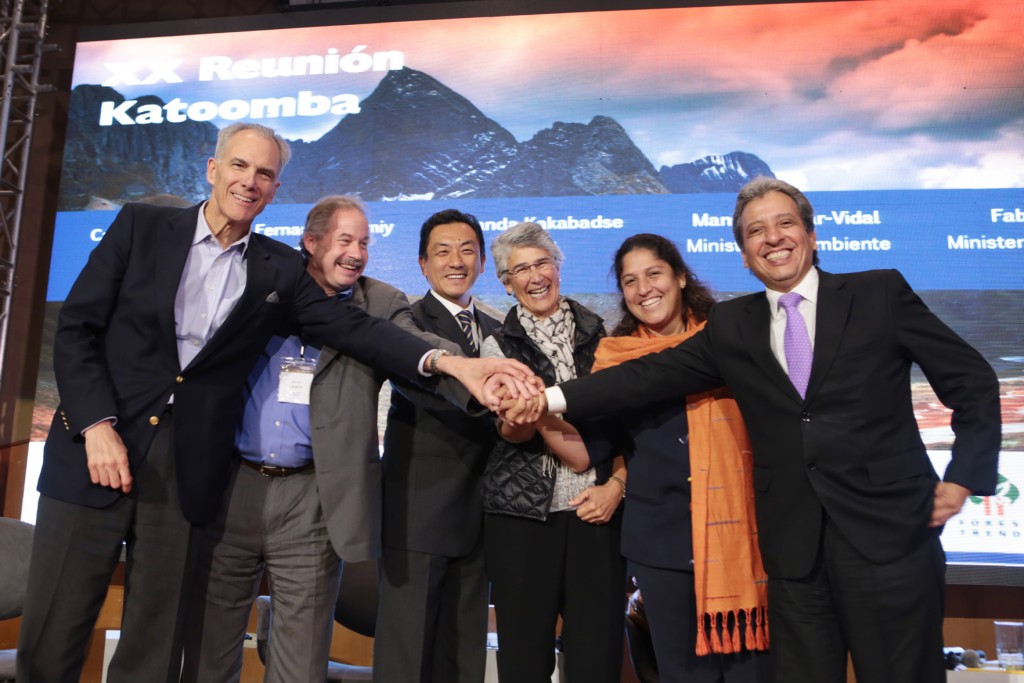 3) National Forestry and Climate Change Strategy
Peru also approved its National Forestry and Climate Change Strategy last Thursday. Representing a significant effort led by Peru's Ministry of Environment with the participation and contributions of a number of national agencies, regional governments, indigenous peoples, and civil society, this Strategy systematically diagnoses the major threats to Peru's forests and lays out a strategy for countering them.
The Strategy takes an integrated landscape approach to forest conservation in the context of climate change mitigation and adaptation. With the approval of the strategy today, Gustavo Suarez de Freitas, head of Peru's National Forest Conservation Program, highlighted its innovative "production-protection" approach, which aims to increase productivity on the landscape while assuring and leveraging the benefits from conserved forests. Suarez de Freitas told us yesterday, "I am convinced that this will make the difference, and that with this as our foundation we will be able to begin to reverse deforestation in Peru."
Along with other partners, Forest Trends has been part of the National Strategy process since its early efforts, including when we convened over two dozen international experts in 2014 at the 20th Katoomba Meeting in Lima to advise on the development of the strategy. We are currently working with the Ministry of Environment; the Peruvian forest service; subnational governments; private sector partners; and NGO partners Mecanismos de Desarollo Alterno (MDA), Earth Innovation Institute, WWF Peru, EcoDecisión, and Amazónicos por la Amazonía (AMPA); with the support of NORAD, USAID, and the Batten Foundation to develop a roadmap for implementing the Strategy's protection-production vision through cross-sectoral partnerships.
4) Guidance on Biodiversity Offsets for Andean Ecosystems
Peru also just last week approved official guidance on developing biodiversity offsets in Andean ecosystems. This guide clarifies a policy issued in 2014, just before COP20 was held in Lima, Peru, which requires all development projects in Peru with the highest degree of environmental impacts – including large mining, hydropower, oil and gas, and infrastructure — to assure no net loss of biodiversity. The guide details a process and methodology for calculating the losses and gains due to projects and potential offsets, using metrics corresponding to ecosystem structure, composition, and function that go beyond pure assessments of area and into actual ecological quality.
Ministry of Environment official Magaly Ramos, who has shepherded this guide from start to finish, told us today that it is a "very powerful" document. Forest Trends' biodiversity team has been a close and steady advisor to Peru's no net loss policy since 2012, contributing to the technical approach represented in this guide which will surely be viewed as an example throughout the region.
Editor's note: This post was originally published on Friday, July 22, 2016. It was amended on Tuesday, July 26, 2016 in light of additional news including Peru's ratification of the Paris Agreement (formally submitted on July 25) and its approval of the regulation for the Sanitation Services Law (on July 24).
---
Viewpoints showcases expert analysis and commentary from the Forest Trends team.
Connect with us on Facebook and Twitter to follow our latest work.