2020 has been a rollercoaster. We expect 2021 to be a rocket ship.
Here are the key priorities we'll be pursuing now that January has arrived.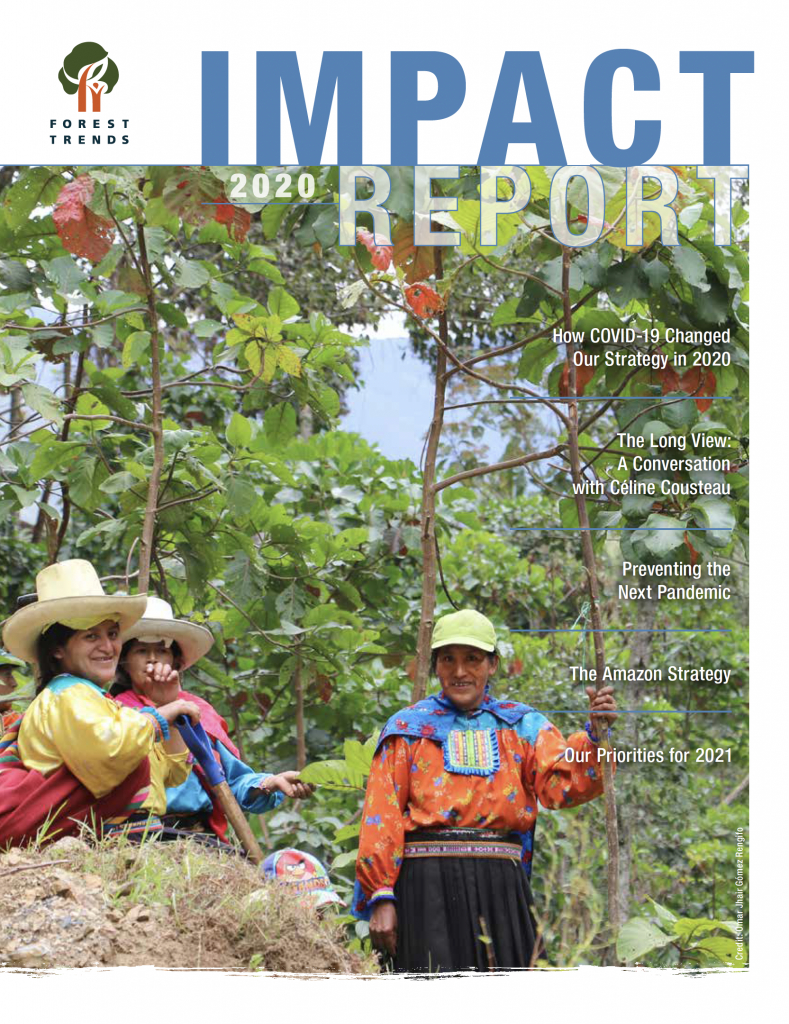 Climate action and environmental conservation must be part of economic recovery packages. Conservation investments are one of the best defenses against future pandemics (see details). They are also an infinitely more sustainable choice for rural economic stimulus than ramping up mining and other natural resources exploitation. We're preparing pipelines of investment-ready projects as stimulus spending gets underway in the places where we work. We'll also work with the incoming Biden administration and Congress on policy and regulation for climate. This includes a focus on international climate leadership as well as internal investments in domestic "natural infrastructure" that support climate, water, food, and job security.
Build a public-private coalition to secure half of the global emissions reductions the planet needs, by funding tropical forest protection. Tropical forest countries need assurance that there will be a long-term return on investment if they protect their forests instead of converting them for development. The Green Gigaton Challenge, launched by Forest Trends and four partners in November 2020, provides that signal. It aims to mobilize funds for transacting at least one gigaton of high-quality jurisdictional REDD+ emission reductions per year by 2025 (see details).
Help companies and investors deliver on their deforestation and climate pledges through market intelligence and strategic advice. As the private sector hastens to eliminate climate and deforestation risks from their portfolios, we'll build out our environmental markets and finance information services to meet the need for decision-critical insights and data. Efficient markets need transparency – which happens to be our specialty. Forest Trends is also in a unique position to both advise investors on a deforestation-free portfolio, and to work with forest communities and jurisdictions to access sustainable finance that meets their needs.
Be a tireless ally to indigenous and ethnic communities, the planet's best guardians of forests. In the Amazon, we'll remain a steadfast partner of indigenous groups as they defend their territories from illegal incursion by loggers, miners, and ranchers. Our strategy is to support strong indigenous territorial governance and economic opportunities for sustainable forest-based enterprises, like Brazil nuts, coffee, and açai (see details). Equally important is helping women artisans grow their businesses: the artisan sector is the second-largest employer in the developing world after agriculture. In Myanmar, we'll work with ethnic minority groups to strengthen local management of forests, as these communities strive to determine their own futures after Myanmar's decades-long civil war. In the Mekong region, our focus is on ensuring smallholders have secure land rights and sustainable livelihood options, so that forests can count on having local defenders for the long haul. On the international stage, we'll advocate for full recognition of the role indigenous peoples play in protecting global carbon sinks, and of the importance of traditional knowledge as we rebuild our relationship with nature in the 21st century.
The world's attention is on forest loss in the Amazon, but the Mekong is also a "hotspot" of deforestation— and that's where we're ramping up efforts. In 2021 we're focused on the commodity trade that drives deforestation there: timber, rubber, sugar, bananas, coffee, and pepper. We'll continue to work with governments in both countries exporting these products (Vietnam, Myanmar, Laos, Cambodia, and Thailand) and importing them (the EU, UK, US, Australia, Japan, South Korea, and China) to end the global trade in products linked to illegal deforestation.
Keep reading in our 2020 Impact Report
See yourself in any of these strategies? At Forest Trends, we believe that building strong, diverse coalitions is the only way the world will solve the big problems. To learn more or partner with us, please get in touch.
---
Viewpoints showcases expert analysis and commentary from the Forest Trends team.
Connect with us on Facebook and Twitter to follow our latest work.