Brazilian deforestation surged 34 percent in 2019 as President Jair Bolsonaro relaxed restrictions on development in the Amazon. Now COVID-19 is spreading across indigenous territories – threatening the people who have long served as guardians of the forest.
In the 1980s, a young chief of the Kayapó people emerged from the Brazilian Amazon to save the Xingu River and the forests of its basin – the "lungs of the planet" – from destruction. His name was Paulinho Paiakan, and he spent the rest of his life leading local, regional, and global efforts to save the Amazon from loggers, miners, and others seeking to profit from its destruction. Paiakan's life ended earlier this month, when he and several other Kayapó elders succumbed to COVID-19.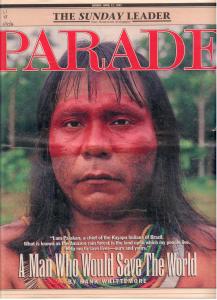 Deadly pathogens loom large in the recent history of all the people of the Amazon, who lived in isolation from the rest of the world – and in harmony with the forest – until European invaders brought smallpox, measles, and influenza.
The invasions began 500 years ago, but are continuing today – with tragic consequences for indigenous people as well as the forests they protect and the global climate on which we all depend.
The Paiter-Surui, for example, didn't make First Contact with Brazilian authorities until 1969, and their population plunged from 5,000 to 290, while the forest they nurtured shrunk to a fraction of its previous size. Last year, the Intergovernmental Panel on Climate Change (IPCC) reported that roughly 23 percent of global human-caused greenhouse gas emissions come from the way we manage land, but that indigenous people around the world continue to manage land sustainably.
Ten years ago, the Paiter-Surui tried to save their forest by launching the world's first indigenous-led conservation project financed through the sale of carbon offsets. The groundbreaking project dramatically reduced deforestation within the territory for five years, but was suspended in 2018 after the discovery of large gold deposits in the territory sparked a surge in deforestation.
Deforestation is Surging amidst COVID-19 Chaos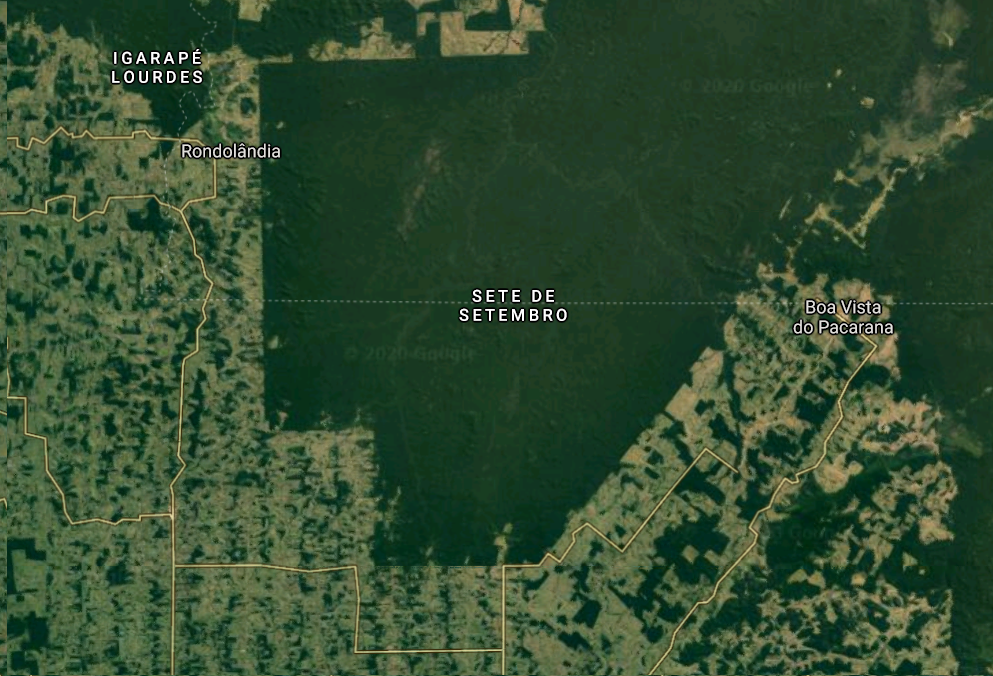 The pandemic is now hitting as new figures show deforestation surged 34 percent in President Jair Bolsonaro's first year in office, accelerating a trend that began in 2016 following ten years during which Brazil was a deforestation success story.
It's easy to attack Bolsonaro and his Alliance for Brazil for the acceleration of forest destruction, but neither he nor Donald Trump emerged from a vacuum. Both rode waves of resentment to power – resentment that flows in part from the fact that the world failed to adequately support the country's efforts to save its forests after the country slashed deforestation a staggering 70 percent from 2005 through 2015 and reduced greenhouse gas emissions more than the entire European Union had in the same period.
Bolsonaro was elected on a platform of expanded agricultural development, including in territories over which indigenous people have legal authority, and the country's National Institute for Space Research (INPE) mapped 10,129 square kilometers of deforestation (3,911 square miles) from August 2018 to July 2019.
Indigenous Communities and COVID-19
COVID-19 is hitting indigenous territories harder than other parts of Brazil, according to the Federation of Indigenous Peoples of Brazil (Articulação dos Povos Indígenas do Brasil, "APIB"), which keeps a running total of known infections and deaths here, in part because of indifference and incompetence on the part of Brazilian authorities. On June 4, for example, the federal indigenous health service (SESAI) acknowledged that a COVID-19-positive doctor had visited several indigenous villages, an act that the attorney general's office and APIB pin directly on shoddy reorganization of the service under Bolsonaro appointee Silvia Nobre.
Indigenous peoples are disproportionately vulnerable to COVID-19 and other communicable diseases, due to factors including often-poor access to health care resources, multigenerational living, and a lack of access to clean water and sanitation. Mortality rates for indigenous peoples in Brazil are double the national average.  Access to healthcare is often poor to nonexistent: indigenous villages in the Amazon are on average 315 km away from an ICU bed in the Brazilian public health system.
The situation is even worse among uncontacted or newly-contacted people, according to the National Geographic's Scott Wallace. He reports that the newly-contacted Kokama have lost 55 people to COVID-19 since early April, when a medical worker visited the village without following self-quarantine procedures that are routine for anyone visiting a remote village. Wallace also documents growing incursions by gold miners who practice an illegal form of alluvial mining (known as garimpo in Portuguese), which involves digging up massive amounts of soil, using mercury to draw out any gold, and then burning the residue. It's the same practice that decimated the Paiter-Surui territory, and one that recent governments have turned a blind eye towards.
Forest Trends' Response to the COVID-19 Indigenous Crisis
Emergency Response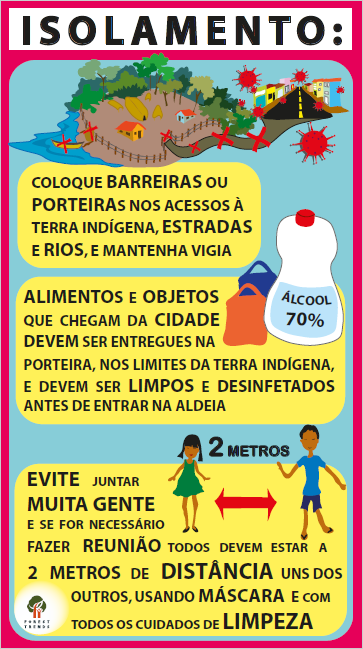 Forest Trends and our partners in Amazon countries are working as quickly as we can to direct relief to indigenous communities to immediately confront the impact of the pandemic, and to secure funds to scale these activities further.
The following activities are already under development by Forest Trends:
We're acquiring and safely distributing food, cleaning, and hygiene supplies, including coordinating the production and distribution of more than 30,000 masks.
We're arranging for transportation of fuel and food supplies purchased by indigenous families (in partnership with government agencies), so that indigenous people do not have to travel to cities.
We're disseminating information, security protocols, educational campaigns, and opportunities to access emergency funds to all of our indigenous partner organizations. This includes a COVID-19 prevention information campaign. We're also supporting a young indigenous leader in a series of videos interviewing elders and tribal leaders, which are being disseminated to indigenous communities as a short film and via WhatsApp.
We're providing technical support for locally led projects responding to public tenders offering emergency funds, as well as crowdfunding campaigns. Projects are mainly focused on food security, communication, and obtaining working capital for indigenous enterprises including artisanal products and Brazil nut production.
We're conducting a survey of food supply by indigenous organizations, establishment of partnerships with family farming organizations, and the creation of an operational distribution system with government agencies FUNAI and SESAI. We're also partnering with communities on community-based food production systems, including traditional gardens and agroforestry systems.
Virtual communication based on internet connection is already a reality for indigenous peoples in the Amazon and is increasingly necessary and important in the context of the pandemic. We're working to secure resources to support an indigenous-led communication network, identify connectivity gaps, install internet access points, and develop training and informational materials to improve health care at the village level.
Long Term Support
In the long term, there is a need for stronger surveillance and control. This means establishing and training a network of young indigenous monitors. Fences and gates must be installed at the entrance to indigenous lands, as well as checkpoints in strategic locations along roads and rivers. Surveillance expeditions, with the adoption of all security protocols, are also necessary in certain less populated regions of indigenous lands.
We envision a digital platform to engage communities, particularly young indigenous people, on territorial governance. This includes training materials on health care, economic resilience, food security, climate change adaptation, gender, intergenerational learning, and indigenous rights advocacy. A foundation of strong self-governance ensures strong indigenous institutions and territorial protection, including having the technological, financial, and technical resources to monitor indigenous lands against illegal incursions.
---
Viewpoints showcases expert analysis and commentary from the Forest Trends team.
Connect with us on Facebook and Twitter to follow our latest work.