I remember participating in a panel convened for World Water Day a few years ago, when the discussion turned to the barriers to scaling up investment in natural infrastructure for water. One expert expressed the opinion that political interests carry a lot of weight for a simple reason: "You can't inaugurate an investment in nature the way you do with the construction of a large gray infrastructure project. Ecosystems will always be at a disadvantage without the visibility of conventional infrastructure," he said.
Today, if I were to see this colleague, I would tell him that there's one less barrier for natural infrastructure.
Monday, March 22, World Water Day, was, indeed, a happy day. And why do I say that? Because a ceremony was held where the first "champa" (high Andean peat) was placed to break ground on a pioneering ecosystem services project in the hydrological basin that supplies Lima and Callao. The project is financed by millions of water users, who pay a monthly fee in their water bill to protect water at its source.
The Ministers of Environment, Gabriel Quijandría; Agriculture, Federico Tenorio Calderón; Housing, Solangel Fernández Huanqui; the Chairman of the Board of SEDAPAL, Francisco Dumler Cuya, as well as local authorities from the community of Carampoma, a strategic ally of the project, were present at the event organized by SEDAPAL. The ceremony took place at a location adjacent to the same wetlands that are to be restored, at more than 4,000 meters above sea level in the Milloc micro-watershed in the province of Huarochirí, Lima.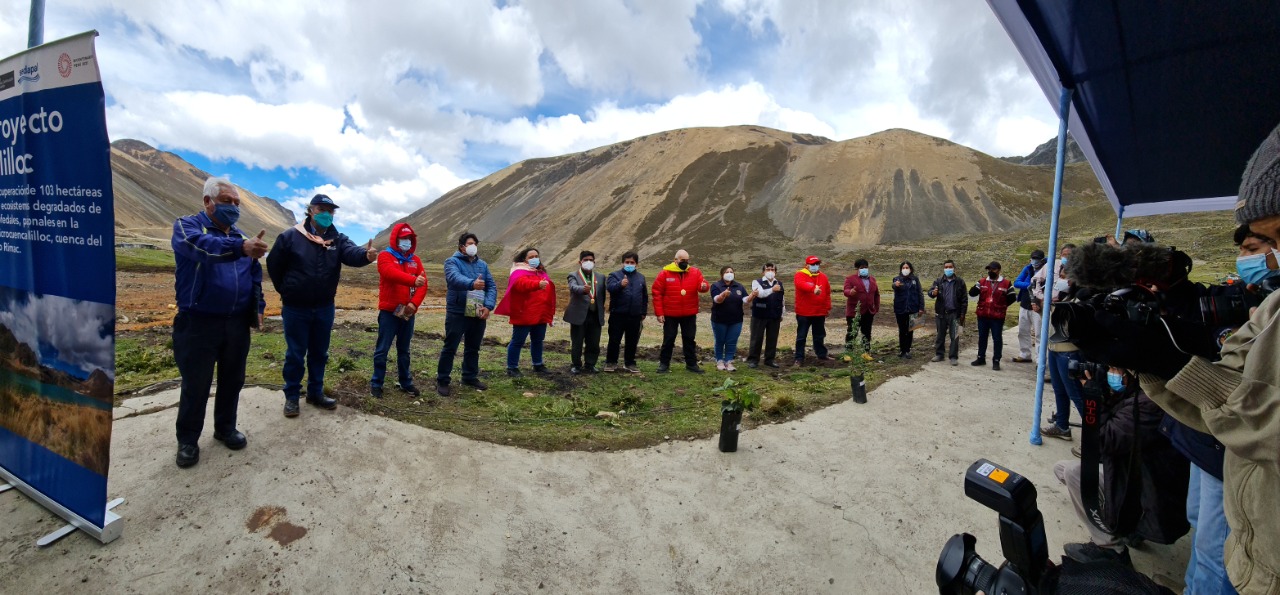 I can say that I felt like a little kid watching the huge Peruvian Air Force military helicopter flying over this beautiful ecosystem, so valuable for the services it provides and the protagonist of such an emblematic ceremony.
(And the size of those propellers!!) pic.twitter.com/Vo1k3AaVsw

— Gena Gammie (@ggammie) March 24, 2021
The project will begin to protect and restore the Milloc micro-watershed, which has been degraded for years by the illegal extraction of peat. The investment totals around 3 million soles (approximately 850,000 US dollars), of which 1/3 will go towards generating local jobs, benefiting the people who live around these fragile ecosystems.
But what is the real importance of this project? What makes it so special?
Let's see. Since 2015, we, the water users of Lima, have been paying a monthly fee that goes to a fund designated to conserve and restore ecosystems that provide water for the city. We call it: the Mechanism of Remuneration for Ecosystem Services (MERESE) tariff. Last Monday the 22nd, SEDAPAL began to invest these millions of soles for the first time in its history.
Why did it take so long?
These funds are invested through the traditional public investment system (which is also the same one used to build roads and hospitals), which takes many years – in some cases more than ten years – to develop.
The Peruvian Ministry of Environment (MINAM) and its partners (including the Natural Infrastructure for Water Security project, led by Forest Trends) have been working hard for years to make this investment system also work to protect and restore nature.
In addition, the engineers, accountants, and managers of Lima's water company (SEDAPAL) had to learn something completely new: how to restore an ecosystem. In fact, this structural change is happening throughout Peru's water sector, with the leadership of the Superintendencia Nacional de Servicios de Saneamiento (SUNASS), the national drinking water regulator.
The history of the project
The Milloc project was initially proposed by Aquafondo and The Nature Conservancy in 2014. With the follow-up and support of SUNASS and other allies, the project was successfully included in SEDAPAL's planning and its basic design was subsequently approved.
Beginning in 2018, our Natural Infrastructure for Water Security project team worked with SEDAPAL, the Ministry of Environment, and SUNASS to get it in shape to have final public investment approvals.
Last year, we supported SEDAPAL and the community of Carampoma to reach a final agreement on the project, update it with all COVID-19 protocols, and put the contract in place for bidding by SEDAPAL.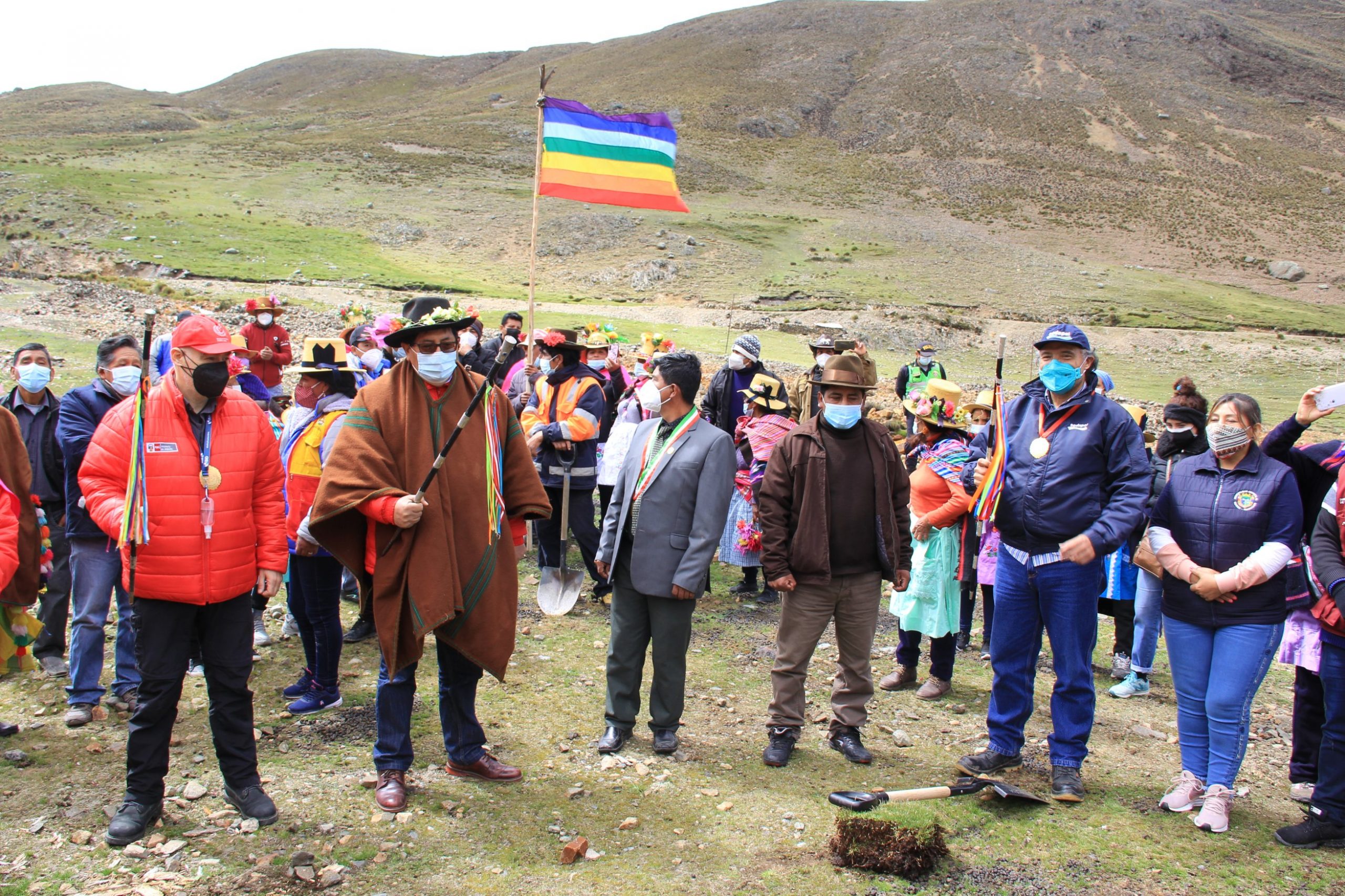 Will we wait another 6 years to see the start of the next project? The answer is…NO!
We are already working with SEDAPAL on a broad portfolio and at least 3 projects should be ready much sooner. We are also working on new – and faster – ways to implement the ecosystem services funds.
This is just the beginning of something much bigger to come. Our eyes and attention are focused higher up, where water is born in the form of shy springs and wetlands: water that, in the end, we consume, use for agriculture, and throughout our production chains. All these advances make World Water Day a happy day.
We will have more news soon!
[translated from
original version
in Spanish]
---
Viewpoints showcases expert analysis and commentary from the Forest Trends team.
Connect with us on Facebook and Twitter to follow our latest work.