Brazil is well-poised to achieve its goal of reducing deforestation-linked carbon emissions in the Amazon 80 percent by 2020. Together with the country's recent pledge to reforest 12 million hectares of land – now formalized in its Intended Nationally Determined Contribution (INDC) to the United Nations – this reduction would allow the world's most forest-rich tropical nation to achieve zero net deforestation and zero net forest carbon emissions.
However, for Brazil to reach the targets laid out in its INDC and transition to an equitable, sustainable, low-emission development model, new sources of private and international public finance are necessary. A recent policy brief from the Earth Innovation Institute and Forest Trends explores financial mechanisms that could support these goals. One innovative finance tool at the heart of this discussion is the "Green Forest Bond," which researchers contend could contribute several billion dollars of low-cost capital to help fit the bill for Brazil's climate action.
But raising the cash is only part of the equation. How can Brazil distribute this finance on the ground in a way that drives land-use change toward more sustainable model? One idea posed by the authors is to deliver capital to farmers and local communities through a "territorial performance" bonus fund, illustrated in the figure below (click to enlarge).
Green bonds can reduce costs for Brazil and risks for investors, providing flexible finance at a scale that allows existing initiatives, like the country's Low-Carbon Agriculture (ABC) program, to make an even bigger impact. By bringing in funding through capital markets, these measures could not only allow Brazil to reach its existing targets, but also set even more ambitious forest protection and climate goals for 2030 and beyond.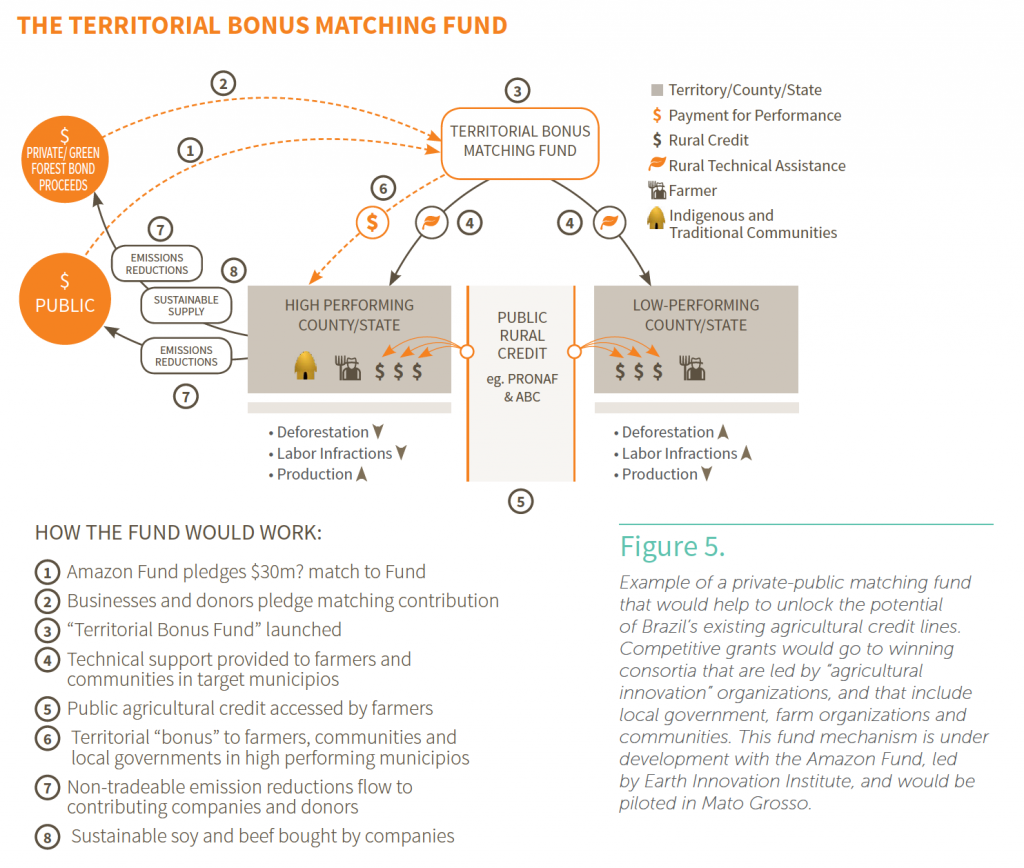 ---
Viewpoints showcases expert analysis and commentary from the Forest Trends team.
Connect with us on Facebook and Twitter to follow our latest work.