Last week, FT Senior Analyst Jade Saunders outlined the full breadth of the consequences facing Lumber Liquidators after its new plea agreement with the U.S. Department of Justice (DoJ) was finalized in federal court. In part two of our series, FT's Forest Trade and Finance Program Director Kerstin Canby explains why the case could signal a boon for companies in the sector that respect legality.
The news from Norfolk, Virginia last Thursday that retailer Lumber Liquidators formally pleaded guilty to widespread environmental crimes marked a watershed moment: the first felony conviction related to the import of illegal timber into the United States, and the largest criminal fine ever under the U.S. Lacey Act. This guilty plea is a big win for the world's forests, which are being decimated by illegal logging, but also for American forest owners and sawmills who have been unable to compete with the low cost of illegally sourced and manufactured flooring, furniture, and other wood products. Assistant Attorney General John C. Cruden for the Justice Department's Environment and Natural Resources Division indicated that this conviction is intended to send a strong signal to the industry, stating that "Lumber Liquidators knew it had a duty to follow the law, and instead it flouted the letter and spirit of the Lacey Act, ignoring its own red flags that its products likely came from illegally harvested timber, all at the expense of law abiding competitors."
Not only does the Lumber Liquidators settlement indicate that the retailer falsely declared large volumes of high-risk Russian oak as low-risk European oak; it also shows that the company was importing flooring made from wood originally harvested in Myanmar – at a time when U.S. companies were legally prohibited from doing business with the Myanmar Timber Enterprise – and fraudulently declaring it Indonesian mahogany after it was funneled through China. This comes on the heels of a separate major ongoing investigation of Lumber Liquidators related to their import of Chinese laminate flooring that contained hazardous quantities of formaldehyde, a known carcinogen.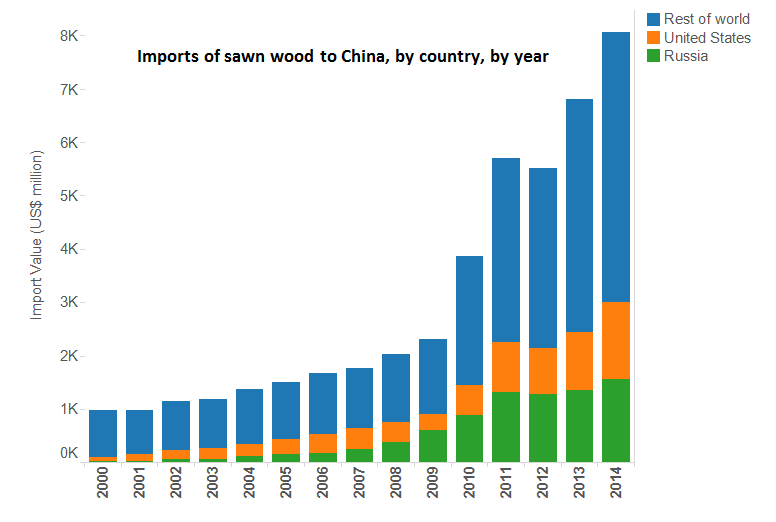 But the tide appears to be turning when it comes to the Chinese market, thanks in part to Lacey Act amendments implemented in 2008. Chinese imports of low-risk North American sawn wood (as well as logs) have shown an upswing in the past few years, possibly as a result of increased interest on the part of Chinese manufacturers to purchase legal raw material for processing. Imports of Russian logs have declined during the same time frame, and although Russia is still a dominant source of China's wood supply, North American products are increasingly being found in Chinese manufacturing sites.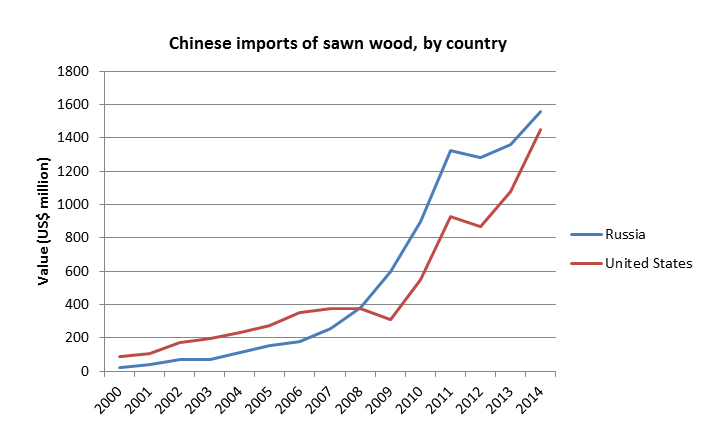 The American logging and timber industry may be able to capture increasing market share as manufacturers and retailers become aware of the corporate risk they take when they do not completely check their supply chains and mitigate the risk of sourcing illegal wood. The message is clear: the playing field is leveling for companies that abide by the law.
Some early signs indicate that this message is reaching investors, as well. In an article attached to a recent letter from Kase Capital manager Whitney Tilson to his fund's investors, Tilson explains his reasoning for continuing to look at Lumber Liquidators ($LL) as a profitable "short sell" prospect:
The primary reason for this is that I don't think this is a case of a good company encountering temporary, isolated and fixable problems. Rather, everything I've heard, read and observed leads me to believe that Lumber Liquidators is rotten to the core. [Founder] Tom Sullivan says, "Our goal is to sell a good product at a good price." While the company's prices are indeed low, all of the research I've done leads me to believe that this is more than offset by product quality that ranges from mediocre to outright defective (not to mention, in the past, illegally sourced or poisonous!).
The implications of this landmark case are big in the U.S., but it's important to also remember that we're only scratching the surface of an ongoing global problem that demands aggressive corrective action worldwide. The Lumber Liquidators case underscores the need for strong forest governance and for continued vigilance to ensure that illegal trade does not put forests at risk nor penalize producers who play by the rules.
Consumers have an important role to play in this process, but governments around the world are equally responsible. By implementing purchasing policies and legislation that foster trade in legally sourced wood – as well as prosecuting violations of these laws – governments can help eliminate these ecologically and economically harmful practices. The U.S. and EU have taken the lead with the Lacey Act and the EU Timber Regulation (EUTR), and most recently Australia put into place its own Illegal Logging Prohibition Act. It's time for other governments to follow their example.
---
Viewpoints showcases expert analysis and commentary from the Forest Trends team.
Connect with us on Facebook and Twitter to follow our latest work.