Three years after the EU Timber Regulation was imposed, government officials this week took the first public actions to enforce the rules on the import of potentially illegal tropical timber.
Sweden and the Netherlands have formally notified two companies that imported wood products from Cameroon and Myanmar—allegedly without undertaking effective Due Diligence—that they may be subject to sanction.
These cases mark the start of what is likely to be an increase in actions taken by enforcement officials and an exponential change in the way that Europeans import timber products from countries with significant crime and corruption in their forest and tax systems.
The EUTR and supporting legislation make it an offense to place illegal timber on the European market, and all private European companies regulated by it are required to have a documented system of Due Diligence for their sourcing of timber and forest products.
The actions this week were primarily civil enforcement measures aimed at stopping the marketing of potentially illegal wood. These are not currently criminal cases such as those which have been prosecuted in the United States under similar legislation (US Lacey Act). However, if the importing companies fail to act within the given timescales, administrative sanctions can be imposed. The Dutch case has been presented to the public prosecutor as a potential criminal case, with a decision pending.
The Case of Wood from Cameroon Imported to the Netherlands
The Netherlands Food and Consumer Product Safety Authority (NVWA) has issued an injunction notice to Fibois BV Purmerend for importing wood from a supplier in Cameroon called CCT Ltd. If the Dutch company doesn't stop placing the wood on the market in the Netherlands, it will face a fine. According to the Dutch Timber Trade Federation (VVNH) the company plans to appeal the government's action. In addition, the case has been sent to the National Prosecutors' Office, and could be brought before a judge for a potential criminal law sanction. The NVWA cited the failure of the company to mitigate the "risk of illegal harvesting" inherent in purchasing wood from Cameroon given the "political situation in the Congo Basin."
The Netherlands is Europe's seventh largest European importer of wood from Cameroon, with other important markets in Belgium, Italy, the United Kingdom, France, Germany, and Spain.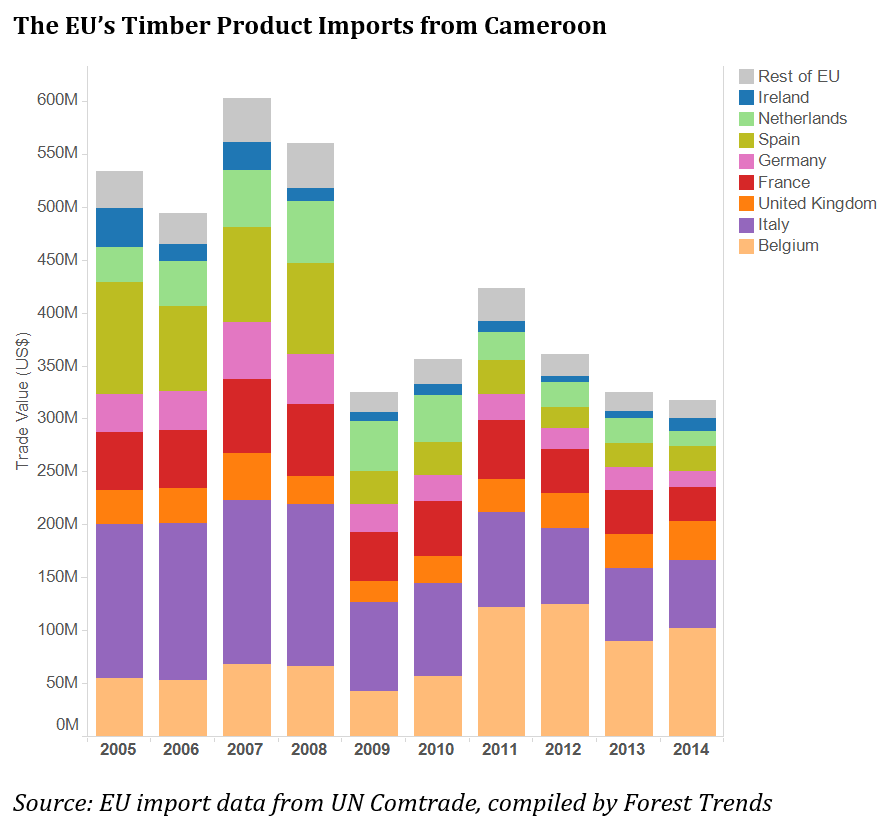 Cameroon is also a significant wood supplier for the US, where the Lacey Act prohibits the import of illegally harvested wood. In 2015, the US imported US$ 45 million worth of wood from Cameroon.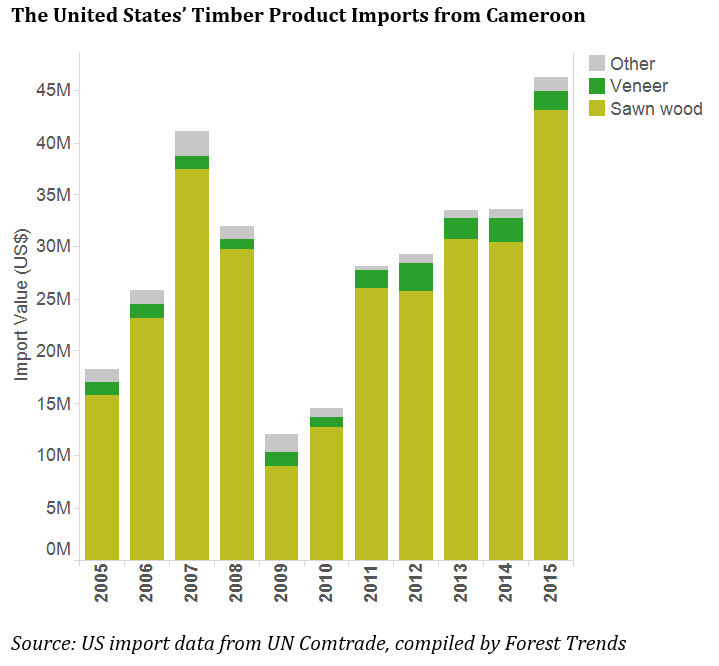 The Case of Myanmar Wood Imported into Sweden via Thailand
The Swedish authorities also tackled an import case, by a company called Retlog Ltd., involving teak flooring which had been processed in Thailand using logs from Myanmar, also known as Burma.
Auditors of existing forest product control systems consider it extremely challenging to secure multi-country supply chains, so this case highlights a key strength of the EUTR Due Diligence requirement.
In the Swedish case, the enforcement agency publicly referenced the high incidence of forest sector corruption in the source country as a key determinant of risk. This was reinforced by the EUTR Guidance Document Feb 2016 issued by the European Commission in February, which explicitly noted corruption as a criterion for judging risk in an EUTR-compliant Due Diligence System.
Global Implications
While it is difficult to assess the relative significance of different markets for indirect trade in wood from Myanmar, an analysis of global trade data shows major direct flows from the country to EU Member States, the US and Australia.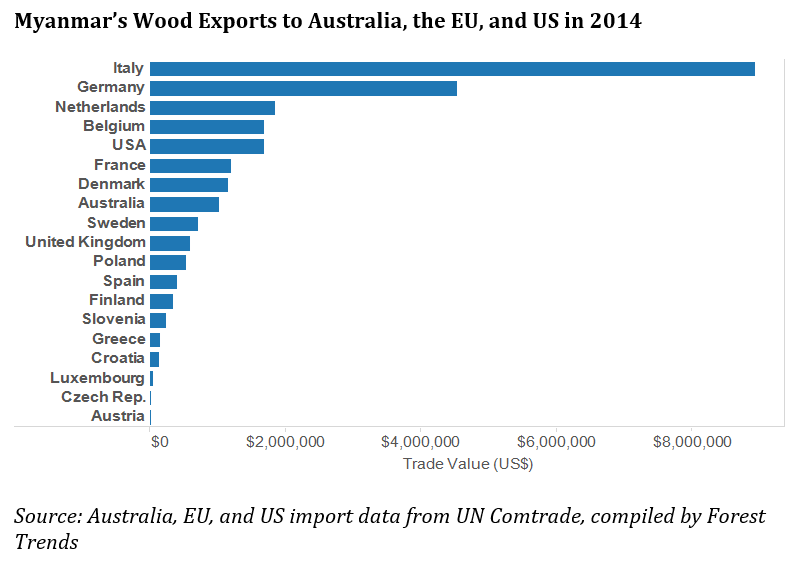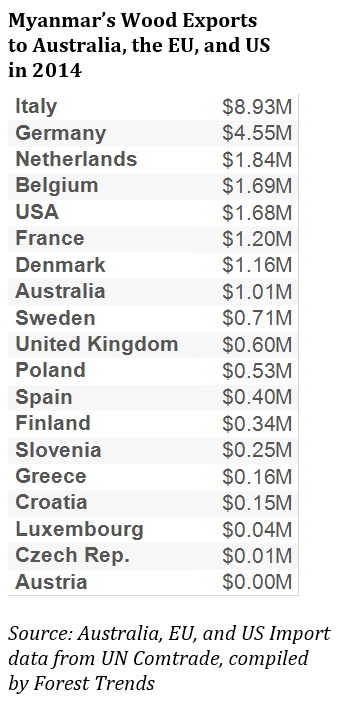 According to Greenpeace, large amounts of CCT timber were also found in Chinese harbors, destined for processing into veneers and mouldings, most likely for use as furniture or plywood.
Tracking high-risk wood flows through China, Vietnam and other export-driven processing countries is one of the most pressing challenges for importers in the US, EU, and Australia. In a UK Government study published in 2014, almost 70% of a sample of imported plywood were supplied by Chinese exporters with incorrect species labelling, affecting both core and veneers. Other European enforcement authorities are considering replicating the methodology and/or adapting it to better understand the degree of risk in the imported furniture sector.  Notably the Dutch Government press release included the news that its main enforcement focus in the future will be on furniture imports from China, Vietnam, and India.
The Swedish case is also significant for the involvement of a Monitoring Organisation called Bureau Veritas. According to now public documents, Bureau Veritas considered shipments under 1,000 cubic metres—the equivalent of three shipping containers—to be of negligible risk. Neither the EUTR legislation nor any guidance have such a threshold, so it is unclear how they arrived at this assumption, but, it is unlikely to be one that they make again.
(Click the thumbnails to enlarge)
In addition to changing the sourcing practices of Retlog and similar companies, this case could be useful in improving scrutiny of Monitoring Organisation standards, which are likely to play an important role in compliance in the future, particularly for smaller European companies.
Important First Steps, but More Work Remains
These first cases show that European regulators are willing to face the challenge of enforcing this complex new law, and that practical expectations of Due Diligence Systems are becoming clearer to both authorities and companies. But, it remains to be seen how long it takes producer country governments and suppliers to be willing to face their own law enforcement and supply chain challenges.
---
Viewpoints showcases expert analysis and commentary from the Forest Trends team.
Connect with us on Facebook and Twitter to follow our latest work.