El pasado martes 19 de enero, se realizó el Webinar "Andenes y Terrazas: Saberes ancestrales al servicio de la conservación del agua y los suelos" que nos deslumbró al contarnos los múltiples beneficios de las más de 300.000 hectáreas de andenes y terrazas que todavía están en uso en el Perú.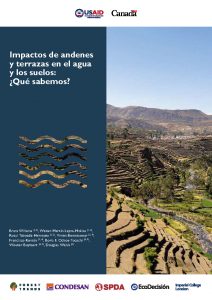 Douglas Walsh, Director Ejecutivo de Asociación Andina Cusichaca y uno de los autores del estudio Impactos de Andenes y Terrazas en el agua y los suelos: ¿Qué sabemos?, que cuenta con amplia trayectoria en la rehabilitación de andenes en regiones como Ancash, Ayacucho, Apurímac y todo el país, explicó que la función de los andenes y terrazas era, principalmente, agrícola.  A raíz de sequías pronunciadas – que afectaron la viabilidad de las culturas Moche y Nazca- la cultura Wari alrededor del 600 años después de Cristo construyó andenerías para mejorar su producción de maíz.  Las terrazas mostraron que podían ayudar a reducir la erosión del suelo y proteger los cultivos de las heladas, además de fomentar la diversidad de especies de alimentos, como papas y granos.
La revisión del estudio y sus conclusiones, realizadas por Bram Willems y Martín Leyva Molina, del Centro de Competencias del Agua profundizaron en torno a la evidencia de cómo las terrazas reducen la escorrentía superficial y actúan como "esponjas" al promover la infiltración. La síntesis del estudio resaltó también la eficiencia de la recuperación de andenes para luchar contra la erosión. A pesar de existir mucha literatura, no toda es arbitrada para poder confirmar -a ciencia cierta- los aportes. Por ejemplo, aún queda mucha incertidumbre sobre cómo los procesos hídricos observados a nivel de un andén, tal como la infiltración, se reflejan a escala de cuenca. Cómo saber si las cuencas con alta superficie de andenes favorecen una mejor repartición del agua a lo largo del año, lo cual sigue siendo una brecha de conocimiento importante a nivel mundial.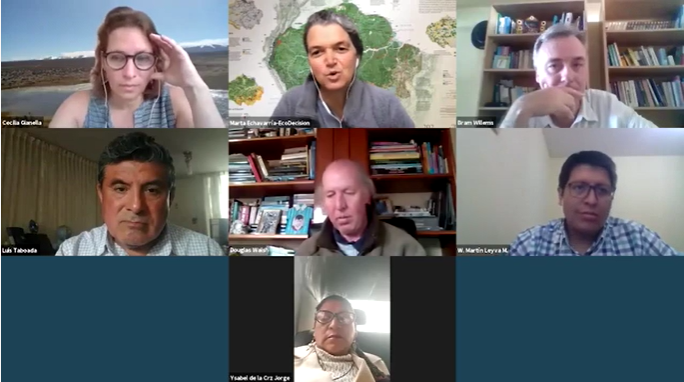 Pero los beneficios no son únicamente físicos. Isabel de la Cruz Jorge, Consejera Regional del Gore Ayacucho y Cecilia Gianella, Especialista de CONDESAN del Proyecto Infraestructura Natural para la Seguridad Hídrica resaltaron que la andenería es un patrimonio vivo que, además de ser un espacio para la agricultura y la biodiversidad alimentaria, fomenta la participación de la juventud en el conocimiento de las técnicas ancestrales.
Por su parte, Luis Taboada Barreto, Especialista en Conservación de Suelos de Agrorural, resaltó que esta técnica andina es polifuncional y que "no tienen solo un beneficio, si no que tienen múltiples cualidades". Y, además de reforzar la organización comunitaria, reducen riesgos de inundaciones, mejorando el paisaje.
Alrededor de 300.000 hectáreas adicionales podrían ser restauradas si se priorizara este tipo de inversión en infraestructura natural, generando una serie de beneficios importantes para las comunidades y el entorno. En noviembre del 2020, el Gobierno peruano promulgó la ley N° 31077, mediante la cual se declara de interés nacional la rehabilitación y conservación de los andenes en todo el país con la finalidad de potenciar su uso para la producción agrícola. Dicha ley, establece que el Ministerio de Desarrollo Agrario y Riego (Midagri) y el Ministerio de Cultura (Mincul), en coordinación con los gobiernos regionales y gobiernos locales, en el marco de sus competencias y funciones, dispongan las normas y acciones pertinentes para completar y desarrollar inventarios de los andenes en cuanto a su extensión y potencial a nivel nacional.
Además, esta ley solicita al Midagri, junto a las direcciones correspondientes de los gobiernos regionales y gobiernos locales, así como a las entidades privadas, incentivar el uso de andenes para la producción agrícola, tomando en cuenta que son altamente eficientes en cuanto a la conservación del agua y del suelo para la agricultura.
En las palabras de Mirella Gallardo, Especialista en Agua y Cambio Climático del Instituto de Montaña: "las culturas que nos antecedieron fueron maestras de la tecnología".
Video del webinar:
---
Viewpoints showcases expert analysis and commentary from the Forest Trends team.
Connect with us on Facebook and Twitter to follow our latest work.