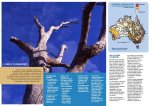 By Government of Australia
View Publication
The National Land and Water Resources Audit's 'Australian Native Vegetation Assessment
2001' provides an analysis of clearing across Australia. Five of the 85 bioregions (areas
with similar characteristics of landscape and native plant and animal types) in Australia have less than 30% of pre-1750 native vegetation cover remaining. Four of these five bioregions are found in Western Victoria.