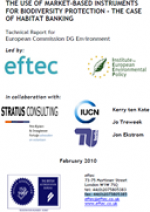 Technical Report for European Commission DG Environment
By eftec, IEEP et.al (2010)
View Publication
This research project examined the potential use of habitat banking in the EU as an
economic instrument for biodiversity protection. This report identifies a range of
information and experience with habitat banking from around the world, from
economic theory and provides an institutional analysis for practical implementation. It
aims to guide future European policy options.