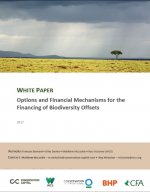 White Paper
By Francois Barnard, Giles Davies, Matthew McLuckie, Ray Victurine - Conservation Capital, WCS
View Publication
To date very little attention has been paid to the design and development of adequate financing and associated mechanisms to support offset funding needs across both the short and long term. Addressing offset financing is a topic of
growing relevance and importance for governments, companies and civil society. In practical terms, financial sustainability together with legal security and effective management are considered critical in order to respect and realise
permanence requirements. The availability of sufficient finance is implied within the other major principles of additionality and equivalence. Without appropriate, adequate, and long-term finance, the additional biodiversity conservation required by offsets would fail to
materialise and the goal of conserving biodiversity that is equal to, or greater than, what has been impacted, would never materialise.
Financing needs, options, risks and challenges however still receive little attention during the offset design stage. Likewise, it appears that in many instances offsets are designed and implemented before adequate financing
mechanisms have even been considered. It is therefore unsurprising that some financial offset commitments recede or diminish over their lifetime. Indeed, this characteristic illustrates the multiple complex challenges which beset the financing of offsets.
Furthermore, in many cases the uncertainty of terms for which project developers are responsible and liable for offsets through to completion, undermines accurate budgeting and payments.
Financing is not a standalone issue, but rather it is intertwined through the entire biodiversity offset value chain alongside the need for diligent management. To generate momentum for both the sector and its practitioners, a more holistic set of interventions should be made not only to engage financing institutions, but also to engage regulators, governments and service suppliers, such as asset managers. By addressing these interventions, this paper considers key dynamics relevant to building the overall incidence and quality of biodiversity offset projects, as follows:
Building Requirements: Actions or interventions designed to increase the requirement for biodiversity offsets to be implemented by project developers, making project approvals dependent on offset financing commitments, for example;
Building Propensity: Actions or interventions designed to increase the desire or will of key actors to engage increating high quality biodiversity offsets;
Building Practicality: Engaging with biodiversity offsets tends to be complex and expensive – and this is almost certainly supressing engagement. Possible interventions to address this include simplification of complex valuation issues and concepts; the development of offset interventions thatare "asset-like" rather than 'cost-centrelike'; the development of more biobanking
mechanisms, offset aggregators and other similar consolidation instruments that allow smaller players to participate in this space; and finally, those interventions which are directly aligned with the pure subject matter of this paper.