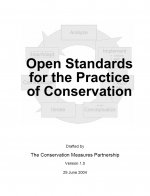 By The Conservation Measures Partnership
View Publication
In order to achieve our goals, the conservation community must determine the extent to
which our actions are working – and we must be able to diagnose why some actions
succeed while others do not. In recent years, there has been great convergence among
conservation organizations in thinking about how best to plan and implement conservation
actions. That said, the conservation community has yet to arrive at a common and complete
understanding of the steps and principles of good project management.