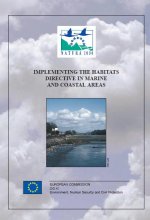 By European Union
View Publication
The Institute for European Environmental Policy
(IEEP), London, is an independent institute concerned
with advancing environmental policies in
Europe. This seminar has been organised on the
initiative of the Institute, in response to a perceived
shortcoming in the application of the habitats
Directive as it affects marine and coastal areas.
We believe the event to be one of the first European
meetings to focus on the important challenge
of establishing the Natura 2000 network in marine
areas. We are grateful for the support of a number
of organisations, including the principal sponsors,
the European Commission and the UK Department
of the Environment. We would also like to
thank the UK Environmental Know-How Fund,
WWF UK, RSPB/BirdLife, Lancashire County
Council and Furness Enterprise for their financial
contributions.