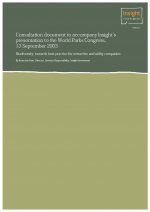 By Kerry ten Kate
View Publication
Human activities are making an increasing impact on the integrity of ecosystems that provide
essential resources and services for human well-being and economic activities. In particular,
biodiversity2 is being lost at an unprecedented rate,3 while global population and consumption are
growing4. This presents a risk both to business and to society more broadly.