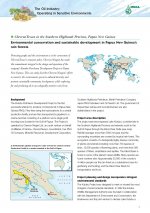 By International Petroleum Industry Environmental Conservation Association
View Publication
Protecting people and the environment is at the cornerstone of ChevronTexaco's corporate policy. Chevron Niugini has made this commitment integral to the design and operation of the
company's Kutubu Petroleum Development Project in Papua New Guinea. This case study describes Chevron Niugini's efforts to conserve the environment, preserve cultural diversity and
promote sustainable community development, while exploring for and producing oil in an ecologically-sensitive rain forest.