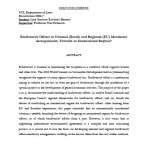 By Luiz Gustavo Escorcio Bezerra
View Publication
Biodiversity is essential to maintaining the biosphere in a condition which supports human
and other lives. The 2002 World Summit on Sustainable Development held in Johannesburg
recognised the urgency of action against biodiversity loss. Biodiversity offset is a mechanism
aiming to achieve no net loss or even net gain to biodiversity through the installation of a
specific project or the development of general economic activities. The purpose of this paper
is to (i) disseminate the understanding of biodiversity offsets; (ii) analyse Brazil's national and
the European Union's regional frameworks for biodiversity offsets; and (iii) launch the
debate of establishing an international regime for biodiversity offsets. After learning from
EU and Brazilian experiences, this paper concludes that an internationally coordinated
solution is needed, launching the debate of designing an international regime for biodiversity
offsets, or of which biodiversity offsets form a part.