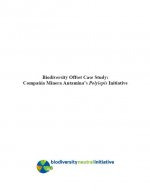 By Biodiversity Neutral Initiative (BNI)
View Publication
The objective of this case study is to demonstrate an evaluation method for voluntary
biodiversity offsets. We focus on the Antamina mine, operated by Compañía Minera
Antamina S.A. (ANTAMINA). The Antamina mine is among the world's largest copper
and zinc mines, and is located in the Andean mountains in Ancash, Peru. In 2004 the
company began a voluntary biodiversity conservation program to restore endangered
Polylepis forests in the area around the mine. While the program was not originally
designed as a biodiversity offset, the case study examines its potential to serve as one.