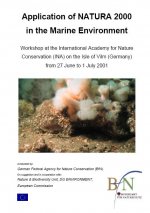 By European Union
View Publication
Short contributions from the participants illustrated that Member States have made very different
progress in the identification and selection process of marine sites for NATURA 2000. The
meeting had to recognize that overall the implementation is making very slow progress. On one hand only very few pure marine sites have been selected so far, many of which are quite small and also mostly connected to the coast. On the other hand site selection as well as managing
and monitoring issues should have already been dealt with years ago by Member States.