THE PROJECT
The Natural Infrastructure for Water Security project promotes the conservation, restoration, and rehabilitation of ecosystems at the national scale in Peru. We build alliances with public and private actors to reduce water risks such as drought, flooding, and pollution.
The project is promoted and supported financially by the United States Agency for International Development (USAID) and the Government of Canada, and led by Forest Trends, CONDESAN, the Peruvian Environmental Law Society (SPDA), EcoDecisión, and experts from Imperial College London.
OUR VISION
Natural infrastructure investments are implemented at large scale.
We're working to radically increase the annual value of investments in natural infrastructure projects by unlocking resources for projects. We accelerate progress through capacity-building and technical assistance to take projects from early stages to implementation at scale.
Natural infrastructure is effective, sustainable, and gender-sensitive.
To make natural infrastructure sustainable at a large scale, we need to engage a large number of actors, and strengthen their capacity to efficiently design and manage nature-based solutions. We plan to train more than one thousand project developers in Peru to design, measure, and manage natural infrastructure interventions, and to construct cost-effective and sustainable project portfolios.
Cross-sector collaboration becomes business-as-usual.
We seek to build a common vision and road map for natural infrastructure in water resources management planning in Peru, based on performance and fully integrated at the national level and at the watershed level.
Financial resources for natural infrastructure increase.
The Project seeks to engage new funders and investors by more effectively communicating the "business case" for natural infrastructure and innovative financial mechanisms. This can secure and increase the availability of financial resources for natural infrastructure at different stages during the project implementation cycle.
PROJECT BIODATA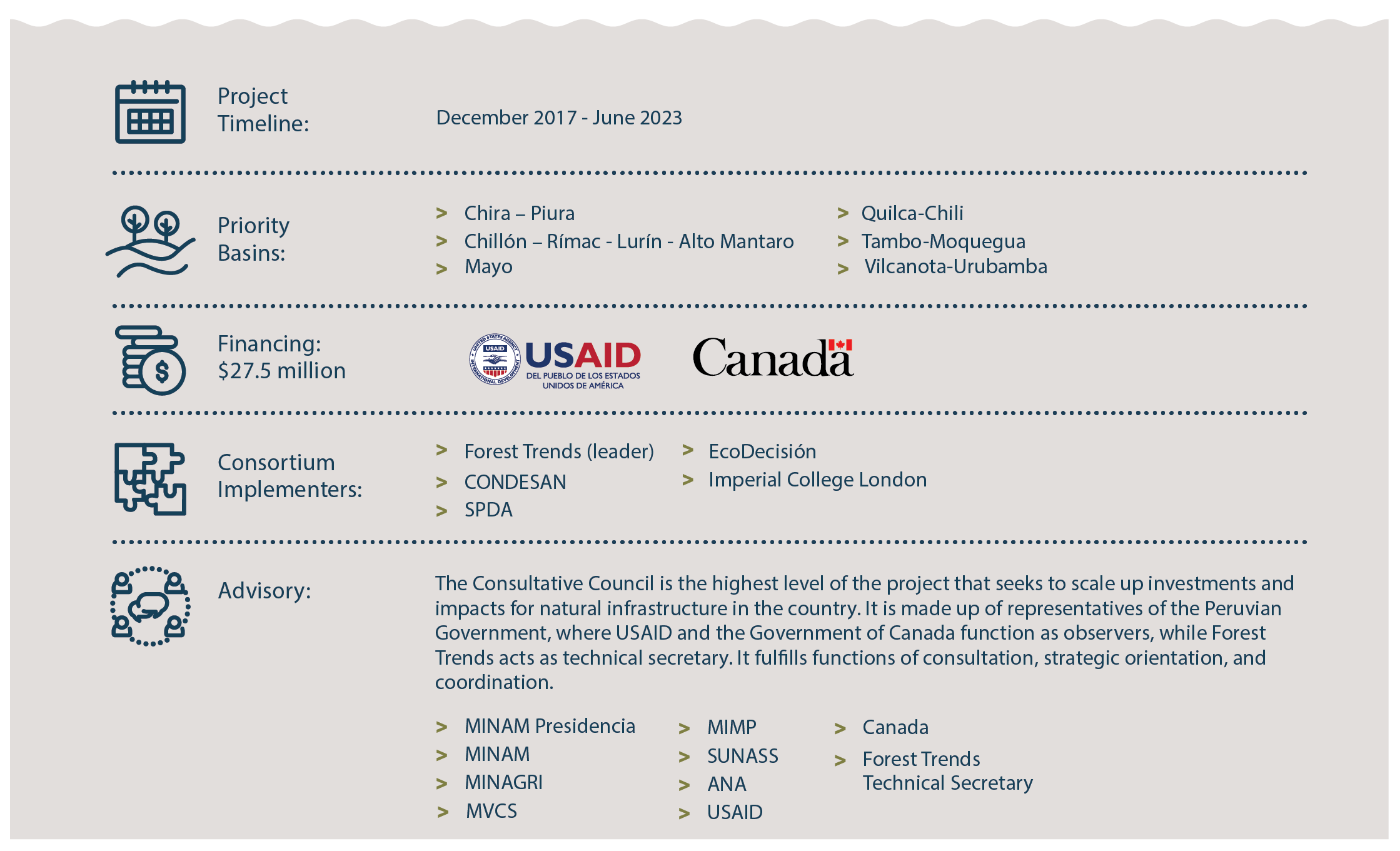 PROJECT OBJECTIVES AND INTERMEDIATE RESULTS
Objective 1:

Objective 2:

Objective 3:

PROJECT SCOPE
The project has a national scope in terms of its impact on policies, programs and institutions at that level. However, in order to focus our efforts and have an impact at a regional scale, the Chira-Piura, Chillón-Rímac-Lurín-Alto Mantaro, Quilca-Chili, Tambo-Ilo-Moquegua, Mayo, and Vilcanota-Urubamba basins have been prioritized as key zones for intervention.
Our work at the basin level focuses on the development of learning sites, where the project and our partners will generate models, evidence, and learning that can inform the scaling and design of natural infrastructure at both the basin level and  the national level. Key partners within basins include Watershed Water Resources Councils, regional governments, local NGOs, community organizations, and local governments.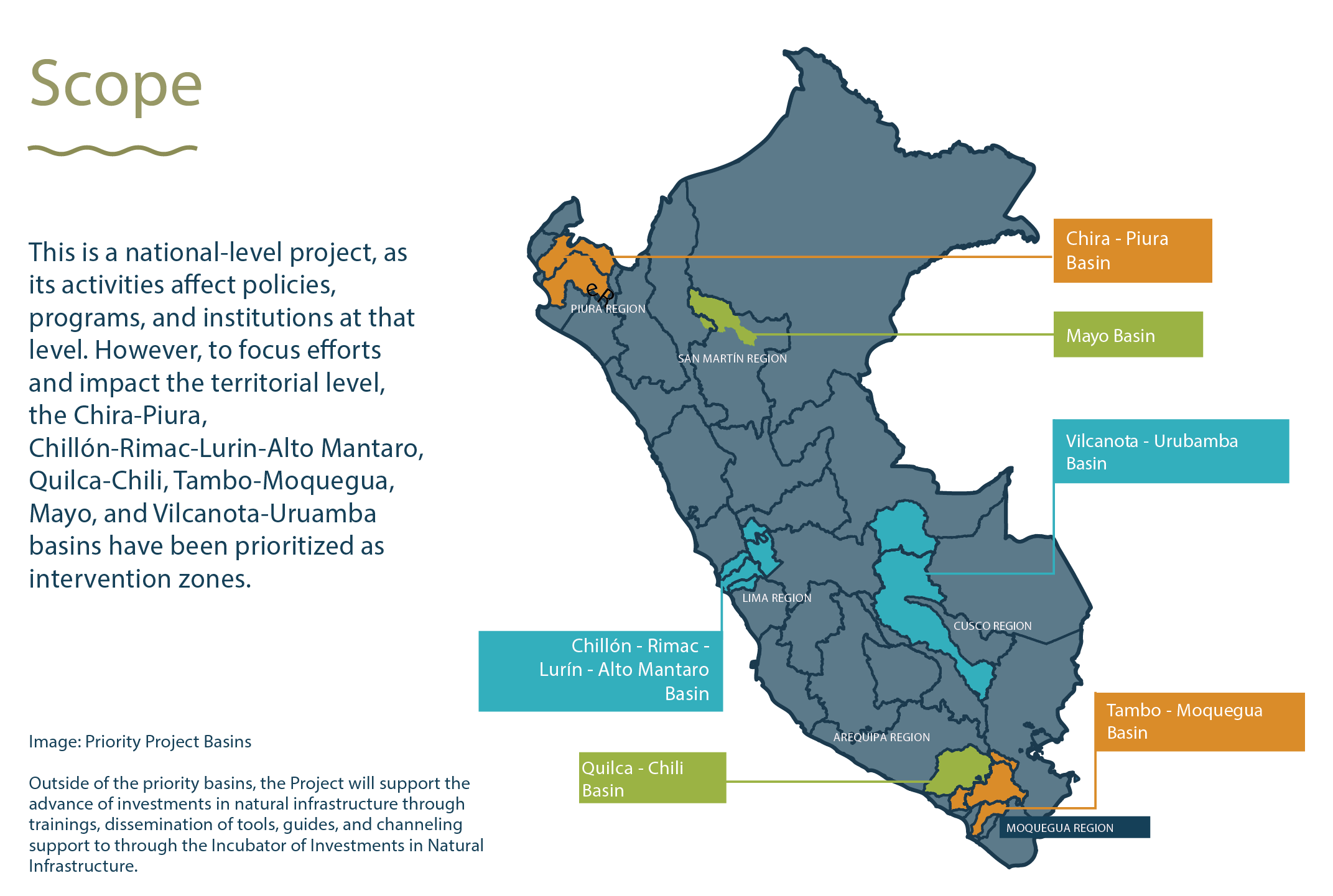 Learning Sites
In FY2018, the project carried out a series of rapid diagnostics in priority watersheds to gather data on their biophysical, hydrological, social, institutional, and political status with respect to natural infrastructure.  Based on these evaluations and the recommendations of important partners such as the ODS of
SUNASS, water companies, watershed water resources councils, and regional governments, the following watersheds were selected as learning sites:
Samanga (Chira-Piura basin), Chalhuanca (Quilca- Chili basin), Huamantanga (Chillon-Rimac-Luirn-Alto Mantaro basins) and Piuray (Vilcanota-Urubamba basin)
.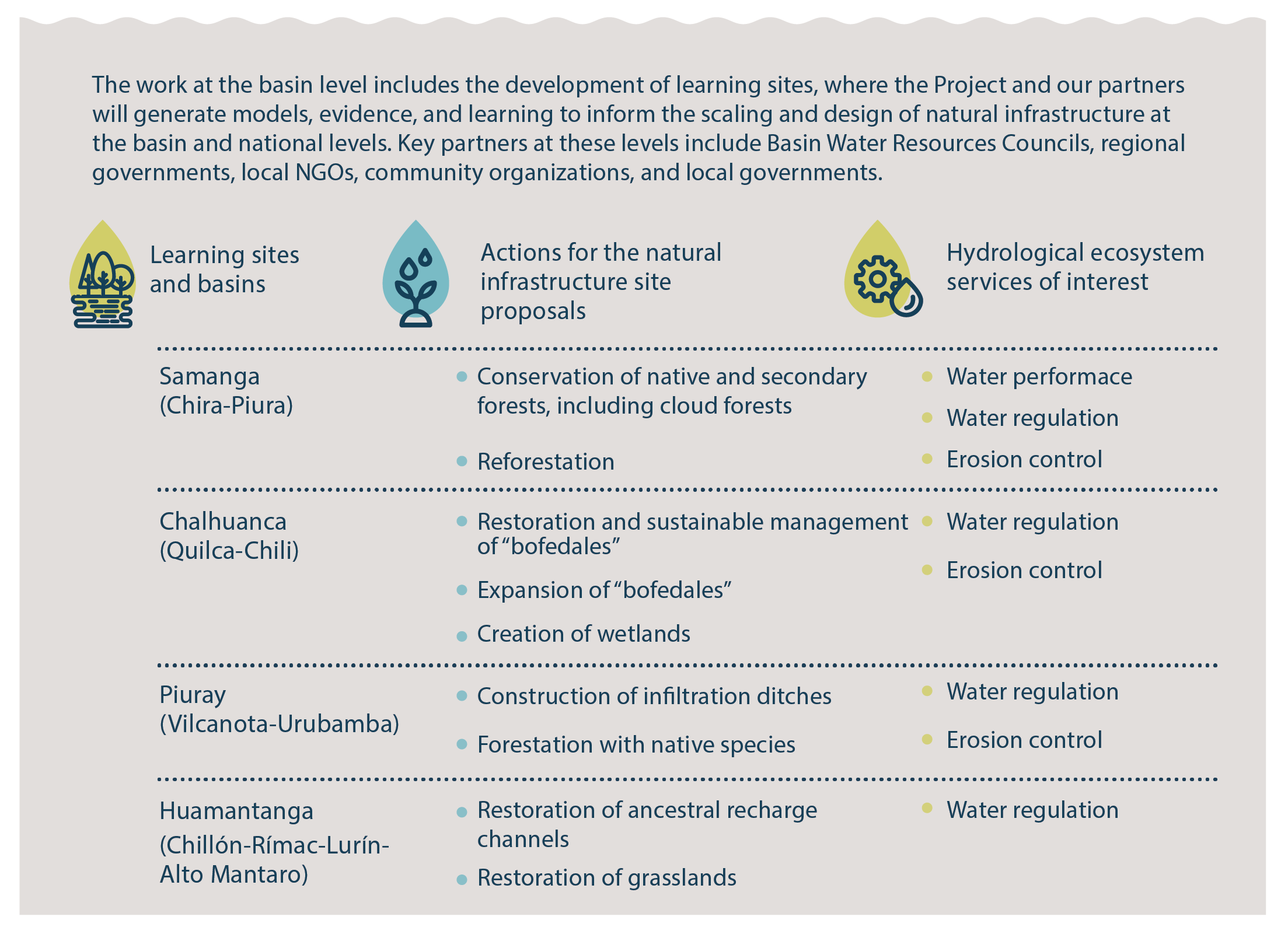 NATURAL INFRASTRUCTURE
BUILT INFRASTRUCTURE AND NATURAL INFRASTRUCTURE
Investments in engineered, or "gray," infrastructure play an important role in development. Infrastructure improves a country's economic competitiveness, helps attract private investment, and improves living standards. However, gray infrastructure's long-term effectiveness depends on another type of infrastructure, which takes the form of healthy ecosystems and biodiversity rather than concrete and steel. This "natural infrastructure," functions independently of human interference but provides us with a set of services called "ecosystem services." Natural infrastructure and physical infrastructure should be considered as two elements that complement and support one another.
WHAT IS NATURAL INFRASTRUCTURE?
Nature-based solutions conserve or restore the functions of natural infrastructure.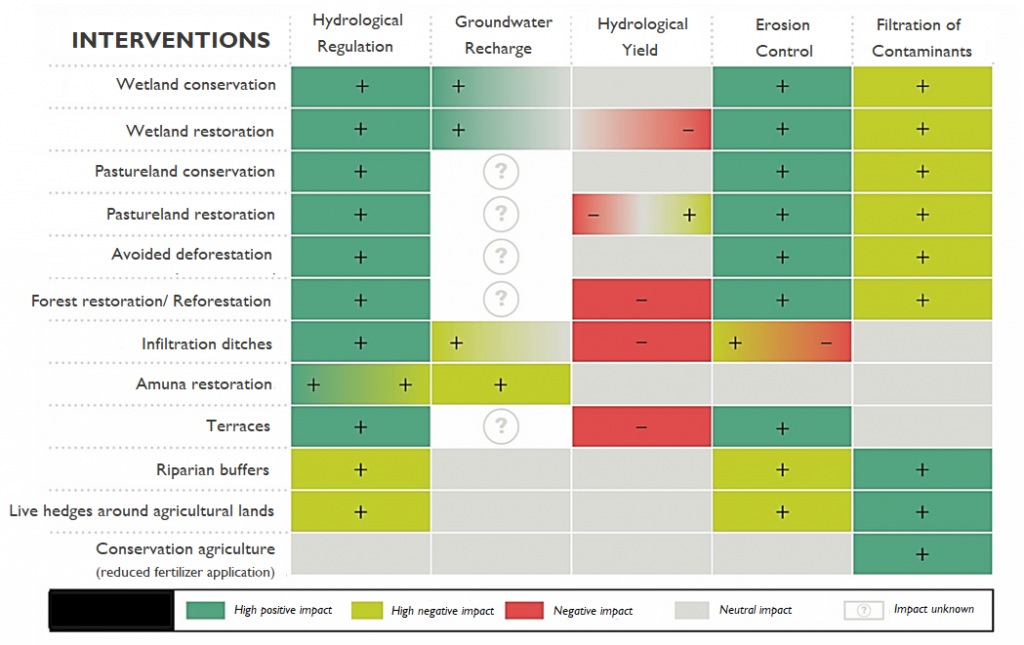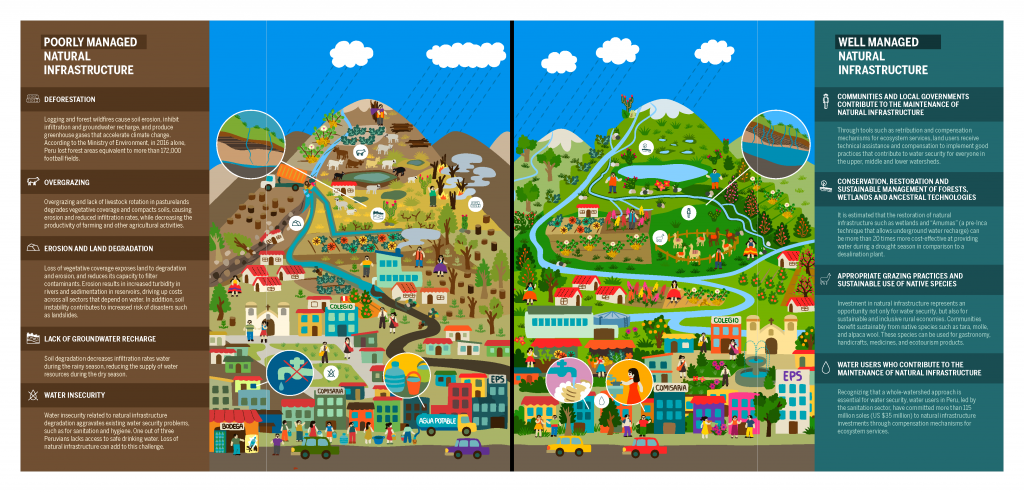 WHAT IS WATER SECURITY? 
Water security is the capacity of a population to safeguard sustainable access to sufficient quantities of water of acceptable quality to 1) support of livelihoods, human wellbeing and socio-economic development; 2) guarantee protection against waterborne contamination and water-related disasters; and 3) conserve ecosystems in a peaceful and stable political climate.
INVESTMENT IN NATURAL INFRASTRUCTURE IS GROWING
Water stewards in at least 62 countries have recognized that natural infrastructure can save costs and reduce risks. This recognition has driven billions of dollars in investment for watershed conservation around the world.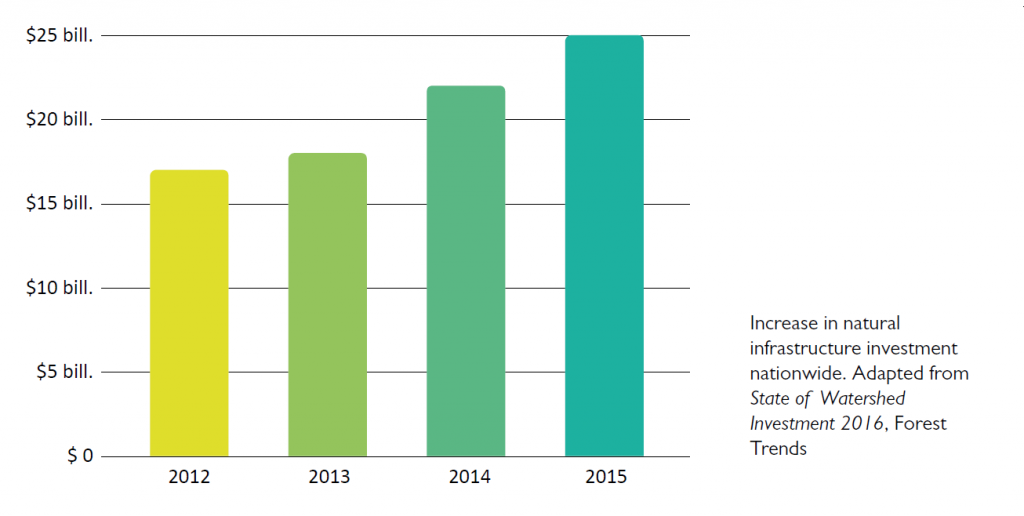 Well-designed and managed natural infrastructure projects will improve water quality, secure water
supply, and manage natural hazards. They also have social and environmental benefits with the potential to support 14 out of 17 of the United Nation's Sustainable Development Goals.
Natural infrastructure activities provide direct benefits (such as more jobs and cleaner water), while others provide direct benefits to rural, upstream communities (such as the inclusion of women, Indigenous Peoples, and marginalized communities in water management practices and stakeholder conversations).
In 2017, successive states of emergencies – caused first by drought and forest fires in Northern Peru, and then by floods and landslides as a result of 'El Niño Costero' along the Pacific coast – demonstrated the country's vulnerability to natural disasters that threaten water security.
Peruvian leaders have increasingly recognized the critical role that natural infrastructure must play to meet their water challenges. In recent years, USD 30 million in water tariffs have been allocated to natural infrastructure via funds for payments for ecosystem services, and an additional USD 86 million tariffs allocated for climate change adaptation and disaster risk management.
WHAT IS LIMITING THE IMPLEMENTATION OF NATURAL INFRASTRUCTURE IN PERU?
Lack of a robust project pipeline
Lack of capacity and guidance for designing sustainable, gender-inclusive projects
Lack of coordination across sectors
Insufficient financial resources in some regions
An acute water crisis is threatening the world today.
Population growth, decade-long droughts, devastating floods and wildfires, and rapidly deteriorating water quality have made access to clean water uncertain and more costly.
We need to rethink our water infrastructure.
Supporting natural infrastructure can enhance the performance of gray infrastructure. For instance, conserving wetlands can help to ensure water supplies for diversion channels or tunnels; preventing erosion can extend the life span of a reservoir.
Natural infrastructure needs active management.
Forests and wetlands have helped store and filter water long before dams were constructed and treatment plants were built. That role is now at risk. To effectively address our current water crisis, today's water managers must actively manage natural infrastructure in addition to gray infrastructure.
CHAMPIONS
Meet the faces and stories of our natural infrastructure champions. They are the guardians of ancestral practices and knowledge supporting water management, conservation, and sustainable development. They are also innovative leaders, willing to experiment and change. They are our most important partners and allies to ensure the sustainability of the project at local, basin, and national levels.
RESOURCES
This page is under construction. Check back soon!
CONSORTIUM
The Project is executed through an agreement between USAID and Forest Trends, with funding from the Government of Canada donated to USAID. All funding for the project is channeled through this unique agreement.
Forest Trends has experience in ecosystem conservation through the creation and promotion of payment and incentive mechanisms linking environmental finance, markets, and the public and private sectors. Forest Trends leads a consortium of organizations that are the main implementers of the project.
CONDESAN, project leader in the generation of information on natural resources in the Andes, brings extensive experience in water resources management and sustainable livelihoods. CONDESAN is the founder and coordinator of the Regional Initiative for Hydrological Monitoring of Andean Ecosystems (iMHEA).
The Peruvian Environmental Law Society (SPDA) is one of the most influential organizations in Peru focusing on environmental law, policy, and regulation. SPDA has contributed to the development of numerous regulatory and conservation instruments, including laws and regulations for forest carbon and environmental compensation instruments.
EcoDecisión is a leader in conservation finance in Latin America. Its experts designed the first water fund in Latin America.
Imperial College London (project research team) has 18 years of experience in applied research in hydrology and water resources in the Andes, including monitoring and mathematical modeling of hydrometeorological processes, water supply, and related risks.
El Consejo Consultivo
The Consultative Council is made up of representatives of the Peruvian Government, with USAID and the Government of Canada acting as observers and Forest Trends as technical secretary. It is the highest level overseer of the project and functions as a consultative, strategic, and coordinating body.
The Consultative Council also works to align actions to scale investments and impacts of natural infrastructure initiatives in the country, through the development of sectoral strategies led by the members of the Council.
CONTACT US
Contact information
Fernando Momiy
Chief of Party
Gena Gammie
Deputy Chief of Party
Mail:  
Address: Av. Ricardo Palma Nro. 698; Miraflores; Lima, Perú
Telephone: +51 3755889
NATURAL INFRASTRUCTURE IN IMAGES
This page is under construction. Please check back soon!
NEWSLETTER
Subscribe to our quarterly newsletter to receive news, event notices, and updates on the Natural Infrastructure for Water Security project. Please contact Arlene Villanueva at the email address below to be added to the list. Include your name, organization, and email address. [Please note that this newsletter is published only in Spanish.]
If you'd like to contribute to the project, or if you have any other questions or enquiries, please write to us at [email protected]
NEWSLETTER 1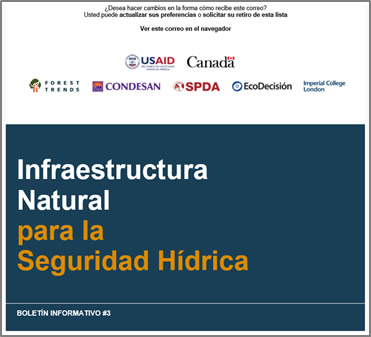 CALENDAR
Events in 2019
| Date | Event |
| --- | --- |
| February 1, 2019 | International seminar: State of the Science on Natural Infrastructure for Water Security |
| March 22, 2019 | World Water Day |
| June 11-13, 2019 | Gender Equality and Water Security Forum |
| September 2019 | International Congress on Natural Infrastructure |
Webinars in 2019
Please note all webinars are held in Spanish.
Date
Theme
January 2019
Ficha técnica simplificada de proyectos para servicios ecosistémicos con regulación hídrica
February 2019
La incubadora – un mecanismo innovador de financiamiento.
Más info
March 2019
Buenas prácticas de uso del suelo en los Andes
Más info
April 2019
Estrategias de comunicación para visibilizar la infraestructura natural
May 2019
Publicación brechas de género
June 2019
Técnicas ancestrales de manejo de agua, II parte
Andenería en el sur de Perú
July 2019
Guías para elaboración de planes de respuesta a emergencias.
August 2019
OPCION 1
Protocolo de monitoreo hidrológico de EPS, SUNASS.OPCION 2
Cuellos de botella en la implementación de MERESE
September 2019
Modalidad II de MERESE – SUNASS: desafíos en su implementación