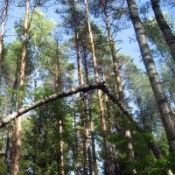 The US Lacey Act aims to end the sale of illegally-harvested wood products in the United States, just as the EU Timber Regulation aims to do in the European Union. Each measure takes a slightly different approach, and both will be under the microscope at the Fourth Potomac Forum on Illegal Logging and Associated Trade this week in Washington, DC.
3 May 2011 | US federal prosecutors last week charged three Alaskans with dealing in walrus tusks and polar bear hides – a clear violation of the Lacey Act.   This 110-year-old law is the oldest environmental protection law in the United States.   It makes it illegal to import certain plant and animal products into the country or across state borders if they are harvested in violation of laws either in their place of origin or at home.  
In 2008, the law was expanded to include illegally-harvested wood products – an expansion that drew immediate (and well-funded) pushback from a handful of international logging giants.   The industry-funded World Growth International says the law amounts to "green protectionism" that gives producers and manufacturers using US-based materials an advantage over foreign competition.  
Proponents of the law concede that wood products originating in countries with poor governance are more likely to contain material harvested illegally, but they argue that the law promotes both good forestry and good governance in general.
Indonesian Forestry Minister Zulkifli Hasan and others have long called on consumers in developed countries to reduce demand for illegally-harvested products by simply not buying them.   Both the United States and the European Union say their laws aim to reduce that demand as well.
Indonesia recently established its own national legality standard (SLVK) which was created with collaboration of a Voluntary Partnership Agreement with the European Union.   The Partnership is one of several that the European Union has entered into with exporting countries to promote timber legality verification that can be used to ensure that products exported to Europe meet the criteria laid out in the EU Timber Regulation, which aims to eliminate the sale of illegal timber products within the European Union.
While the Lacy Act puts more emphasis on prosecuting illegal importers, the Voluntary Partnership Agreements (VPAs) aim to build up such timber legality verification programs abroad, often with the help of non-governmental organizations acting as recognized monitors.   The impacts of the two approaches will be the central theme of the Forest Trends' Fourth Potomac Forum on Illegal Logging and Associated Trade, which takes place Wednesday at World Bank headquarters in Washington, DC.
The semiannual meeting of the Forest Legality Alliance takes place one day later.   The Alliance is an endeavor of the World Resources Institute (WRI) and the Environmental Investigative Agency (EIA), and Thursday's meeting takes place at WRI headquarters, also in Washington, DC.
Additional resources