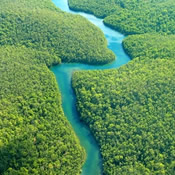 Katoomba XVIII: Forests, Water and People will take place next month in Beijing and Ecosystem Marketplace will be blogging and tweeting live from the event. Before that EM will make an appearance at the National Mitigation and Ecosystem Banking Conference to take place in early May. In between preparing for these events, the water portal, Watershed Connect, was recently translated into Spanish.
This article was originally published in the Water Log newsletter. Click here to read the original.
25 April 2013 | We're packing our bags for a whole lot of conference coverage next month. First we'll be in New Orleans at the National Mitigation & Ecosystem Banking Conference, reporting live from the Big Easy on the latest in mitigation markets in the US. Then we'll bring you a (very!) global perspective with dispatches from Katoomba XVIII in Beijing, which this year focuses on forests, water, and people. Don't miss a beat: follow us on Twitter, bookmark our blog, and stop by Ecosystem Marketplace to stay informed.
In case you missed our Spanish-language webinar last month, "Inversiones en Proteccií³n Hí­drica: Un Panorama de América Latina", a recording is up at EM's sister site Valorando Naturaleza. Speakers from the Climate & Development Knowledge Network, EcoDecisií³n, The Nature Conservancy, and Fundacií³n Natura Bolivia shared insights on developments in watershed investments in Latin America. You can view a recording and slides here (in Spanish). And if you appreciate getting news coverage on watershed protection and finance in Spanish, have you visited our newly-translated Conectando Cuencas, the Spanish-language version of our water portal Watershed Connect?
In this month's Water Log, all the action is at the grassroots. Projects that reward good stewardship to protect water at its sources continue to advance, from Lake Naivasha in Kenya to Kansas City in the US to Cali, Colombia. Businesses and universities in the US West are taking steps to offset their water footprints in their local watersheds. And an article that reflects on Mexico's national PSAH program's successes and stumbles concludes that the key lesson is "prioritization of local and regional processes."
But at higher levels, we're still struggling. Whether it's continuing to ignore environmental externalities at a global scale (at a cost of $4.7 billion a year), inadequate disclosure from water providers on the risks they're clearly facing these days, or inaction on increasingly ugly problems like groundwater contamination from tar sands development in Canada or a dead zone in the Gulf of Mexico the size of Massachusetts. Let's hope the higher-ups take a cue from all these local-level leaders on protecting our natural capital, and soon.
— The Ecosystem Marketplace Team
For questions or comments, please contact newsletter@nullecosystemmarketplace.com
CONTRIBUTING TO ECOSYSTEM MARKETPLACE

Ecosystem Marketplace is a project of Forest Trends a tax-exempt corporation under Section 501(c)(3).The non-profit evaluator Charity Navigator has given Forest Trends its highest rating (4 out of 4 stars) recognizing excellence in our financial management and organizational efficiency.



Additional resources