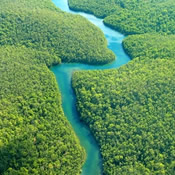 Influenced by what many cities around the world have done to protect their watersheds, now Lima hopes to protect its watershed in the Peruvian Andes with the Watershed Services Incubator, while Philadelphia comes up with a plan to finance green infrastructure and provide incentives for private landowners to implement green retrofits. Also, Thailand is developing PES initiatives for soil and watershed protection.      
This article originally appeared in the Water Log Newsletter.   Click here to view the original.
"Spring is the time of plans and projects."   – Leo Tolstoy (Anna Karenina)
14 May 2012 | This spring is no exception. Yesterday one very exciting new project was launched: a new Watershed Services Incubator in Peru, through a partnership between the  Peruvian Ministry of Environment  and  Forest Trends, with the support of the  Swiss Agency for Development and Cooperation. The Incubator will foster a new wave of projects using incentive mechanisms to drive investment in sustainable water management and community stewardship.
"Today, Peru has said that it will set an example for the world by committing to a national policy of taking on natural infrastructure approaches to address their water crisis," said Michael Jenkins, president of Forest Trends. "The Incubator is designed to show how support at the national level can leverage ingenuity from local initiatives to create real solutions for one of the biggest challenges we face today–the protection of our natural water resources."
In this month's Water Log, we find other new projects springing up around the world – including a national payments for ecosystem services initiative in Thailand, proposed source water protection incentives in  Oregon, and a $2 billion commitment to green infrastructure in  Philadelphia.
We also recommend that you take a look at the latest in the  Murray-Darling basin draft plan debate, read an  excellent interview  with RUPES Indonesia Site Coordinator Rachman Pasha, and if you've still got time, watch a  free lecture  on issues in water governance and economics, hosted by the Global Water Forum.
We aim to bring you the most important stories in the watershed payments world every month in this newsletter. But did you know we also have a  daily news feed  at Watershed Connect, if you just can't stand to wait that long? And as always, if you know of a story that the payments for watershed services community should know about, please share it with us! Suggestions for Water Log content can be emailed to  gbennett@nullecosystemmarketplace.com.  
— The Ecosystem Marketplace Team
For questions or comments, please contact newsletter@nullecosystemmarketplace.com
GENERAL

 

 

 

 

POLICY UPDATES

 

 

 

GLOBAL MARKETS

 

 

 

 

 

 

 

 

EVENTS

 

 

 

 

 

 

 

 

 

 

 

CONTRIBUTING TO ECOSYSTEM MARKETPLACE

Ecosystem Marketplace is a project of Forest Trends a tax-exempt corporation under Section 501(c)(3).The non-profit evaluator Charity Navigator has given Forest Trends its highest rating (4 out of 4 stars) recognizing
excellence in our financial management and organizational efficiency.
Additional resources