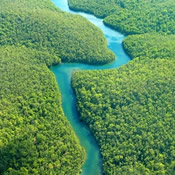 This week is World Water Week in Stockholm with this year's theme focusing on water cooperation and building partnerships. Seminars, interviews and other features will be available online. Meanwhile, wildfires in the US west is bringing water-energy-food nexus thinking to the fore as the areas' energy and water supplies are vulnerable to the fires and overall climate risk.
This article was originally published in the Water Log newsletter. Click here to read the original.
3 September 2013 | Greetings! Maybe it's all the smoke outside, but we've been thinking about the water-energy-food nexus a lot recently. With California's Rim Fire – the largest in Sierra Nevada history – still only about 30% contained as of the last report, the vulnerability of the state's forested watersheds and snowpack to rising wildfire and climate risk has been put into sharp focus.
Millions of people rely on these landscapes for water and energy supplies, and yet lawmakers hammering out state water policy seemed stuck on the same old responses to water problems. "In Sacramento, the talk is of dams, tunnels and delta pumps, but ignores the upper watersheds and forests that are essential to making the entire California water and power system work," writes Robert Frisch in an opinion piece published in the San Francisco Chronicle this week.
Understanding the cross-cutting risks and relationships that exist between sectors, people, and some of our most "wicked" problems is also this focus of this year's World Water Week, which takes as its theme "Water Cooperation: Building Partnerships."
If you'll be in Stockholm next week, please stop by session four of the Cooperation for Sustainable Benefits and Financing of Water Programmes workshop: our own Jan Cassin will be discussing Forest Trends' work on blending green & grey infrastructure to solve complex water challenges.
If you can't make it to World Water Week in person, did you know that many of the seminars will be streamed live via webcast? You can watch them here, along with interviews and features from the conference courtesy of the Stockholm International Water Institute.

Finally, don't forget that if you have events or jobs you'd like shared with our audience via the Water Log or at Watershed Connect, you can submit them here.
— The Ecosystem Marketplace Team
For questions or comments, please contact newsletter@nullecosystemmarketplace.com
GENERAL

POLICY UPDATES

GLOBAL MARKETS

EVENTS

CONTRIBUTING TO ECOSYSTEM MARKETPLACE

Ecosystem Marketplace is a project of Forest Trends a tax-exempt corporation under Section 501(c)(3).The non-profit evaluator Charity Navigator has given Forest Trends its highest rating (4 out of 4 stars) recognizing excellence in our financial management and organizational efficiency.



Additional resources