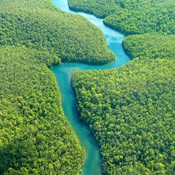 A non-profit attempts to repopulate eastern Washington with beavers while the Australian government transacts big buybacks in the Murray-Darling plan. Meanwhile, green infrastructure continues to thrive in the US. Also, Forest Trends reports on their findings from Rio on scaling up payments for watershed services.
This article was originally published in the Water Log newsletter. Click here to read the original.
Greetings from the Water Log!
25 July 2012 |   Last month we welcomed our Forest Trends colleagues back from Rio, where they co-chaired a fascinating side event on scaling up payments for watershed services. The brains behind programs like Fundacií³n Natura Bolivia and Mexico's Programa para el Pago por Servicios Ambientales Hidrolí³gicos (Program for the Payment for Hydrological Environmental Services) talked about the keys to smart expansion. Among their advice: Don't get distracted, terminology matters, and measure the outcomes. You can read more about the conversation here.
Speaking of scaling up, green infrastructure continues to boom in the US – the market for green roofs grew 115 percent last year and shows no signs of slowing down, as property owners and cities look for stormwater control strategies that are cost-effective and add to quality of life. Columbia Green Technologies, a green roof systems provider, recently closed out an oversubscribed round of funding with more than a million dollars for R&D and to grow its workforce. We've also got a profile from Stormwater Magazine on activities in the Sunflower State: Kansas cities are leading the way in investing in natural infrastructure.
 
 We've got something for everybody in this Water Log: from reports on integrated water resource management and fracking, to the latest news on beaver reintroduction and Murray-Darling water buybacks, to a fascinating new study that attempts to reconstruct a history of ecosystem services in modern China. Read on for all of this and more.
 
 As a final note, if you value getting your monthly Water Log, consider becoming a supporting subscriber. Your support enables us to keep the lights on and keeps the news and analytics coming, free of charge to everyone. And with a donation of $150, you'll get your (or your company's) name and website link in a full year of issues of the Water Log news brief. Make a donation here.
— The Ecosystem Marketplace Team
For questions or comments, please contact newsletter@nullecosystemmarketplace.com
GENERAL

POLICY UPDATES

GLOBAL MARKETS

EVENTS


Please see our Reprint Guidelines for details on republishing our articles.
Additional resources