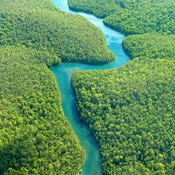 Forest Trends' Water Initiative will preview their work on blending green and grey infrastructure at World Water Week later this month. In the meantime, the Ohio River Basin water quality trading program is moving forward on pilot trades and an agency responsible for flood control in Louisiana is suing over 100 oil and gas companies for coastal land degradation in a groundbreaking new lawsuit.
This article was originally published in the Water Log newsletter. Click here to read the original.
1 August 2013 | Greetings! While many of you may be reading this poolside (or perhaps not at all), there is no rest for the Water Logged. We're excited about an array of research products we'll be releasing in the next few weeks, including a report for business on nature-based solutions, a white paper on designing interventions for multiple ecological benefits, and a brief on cities and watersheds, looking at opportunities for cost-effective green infrastructure solutions to water challenges. Stay tuned for more news on these.
If you'll be in Stockholm later this month for World Water Week, consider stopping by the Cooperation for Sustainable Benefits and Financing of Water Programmes workshop: Forest Trends' Jan Cassin will be offering a preview of some of our work on blending green & grey infrastructure, in session 4.
As for the news – it's been a busy month. In a groundbreaking new lawsuit, one of the agencies responsible for flood control in the US state of Louisiana is suing more than 100 oil and gas companies for damages caused by degraded coastal lands. The authority is taking the position that the Louisiana wetlands are subject to more frequent and severe storms and rising sea levels, and that the oil and gas companies have a duty under the permits that granted them the right to engage in dredging activities to remedy the damage done to wetlands. Even if the suit fails, it could push the concept of ecosystem services into the mainstream.
Meanwhile, the Ohio River Basin water quality trading program is getting moving on pilot trades, while Washington DC presented its plan for a stormwater trading system. The economists among us will like a recent study comparing buybacks to irrigation infrastructure improvements in terms of cost-effective instream flow restoration.
On the business front, starting in 2014 the Carbon Disclosure Project will ask all Fortune 500 companies to report on water risk exposure as well. That's a very good thing for everyone: a recent report found that mining companies that report on (and thus, we assume, think hard about) their water risk management financially outperform those who don't. And in another score for sustainability, renewable energy beat fossil fuels in a water footprint battle.
Happy reading,
— The Ecosystem Marketplace Team
For questions or comments, please contact newsletter@nullecosystemmarketplace.com
CONTRIBUTING TO ECOSYSTEM MARKETPLACE

Ecosystem Marketplace is a project of Forest Trends a tax-exempt corporation under Section 501(c)(3).The non-profit evaluator Charity Navigator has given Forest Trends its highest rating (4 out of 4 stars) recognizing excellence in our financial management and organizational efficiency.



Additional resources