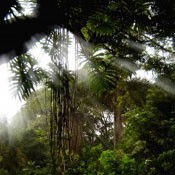 The Governor's Climate & Forests Task Force (GCF) just gained three new members from Peru. But while membership may improve REDD+ development in the South, it does not mean it will be easy finding a buyer in the North. There are growing doubts that California, a GCF member, will accept REDD+ credits into its cap-and-trade program.
This article was originally published in the Forest Carbon newsletter. Click here to read the original.
14 October 2013 | The Governor's Climate & Forests Task Force (GCF)  just gained three new members from Peru. The Peruvian states – San Martin, Loreto, and Ucayali – are all members of CIAM (Consejo Interregional de la Amazoní­a Peruana, or the Interregional Amazon Council), an interregional coordination board that promotes sustainable development in the Amazonian regions in Peru. GCF serves as a platform to enhance capacity building and transnational cooperation to fight deforestation. Its members currently include states from Brazil, Mexico, the United States, Spain, Nigeria and Indonesia.
Patricia Luna del Pozo, Technical Secretary Specialist at CIAM, notes, "We see the GCF as an important tool for governments in Peru. We need to better understand what other regional governments are doing around the world and contribute to their efforts through our experiences." The newest additions could learn from neighboring Brazil, where participating GCF states have received support for a national REDD+ strategy. Brazil has reduced deforestation by more than 75% since 2005, and Peru could achieve similar results. The Peruvian states can also benefit from a recently launched training program to map and improve the networks of civil society, government, and other organizations and from the newly launched  GCF Fund, an independent funding mechanism that supports GCF members.
While GCF membership may improve REDD+ development in the South, it does not mean it will be easy finding a buyer in the North. California, a GCF member, signed a memorandum of understanding with Acre, Brazil and Chiapas, Mexico in 2010. The REDD Offsets Working Group issued its final recommendations on incorporating REDD in to the California program this July. However, there  are  growing doubts that the state will accept these credits into its cap-and-trade program. ARB spokesman Dave Clegern explains, "We have an MOU to observe development of sector-based projects in Chiapas and Acre, but no agreement to accept those projects." Right now, California officials are focusing on getting the domestic offsets right, he says.  
A bill introduced in the California legislature earlier this year indicates that reservations about REDD remain. The bill seeks to ban international offsets, in a bid to retain any benefits from California's law within the state. In addition to political opposition, expectations that the allowance market will be oversupplied may also hinder REDD adoption. Recent projections indicate California's cap-and-trade program will have more allowances than needed through 2019. Thus, offset demand might not be driven by compliance needs but by whether companies view offsets as a key mechanism to diversify their compliance strategies.  
—The Ecosystem Marketplace Team
If you have comments or would like to submit news stories, write to us at general@nullforestcarbonportal.com.
Forest Trends' Fundraising Challenge

Forest Trends' work doesn't grow on trees – we rely on readers' generosity to help keep them standing.

Now through November 22, (and for the cost of a typical lunch!), donations to Forest Trends' Crowdrise campaign could leverage up to $1 million in matching awards through the Skoll Foundation's Social Entrepreneurship Challenge. Help Forest Trends expand our vital services to communities and experts on the front lines of ecosystem conservation. $10 will go a long way!
 

ABOUT THE FOREST CARBON PORTAL

The Forest Carbon Portal provides relevant daily news, a bi-weekly news brief, feature articles, a calendar of events, a searchable member directory, a jobs board, a library of tools and resources. The Portal also includes the Forest Carbon Project Inventory, an international database of projects including those in the pipeline. Projects are described with consistent 'nutrition labels' and allow viewers to contact project developers.

 

ABOUT THE ECOSYSTEM MARKETPLACE

Ecosystem Marketplace is a project of Forest Trends, a tax-exempt corporation under Section 501(c)3. This newsletter and other dimensions of our voluntary carbon markets program are funded by a series of international development agencies, philanthropic foundations, and private sector organizations. For more information on donating to Ecosystem Marketplace, please contact info@nullecosystemmarketplace.com.



Additional resources