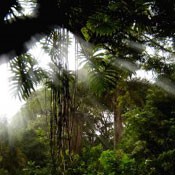 Ecosystem Marketplace has launched our annual survey informing the State of the Forest Carbon Markets and the State of the Voluntary Carbon Markets 2014 reports. New perks for those who respond by March 12.
This article was originally posted in the Forest Carbon newsletter. Click here to view it in its original format.
27 February 2014 | Ecosystem Marketplace has launched our annual survey informing the State of the Forest Carbon Markets and the State of the Voluntary Carbon Markets 2014 reports! Over the past eight years, the State of reports have served as the only market-wide, freely available quantitative reports tracking the offset transactions from the forest carbon projects that now cover 26.5 million hectares across the globe. In 2013 and again this year, Ecosystem Marketplace also partnered with the Global Alliance for Clean Cookstoves to more closely track trends in carbon-financed clean cookstove distribution.
If you have responded to our survey in the past, a key contact in your organization should have received an email with your organization-specific username and password, and you can sign into the survey HERE (http://survey.ecosystemmarketplace.com/carbon2014/). If it's your first time, create a new organizational account HERE (http://survey.ecosystemmarketplace.com/carbon2014/users/users/add). You should respond to our survey if: you transact carbon offsets to voluntary buyers; you develop forest carbon offset projects (for voluntary or compliance markets); and/or you develop carbon offsets from the distribution of clean or more efficient cookstoves or components.  
As always, feel free to contact us if you have questions about the survey.
For the first time, if your organization responds to the survey by the March 12 deadline, you will receive a personalized, confidential market brief comparing your organization's 2013 activities to aggregate results, including pricing, sales volumes, market leaders and forecast (distributed May-June 2014). If you report pricing and volume data, we'll also include a customized comparison sheet to show how your pricing and transactions types stack up against other respondents', with extra regional and country-level insight, where available.
The survey will be available in Spanish shortly, but in the meantime, check out an exciting event by our sister Spanish-language site, Valorando Naturaleza, being held in Bogotá, Colombia later this week. On February 27-28, regional experts will convene to analyze the outcomes of the 19th UN climate change conference and assess the state of financing for ecosystem services in Latin America. The event will be live-streamed here, so be sure to tune in Thursday and Friday to hear from representatives of indigenous people, project developers and the private sector from Colombia, Ecuador, Peru, Brazil, Costa Rica and Mexico.
Here in Washington DC, the Forest Carbon Portal last week covered the launch of Global Forest Watch, an exciting new Google-powered tool that combines global high-resolution satellite imagery, high-powered cloud computing, open data and human networks to give a picture of forest loss (or growth) in real time – or at least a lot closer to real time than has ever been achieved before.
"You don't need a PhD in remote sensing science to use Global Forest Watch," said Nigel Sizer, Director of the World Resources Institute's Global Forest Initiative that led the development of the tool. "If you can use Google Maps to find a friend's house, then you can use Global Forest Watch to understand what is happening to the forests in your neighborhood, across your entire country or even on the other side of the world."
The biggest challenge in using Global Forest Watch, in fact, may be what to do with all the newly available information. Brazilian law, for instance, does not allow law enforcement to act based on satellite imagery alone, so on-the-ground verification of illegal deforestation would be necessary before intervening in forest loss. Still, as Rajiv Shah, Administrator for the US Agency for International Development, put it: "You can't solve problems you can't see."
Can't argue with that. And with that, we bring you the rest of the news. Warm wishes, and happy survey-responding!
—The Ecosystem Marketplace Team
If you have comments or would like to submit news stories, write to us at general@nullforestcarbonportal.com.
ABOUT THE FOREST CARBON PORTAL

The Forest Carbon Portal provides relevant daily news, a bi-weekly news brief, feature articles, a calendar of events, a searchable member directory, a jobs board, a library of tools and resources. The Portal also includes the Forest Carbon Project Inventory, an international database of projects including those in the pipeline. Projects are described with consistent 'nutrition labels' and allow viewers to contact project developers.

ABOUT THE ECOSYSTEM MARKETPLACE

Ecosystem Marketplace is a project of Forest Trends, a tax-exempt corporation under Section 501(c)3. This newsletter and other dimensions of our voluntary carbon markets program are funded by a series of international development agencies, philanthropic foundations, and private sector organizations. For more information on donating to Ecosystem Marketplace, please contact info@nullecosystemmarketplace.com.



Additional resources