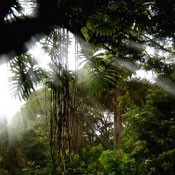 NOTE: This article has been reprinted from Ecosystem Marketplace's Forest Carbon newsletter. You can receive this summary of global news and views from the world of forest carbon automatically in your inbox by clicking here.
28 October 2011 | The big story around the water cooler this week is no doubt the final approval of California's cap-and-trade regulations.   After years of drawn out debates, legal challenges, and even a public referendum, California now seems set to launch the United States' first comprehensive cap-and-trade scheme (knock on wood), and the first that will look toward international REDD+ credits in coming years.  
With talk of potential links with from California to four Canadian provinces–British Columbia, Manitoba, Ontario and Quebec–as well as the EU Emissions Trading Scheme, supporters will be hoping that this new step forward will send a strong market signal and set an ambitious example for others to follow.
On the international front, the UN-REDD Programme has announced new funding for Nigeria's national REDD+ program and also published draft social and environmental principles and criteria aimed at reducing social and environmental risks in implementing REDD+.
We've seen several new projects using the American Carbon Registry to reforest following a fire in Colorado and   to connect family forest owners to healthcare in the Pacific Northwest.   Add to this several new projects entering the VCS and CCB pipelines, and there's surely no shortage of projects to keep your eyes on.
And following the concession heard round the forest carbon world, when Indonesia handed half the project area for the Rimba Raya project to a palm oil developer after years of consultation, the Ministry of Forestry now appears prepared to play nice, offering up millions of hectares of degraded forest lands in the country for ecosystem restoration concessions to include carbon projects.
As always, read on for all the headlines and more in this, the latest edition of Ecosystem Marketplace's Forest Carbon News Brief.
And if you value what you read in this news brief, consider supporting Ecosystem Marketplace's Carbon Program as a Supporting Subscriber. Readers' contributions help us keep the lights on and continue to deliver timely forest carbon market news and insights to your inbox free of charge.   Reach out to inboxes around the world and make your donation here.
—The Ecosystem Marketplace Team
If you have comments or would like to submit news stories, write to us at general@nullforestcarbonportal.com.
ABOUT THE FOREST CARBON PORTAL

The Forest Carbon Portal provides relevant daily news, a bi-weekly news brief, feature articles, a calendar of events, a searchable member directory, a jobs board, a library of tools and resources. The Portal also includes the Forest Carbon Project Inventory, an international database of projects including those in the pipeline. Projects are described with consistent 'nutrition labels' and allow viewers to contact project developers.

ABOUT THE ECOSYSTEM MARKETPLACE

Ecosystem Marketplace is a project of Forest Trends, a tax-exempt corporation under Section 501(c)3. This newsletter and other dimensions of our voluntary carbon markets program are funded by a series of international development agencies, philanthropic foundations, and private sector organizations. For more information on donating to Ecosystem Marketplace, please contact info@nullecosystemmarketplace.com.
Additional resources