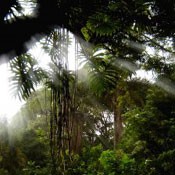 As part of its commitment to become carbon neutral, Microsoft charges an internal carbon fee and has invested over $4 million into carbon offset and renewable energy projects since July 2012. PUMA also seeks to find the overlap between "sustainable" and "desirable/profitable" by supporting REDD+ projects in Kenya through carbon credits purchased from Wildlife Works.
This article was originally published in the Forest Carbon newsletter. Click here to read the original.
15 May 2013 | At the recent  REDD+ Talks  in Sausalito, California  –  the first U.S. conference held on the critical role of REDD+ in the fight against climate change – Microsoft's Tamara "T.J." DiCaprio discussed her company's game-changing internal carbon fee and the new wave of offset projects it is supporting with guidance from its new partner, The CarbonNeutral Company, whose clients have invested nearly $9 million in forest carbon projects in recent years.
DiCaprio hopes Microsoft's efforts can set a precedent for other companies looking to prioritize organization-wide environmental accountability through efforts like REDD+. A new  Ecosystem Marketplace article  forges deeper into Microsoft's offsetting strategy as part of its broader drive toward carbon neutrality.
"We are part of the problem," says DiCaprio, "especially when we look at our customers and the proliferation of devices that are emerging and the energy they require, so we need to also be part of the solution."
One of the largest players in a heavily energy-dependent industry that accounts for 2% of all global emissions, Microsoft has invested over $4 million into carbon offset and renewable energy projects since July 2012. Despite the firm's traditional interest in technology-related offsets, forest carbon has figured prominently in its portfolio. Supported projects include Wildlife Works' VCS/CCB-verified Kasigau REDD+ project in Kenya and Terra Global Capital's VCS/CCB-verified Oddar Meanchey REDD+ project in Cambodia, which has been recently trying to address  illegal logging of community forests.
The REDD+ Talks, hosted by Wildlife Works, CSR Wire, and the Code REDD Campaign, also brought in speakers representing other private sector actors. Martyn Bowen, Regional General Manager for PUMA in Eastern Europe, Middle East, Africa, and India, discussed the need for companies to find the overlap between "sustainable" and "desirable/profitable." Bowen encourages other companies, even PUMA's leading competitors, to follow suit in supporting REDD+ projects: "There's no shame in starting tentatively…do one village at a time."  
"The communities themselves become the best agents of change once they decide that it's in their best interest," adds Wildlife Works Founder and CEO Mike Korchinsky. "If REDD+'s done right, it's creating the right incentives for the communities to make their own determination."
Videos of the REDD+ Talks presentations are now available for public viewing, including a talk by Ecosystem Marketplace's Associate Director, Molly Peters-Stanley  here.
For other forest carbon updates, scroll down for our recap below! Here at Ecosystem Marketplace, report writing is in full swing for this year's State of the Voluntary Carbon Markets report. If you missed out on submitting data for this year's State of reports, please contact Daphne Yin  immediately as we finalize our data points for this year. Thank you most recently to  Charles Darwin University  for taking the time to contribute data!
—The Ecosystem Marketplace Team
If you have comments or would like to submit news stories, write to us at general@nullforestcarbonportal.com.
 

ABOUT THE FOREST CARBON PORTAL

The Forest Carbon Portal provides relevant daily news, a bi-weekly news brief, feature articles, a calendar of events, a searchable member directory, a jobs board, a library of tools and resources. The Portal also includes the Forest Carbon Project Inventory, an international database of projects including those in the pipeline. Projects are described with consistent 'nutrition labels' and allow viewers to contact project developers.

Additional resources

X

Success!

Thank you for signing up.

Houston, we have a problem.

We had a problem signing you up. Please try again, and if the problem persists, please let us know via our

contact form

.