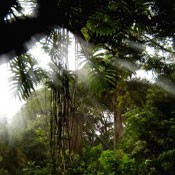 This week, President Barack Obama announced his decision to create new pollution standards for power plants. In addition to limiting greenhouse gas emissions from large emitters, the president's Climate Plan also addresses the role of domestic forests in mitigating climate change as well as REDD and the administration's commitment to reducing global land-use-related emissions.
This article was originally published in the Forest Carbon newsletter. Click here to read the original.
29 June 2013 | President Barack Obama recently gave the Environmental Protection Agency his blessing to propose and implement regulations on greenhouse gas emissions from new and existing power plants in the United States. While the President's Climate Action Plan will have obvious repercussions for large emitters, its effects on REDD+ and forest carbon are less concrete.
   
The latest Ecosystem Marketplace coverage unearths the implications of limiting carbon and its potential effect on the formation of cap-and-trade programs and "state leadership", which the President referred to explicitly in his speech. David Antonioli, CEO of the Verified Carbon Standard believes "the Obama plan is unlikely to have a direct impact on the voluntary carbon markets," however, it will likely encourage "countries and companies to start taking concrete action against climate change."
The President's Climate Action Plan reports that "greenhouse gas emissions from deforestation, agriculture, and other land use constitute approximately one-third of global emissions." It also highlights REDD+ and addresses the United States' role in mitigating carbon emissions by reducing agriculture-driven deforestation. The Obama Administration has already partnered with developing countries to develop the framework needed to reduce global emissions stemming from land use, as well as to implement new programs to support sustainable development and improved livelihoods. The Plan acknowledges USAID's contribution to reducing more than 140 MtCO2e through the World Bank's Forest Investment Program and Forest Carbon Partnership Facility.
Furthermore, the plan recognizes the role of domestic forests in mitigating climate change and in "removing nearly 12% of total U.S greenhouse gas emissions each year." The Administration is striving to identify new methods to conserve America's forests, grasslands and wetlands despite increasing pressures to convert forest land to support agricultural or urban capacity, as reported in the plan.  
Switching gears, we are pleased to announce the successful launch of the State of the Voluntary Carbon Markets 2013 report! The event, which took place on June 20 here in D.C., was well attended by carbon stakeholders from across the D.C. metropolitan area and the U.S.  
Thank you to everyone who attended the launch event and to those who contributed to this year's report! We look forward to working with you again next year!  
 
—The Ecosystem Marketplace Team
If you have comments or would like to submit news stories, write to us at general@nullforestcarbonportal.com.
 

ABOUT THE FOREST CARBON PORTAL

The Forest Carbon Portal provides relevant daily news, a bi-weekly news brief, feature articles, a calendar of events, a searchable member directory, a jobs board, a library of tools and resources. The Portal also includes the Forest Carbon Project Inventory, an international database of projects including those in the pipeline. Projects are described with consistent 'nutrition labels' and allow viewers to contact project developers.

 

ABOUT THE ECOSYSTEM MARKETPLACE

Ecosystem Marketplace is a project of Forest Trends, a tax-exempt corporation under Section 501(c)3. This newsletter and other dimensions of our voluntary carbon markets program are funded by a series of international development agencies, philanthropic foundations, and private sector organizations. For more information on donating to Ecosystem Marketplace, please contact info@nullecosystemmarketplace.com.



Additional resources