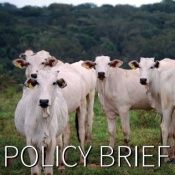 31 July 2015 | Brazil has reduced its annual greenhouse gas emissions more than the entire European Union has – largely by reducing deforestation a staggering 76%. With less than five months to go before year-end talks in Paris, a new policy brief says that Brazil can achieve "zero net deforestation" by 2020 with international help – or risk backsliding without it. 
Specifically, the brief outlines financing mechanisms, such as green bonds and forest carbon finance, that can be used to bring deforestation to a level just 10% of what it was a decade ago, with that being offset by the country's pledge to reforest 12 million hectares of degraded land. By definition, zero net deforestation means that any forests lost are replaced. Published jointly by Ecosystem Marketplace publisher Forest Trends and the Earth Innovation Institute, the policy brief is available for free download here and argues that existing pledges can achieve a 40% reduction in nation-wide emissions while expanding the production of food, fiber and biofuel. 
Indeed, the brief says, the reductions that Brazil has already achieved kept nearly 5 billion tons of CO2 out of the atmosphere and locked up in trees. 
"[This reduction] has made Brazil a global leader in climate change mitigation," the study days. "But the costs of this feat were borne almost entirely by Brazil alone, and markets for Brazilian agricultural products have been slow to recognize the scale and significance of this achievement." 
They ask – and answer – seven questions designed to identify way of preventing the country from backsliding: 
Could Brazil achieve zero net deforestation and zero net forest carbon emissions nationally?
Would the decline in deforestation necessary to achieve these targets allow for continued growth of agricultural production?
Would striving for this goal place additional burden on smallholders, who have largely been omitted from the low-deforestation agenda?
If Brazil succeeds in ending illegal deforestation, as promised, will that also slow deforestation?
Could an ambitious INDC (Intended Nationally Determined Contribution under the United Nations Framework Convention on Climate Change) help increase market access of Brazil's agricultural and forestry products?
Could the INDC help Brazil attract the private investment that will be needed to achieve this ambitious agenda?
How could these finance innovations and other interventions help drive Brazil's transition to an equitable, sustainable, low-emission development model?