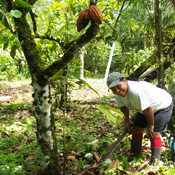 Indigenous people who live in the Talamanca-Bribri Indian Reserve in Costa Rica rehabilitate cacao plantations to increase productivity, protect biodiversity and create a regional market for carbon. The Ecosystem Marketplace gets the scoop on the innovative project. Shiroles, Costa Rica— Gerardina Morales barely breaks stride as she lops off a damaged cacao pod with her machete. Her black rubber boots tread lightly along the trail through her 2 1/2-acre cacao farm within the Talamanca-Bribri Indian Reserve in southern Costa Rica, just across the river from Panama. For almost four years the 31-year-old mother of three has pruned these cacao trees, grafted superior stock onto old, unproductive trees, and controlled the devastating disease moniliasis, or frosty pod rot, which reached cacao farms here in 1978. Diseases and low prices for cacao, from which chocolate is made, caused many to abandon or remove their trees. Morales' rehabilitation efforts and those of 400 families in 14 villages stem from a World Bank-financed organic cacao and biodiversity project created and implemented by the Tropical Agricultural Research and Higher Education Center (Spanish acronym CATIE, pronounced Kah'-Tee-Eh), headquartered in Turrialba, Costa Rica. On these small indigenous farms, CATIE researchers focused on improvements in cacao quality, increased production, development of biodiversity-friendly products to generate additional income for poor farm families, and monitoring of species to establish the first database for biodiversity on farms in Talamanca. Basic to project success was strengthening of local indigenous associations. In the past, most of these farmers planted seed, which produces harvestable pods in five years. Now they know how to work with grafted cacao, which produces in a year and a half and has a good success rate. Farmers get bud wood and rootstock from clone farms or from neighbors trained through the technical assistance program. Research continues on demonstration farms in eight villages. Morales took full advantage of CATIE field-based training. "They say I am stubborn about learning," she discloses. Her smile is shy; her eyes speak of purpose. "I can say I know how to manage my cacao." Every three months, her small plantation gets a thorough, weeklong tune-up. In the Bribri and Cabécar tradition of community work groups, family and friends help out. Cacao for these indigenous societies traditionally was a subsistence crop grown under forest cover. It had ceremonial uses as well as significance in creation stories. The region's subsistence economy was transformed to a commercial one with the coming of United Fruit Company's large banana plantations in the early 1900s. When floods and fungal diseases halted banana production, United Fruit switched to cacao, and when it pulled out in 1938, farmers continued with cacao. It was the most important cash crop until moniliasis swept in.
Cacao and conservation
Though Morales helps her companion on his small banana and plantain farms, she is culturally closer to the agroforestry system that combines cacao and timber and fruit trees. Her people live within the biologically rich Mesoamerican Biological Corridor, which runs from Mexico to Panama. In Costa Rica, the area is identified as the Talamanca Biological Corridor. Cacao grown here under the shade of fruit and timber trees extends habitat for wildlife outside of the corridor's national parks, biological reserves and wildlife refuges. As part of the project's biodiversity-conservation thrust, CATIE trained farmers to monitor selected wildlife. Morales was one of 59 farmers who tracked species to establish the first database of biodiversity on Talamanca farms. They monitored birds and mammals–species well-known by local people and whose populations are diminishing due to excessive hunting. Also on the list were dung beetles, which are indicators of forest cover and habitat quality, and bats. "The idea was to find out which system had the most wildlife," Morales explains. "Cacao, forest, banana or plantains. We started at 5:30 in the morning, listening to birds, looking for tracks. In the plantains we never saw tracks, except for opossums. In cacao and the forest, we saw tracks of paca, agouti and peccary." Results where shared throughout the region. Morales says those who had cut forest for monoculture plantations of plantains said they didn't know they were having a negative impact on wildlife. "We learned where there are no trees, there are no animals." Enrichment of tree species that shade the cacao also enhanced biodiversity. According to Marilyn Villalobos, CATIE project coordinator, 65 farms added high-quality fruit trees. Native, high-value and endangered tree species were planted on 134 farms. Morales has laurel and cashá timber on hers. Though she can apply for a permit to cut and sell the timber, she only harvests wood for her use, as she did three years ago to build a small house.
Organic chocolate
Cacao produces year-round, but Morales' big harvest is in November and December. "My cacao is like a savings account for me," she says. "I use the money from it for end-of-year expenses and save part to pay for school supplies for the kids"–the school year begins in February. She sells to the Association of Small Producers in Talamanca (APPTA), which certifies the organic cacao and markets it in the United States and Europe. Walter Rodrí­guez Vargas, general manager for the 800-member association, the biodiversity says the monitoring provided scientific data that allows APPTA to label products as environmentally friendly, a marketing plus. Morales also sells to the Talamanca Women's Indigenous Association (ACOMUITA), which operates a small organic chocolate business. CATIE trained members of this women's organization in improved fermentation practices and drying of cacao beans. The business adds economic value to crops and reinforces the traditional practice of chocolate making. As a member, Morales takes a turn making the chocolate. Production has grown from simple chocolate balls to packaged products that also contain raisins, peanuts or macadamia. Products sell at local stores and schools and at the Saturday market in the coastal town of Puerto Viejo de Limí³n.
Ancestors and carbon exchange
In recent months Morales has assumed new responsibilities as one of 12 community members trained by CATIE to work with fellow cacao farmers in a pioneering carbon-sequestration project in Talamanca, also financed by the World Bank. ACOMUITA has a lead role in the carbon project, which builds on the success of the organic cacao and biodiversity project. Interest is high, Morales says, because the goal is to establish a regional market for carbon in which, for the first time, individual farmers would receive payments–environmental service payments–for carbon dioxide stored in their trees to offset carbon emissions in other countries. She laughed when asked how she explains carbon exchange. "It was very hard when we first went into the field to explain it. We came back to CATIE and got more training." Now she talks about it this way: "The proposal is to see how we can help the environment not be contaminated. Trees need carbon to grow–they turn it into wood. The climate is changing, and it is hot. With our trees here, we can help for parts of the world where there aren't trees." It's not strange that farmers understand carbon sequestration better when she explains in the culture and language of the Bribri, where everything has a story. The ancestors knew that the leaves of the trees drink up the air, just as trees drink up water and give it back out in dry times. Morales and fellow promoters travel to villages distant and near to analyze small farms. Our studies tell farmers how much carbon is on their farms," she says. The amount is derived from comparisons of farm plots to a demonstration plot where the carbon dioxide fixed in leaves, branches and trunks has been calculated. "How much does a farmer get from cacao, bananas, corn and beans? If a farmer is planting beans, he earns so much," she says. "If he lets trees grow there, how much would he earn from environmental service payments?" With this information, farm families can make realistic decisions about land use and know the value of keeping trees. Sitting in the house on her small farm, Morales looks beyond her village, her people, beyond Talamanca. "This is a pilot project," she says. All other Central American countries can do something similar because they would have our experience of how to do it." Ree Strange Sheck is an author and journalist currently based in Turrialba, Costa Rica, where she is a consultant with the Tropical Agricultural Research and Higher Education Center. She may be reached at sheck@nullcatie.ac.cr. CAPTION Gerardina Morales tends cacao trees on her small farm in the Talamanca-Bribri Indian Reserve in southern Costa Rica. She is part of a pioneering project to establish a regional market for carbon, with payments made directly to indigenous cacao farmers. The Tropical Agricultural Research and Higher Education Center (CATIE) is dedicated to research and graduate education in agriculture and the management, conservation and sustainable use of natural resources in Latin America and the Caribbean. Its mission is to help reduce rural poverty in the American tropics. First published: February 14, 2006