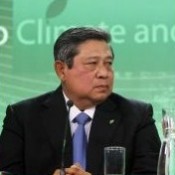 27 May 2010 | The Government of Norway has pledged up to US $1 billion for reducing greenhouse gas emissions from deforestation and forest degradation  (REDD) in Indonesia as Indonesian  President Susilo Bambang Yudhoyono reiterated his country's support for REDD.
"Working with our developed country partners, we will protect Indonesia's globally significant carbon- and biodiversity-rich tropical rainforests while helping local populations become more prosperous," Yudhoyono said Thursday at the two-day  Oslo Climate and Forest Conference.
The Norwegian pledge is additional to the $3.5 billion promised for conserving forest carbon by world leaders at the UN's Copenhagen Climate Change Conference in December, 2009.
 
"A Game-Changer": CIFOR
"There are many notable elements in this agreement," says Lou Verchot, a scientist with the Center for International Forestry Research (CIFOR).   "Over the past two years, there has been intense international debate on protecting the rights of local communities and Indigenous Peoples. This draft agreement is remarkable as it puts representatives of these people squarely into the governance structure of the financial instrument that will support REDD+ in the country."
Despite long-term concerns over deforestation in Indonesia, and increasing recognition of the importance of forestry sector's role in combating climate change globally,  the Norwegian commitment marks a departure from past international assistance, says CIFOR Director General  Frances Seymour.
"Donors have been supporting improved forest management in Indonesia for decades," she says.  "But never before has a prospective contribution been this significant in terms of both size and ambition, and never before so clearly tied to performance."
Please see the CIFOR press release for complete analysis of the pledge.